Climate Week 2021 (Swe: Klimatveckan) takes place in Jönköping County between 18 - 24 October. Climate Week is organized by the Climate Council, which includes Jönköping University (JU).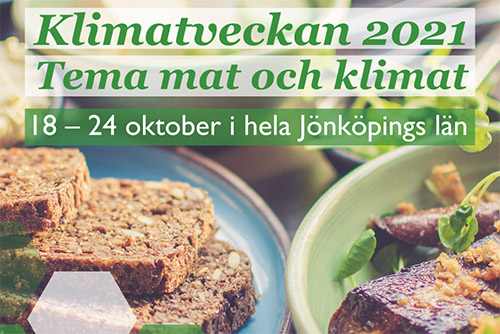 Climate Week is an annual event in Jönköping County with the Climate Council of Jönköping as organizer. The purpose of the Climate council is to implement national and regional climate goals to limit emissions of greenhouse gases, increase renewable energy and mitigate the effects of climate change. The Climate council of Jönköping (Swe: Klimatrådet) is a cooperation between the county administrative board of Jönköping, the Region of Jönköping, 13 municipalities, Jönköping University, as well as several private and public companies and organisations. The theme for Climate Week this year is "food and climate." Most activities during the week are digital and held in Swedish.
JU arranges solar car race
A recurring activity during Climate Week is the solar car race. This year, it is arranged by the School of Education and Communication at JU through the project MOST. High school students in the county may participate with self-built cars, max. 15 cm wide, which are powered by a battery that is charged by solar cells. The teams compete with their cars in three categories, speed, innovation, and design. JU Solar Team is represented on the jury.
"It is really fun that we have the opportunity to be part of Climate Week. Raising awareness of the climate challenges we face and at the same time being able to motivate high school students feels very important," says Jesper Boesen, head of collaboration at the School of Education and Communication.