MCWASP XV: Modelling of Casting, Welding and Advanced Solidification Processes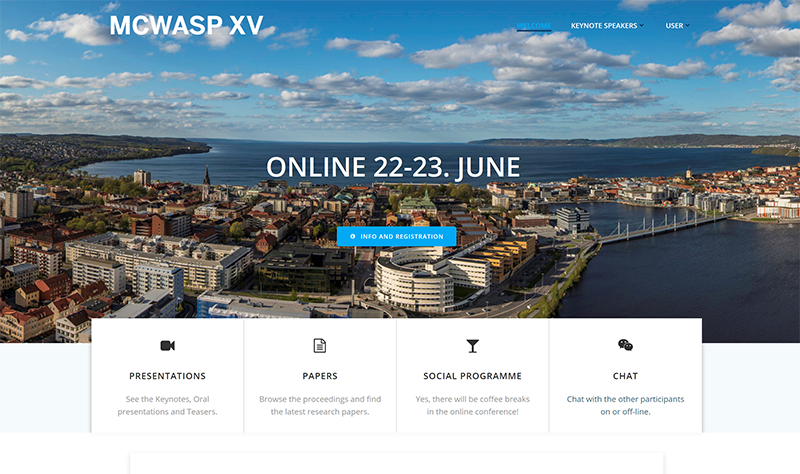 Online Conference June 22-23, 2020
Thank you, all participants and authors that contributed to making the online MCWASP XV conference! The conference had more than 200 participants, and presented 95 scientific contributions and 73 publications in the proceedings. The proceedings are available at the following link: https://iopscience.iop.org/issue/1757-899X/861/1
We look forward to meeting you at the next MCWASP conference!
Best regards
The local organizing committee of MCWASP XV
See the Teaser for Jesper Thorborgs Keynote presentation above.
See the Teaser for Michel Rappaz Keynote presentation above.

We are currently building the new website that will serve as the platform for the online conference to be held 22-23. June 2020. The online platform will provide all the scientific presentations in the form of Presentation pages, and we also aim to recreate some of the social interaction and discussions of a physical conference in a digital way. Check out a preview of the Online conference webpage and the Presentation pages.
We now invite all authors to provide digital material for their Presentation pages, see the section Instructions about online platform for a preview, and visit Online presentations for more information.
We will also be continuously adding guides and recordings on our Tips and tricks section to provide you with some tools to get started. When your files are ready, please upload them here. We look forward to seeing you online!
Recent updates
2020-05-05: All authors are invited to prepare material for the Presentation pages for the online conference.
2020-03-18: Physical meeting in Stockholm cancelled due to the COVID-19/Corona situation. We proceed to prepare for an online format.
2019-10-29:  Teaser sessions: A new way to present your research. Read more here.
MCWASP XV: Modelling of Casting, Welding and Advanced Solidification Processes, 15th edition, Online June 22-23, 2020
MCWASP brings together leading academics, researchers and engineers from all over the world for a week filled with state-of-the-art science, personal meeting and unforgettable experiences.
MCWASP is a scientific conference dedicated to modelling and observations of solidification and related phenomena coupled to casting and welding processes. Since the first conference 1980 it has been the preeminent meeting for gathering leading academics, researchers, engineers and software developers from all over the world to meet and form a scientific community with plenty of time for personal contacts, exciting discussions and sharing of recent scientific findings.
The conference organizers invite academics, researchers, PhD-students, engineers and software developers within the relevant fields to submit scientific contributions to the conference, and to join us in June 2020.
To receive updates about the conference, subscribe to our email list here!
Conference folder
Download the conference information folder in pdf-format here

Pdf, 1.3 MB.