Ansökningstid:
2021-03-15 - 2021-04-15



Examen:
Degree of Master of Science (60 Credits) with a major in General Management, 60 hp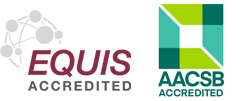 Översikt
The programme prepares you for work in business positions that require a broad base of management understanding combined with technical knowledge.
It is designed to meet the incre­asing demand for graduates that combine their technical understanding with the application of management knowledge in the industrial and engineering sectors. This competence is as important for renewal of local small and medium sized companies as for integration of big inter­national supply chains.
The programme prepares students for work in business positions that require a broad base of management understan­ding combined with engineering know­ledge. Courses address a wide range of management topics deemed necessary for an engineer to excel as a responsible business leader in various managerial roles. Course topics include responsible leadership, strategic renewal, internationalisation, (open) innovation, methods for business analysis, training in writing and presenting business reports.
Engineering Management is taught in collaboration between Jönköping International Business School (JIBS) and School of Engineering. To secure the practical relevance of the program and make good use of the students' prior knowledge in engineering, courses will include collaborations between students, practitioners and lecturers with both bu­siness and technology background. These activities will further train the students to work in diverse settings and ensure that the knowledge and skills learned are applicable in practice.
All courses are taught in English. Due to the fact that Jönköping International Business School and School of Engineering at Jönköping University are international schools with international faculty and that this programme is open to students from around the world, the courses have a diverse participation of students providing an international lear­ning experience both in atmosphere and course content.
Efter utbildningen
After graduation you will belong to an attractive group of graduates holding both engineering and management degrees. This will qualify you for a variety of jobs, especially managerial roles that require you to understand the techni­cal processes of a company and lead projects, departments, plants, or whole firms. It will also increase your chances of realising your own business idea or being innovative within existing organisations.
Fakta och behörighet
Programmet Engineering Management (One Year) ges vid
Jönköping International Business School

Omfattning:
60 hp

Nivå:
Avancerad nivå

Språk:
Undervisningen bedrivs på engelska

Studietakt:
Helfart

Ort:
Jönköping

Studieform:
Campusbaserad

Programstart:
Hösten 2021

Urval:
Avancerad nivå

Behörighet:
Kandidatexamen eller yrkesexamen, 180 hp. Minst 90 hp i teknik eller motsvarande samt Engelska 6. Eller: Engelska B eller motsvarande.

Anmälningskod:
HJ-MS110

Examen:
Degree of Master of Science (60 Credits) with a major in General Management
Studiealternativ på halvfart
Although no prior work experience is required to enter the programme it is encouraged. For applicants already working in industrial and engineering sectors the programme can under certain circumstances be studied at half speed over two years as an alternative to one year full-time studies. In such case an individual study plan must be applied for upon acceptance to the programme. Please note that the programme still runs on campus during the day-time so even at half speed you would need to be present regularly and have a job that can offer enough flexibility during this period. For more information on this option contact the Programme Director (see Contacts).
Kurser
Obs! Preliminär kurslista.