LeanCast

Based on today's climate-related challenges, the core question of this research project is: How can we enable and control a sustainable design and production of cast iron components? The full title of the project is "Lean and sustainable design and production of cast iron components".
Cast iron is one of the most environmentally friendly technical alloys used for complex automotive applications with respect to the production process and lifetime application. The material is fully recyclable, which contributes to a low environmental footprint.
The sophisticated production process for cast iron, which includes melting and casting, contributes to variation in the material properties and may cause defect formation. This limits the component life time and causes excessive use of natural resources related to the production process.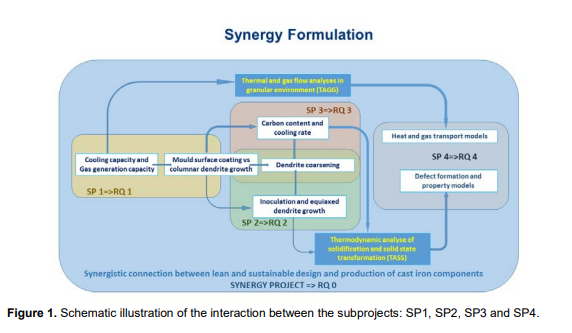 The aim of Lean Cast is to extend the knowledge frontier within design and production of cast iron components with a comprehensive focus on reaching an environmentally sustainable process.
The solutions developed within the project will primarily lead to increased material utilisation in the casting, reduced amounts of consumed natural resources like metals, sand and minerals, shortened development time for improved cast products, and prolonged lifetime of the components by optimisation of the production process parameters and material properties.
Lean Cast is a synergy project with several subprojects focusing on form material, defect formation, material properties, and modelling and simulation of phenomena arising during casting.
The outcomes from the project are expected to be:
models to instantaneously predict the production parameters
models to predict material properties and component defects
methods to deliver input data for property and defect prediction
demonstrators enabling design and process control
guidelines on how to implement the obtained results into the industrial practice
Scania CV AB
SinterCast AB
SKF Mekan AB

Volvo Group Trucks Technology AB
Project duration and financing
The project runs between 1 September 2018 and 31 January 2022 and is co-funded by the Swedish Knowledge Foundation (11,07 MSEK), Jönköping University (3,27 MSEK), and the collaboration partners (11,07 MSEK).
Do you want to know more about the project?
Professor Foundry Technology

School of Engineering
Do you want to develop the next project with us?
External Relations Manager

School of Engineering