How do you find a job in Sweden?
Career opportunities for international students studying in Sweden are good, but there are challenges that students need to be aware of. Students are also often interested in staying on after completing their studies. Rodrigo Garay, founder of the Working for Change and Diversity Talent company, believes companies understand that diversity is vital to their success. As an international student, you absolutely can succeed!
But why Sweden? Between 2010 and 2025 it is estimated that 30 per cent of the labour force will leave their jobs, primarily through retirement. This means that 175,000 jobs will become vacant in the public sector alone. Where are all the people who are going to do these jobs? The answer is that immigration will be needed to fill the skilled jobs available.
Skilled jobs that will become vacant
Sweden has a major need to recruit international expertise. The jobs that need to be filled are mostly engineers, economists, PR staff/ communicators, IT specialists, lawyers, teachers, researchers, and HR specialists, among others. The lack of skilled labour is already apparent today. For example, Sweden has employed over 1,000 IT specialists from India. "But only 20 per cent of the job vacancies are advertised in Sweden. How are people who are looking for jobs going to find the other 80 percent?" asks Rodrigo.
The jobs are of interest to international students who are already in the country. They are often fluent in several languages. "But do they need to be able to speak Swedish? Employers do often require this, but if we take a closer look at the jobs, it is not always necessary. In order to be able to do the job, it is often more important to be familiar with cultural practices and to have a sense of humility," adds Rodrigo.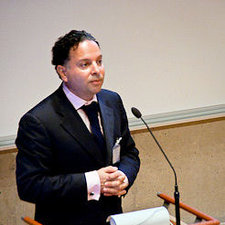 International goods and services
Every year, two million people of foreign origin in Sweden buy goods worth a total of SEK 280 billion. There are many examples of companies in Sweden that offer these products. These companies are often started by people with a foreign background because they see a demand," emphasises Rodrigo.
A good example of an international student who came to Sweden from Kolkata, India, is President of Elite Hotels, Bicky Chakraborty. He came to Sweden as a student at Stockholm University, where he studied political science, which has got nothing to do with hotels.  Today he owns an Elite Hotel and Bishop's Arms in most Swedish cities. He has been named both Entrepreneur of the Year and Travel Industry Manager of the Year.
Another example is Kadim Akca from Turkey, who is a successful entrepreneur in the cleaning industry. He is now sharing his recipe for success in a book called "Tänk som en turk – om du vill lyckas i Sverige" [To succeed in Sweden – Think like a Turk]. Be open to all industries, trust your gut feeling and promote yourself, is just some of the advice he gives. Much depends, he says, on having self-confidence.
There are lots of opportunities
"If Plan A doesn't work, there are 27 more letters in the Swedish alphabet. Think about how you can make contacts by networking, learning about the culture and language and obtaining references. You need to have a plan, be flexible and don't give up," says Rodrigo.
One opportunity is Diversitas Talent, which aims to increase cultural diversity on the Swedish labour market by demonstrating the commercial benefits of diversity. "We are doing this to benefit Sweden and the way we do this is by using cultural knowledge as a competitive tool," adds Rodrigo. We are an employment and recruitment agency that focuses on matching students with companies. Our niche is academics with an international background. Many of these students can be found at Jönköping University.
Think about your time in Sweden and make the most of it
Show people who you are, and market yourself. Go to events and network to get yourself noticed. Your studies should of course come first. If you are putting time into a lot of other things, then you need to have a re-think. You are in Sweden for two years. Make the most of your time!" encourages Rodrigo.
It is more important to know about the culture than to be able to speak the language. One example of a word that only exists in Sweden is "lagom". Take the culture one step at a time. In Sweden, taking coffee breaks together and working as a team is important. And you absolutely must not be late for a meeting.
"All the experiences you gain from working are more important than having a particular job. You have to start somewhere. When you are looking for work, you need to show that you are flexible and that you have experience. You need to have a plan and don't give up until you get the job you want. You have chosen to come to Sweden and study. That already shows that you are proactive and brave enough to go to another country which has a different culture and climate," emphasises Rodrigo.
Contact your role models
As you are in Sweden for two years, you can devote a little time to trying to contact a few interesting people. These should be people who work in the same field you want to work in. Get in touch by e-mailing that person and inviting them to lunch. Give them your business card. DARE to do it. Inviting at least three people to lunch during your two years in Sweden can open doors. But it is important to remember that it is you who are looking for work.
Christina Almgren