Content updated 2013-07-22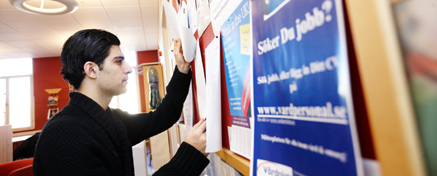 Career Center offers feedback on job applications, cover letters and CV/resumes to JU students and JU alumni.
About job applications
Job applications traditionally contain a personal cover letter, a CV/resume and copies of any relevant transcripts. It is increasingly common that employers do not want these transcripts to be sent first, but prefer to receive these during the interview. Ask the employer in question if you are unsure of what to do.
Cover letter
Your cover letter should make your future employer curious and create an immediate interest in you as a candidate. If you are applying for a job that you found in an ad, carefully read the announcement and consider its tone. Formulate your application as an answer to the ad and remember that the employer will probably get several applications. Try to stand out from the crowd.
Employers want to know what you are applying for and why. Letters should start with a line of reference to what they are about, e.g., the name of the position or a heading such as apprenticeship, part-time work, or summer employment. The cover letter should answer the following questions:
Why are you applying for the job?
Why are you the best person for the job?
A good way to answer these questions is to provide examples, such as choices concerning course work, independent work/essays or other relevant experience.
Compose the letter like a newspaper article, with the most important information coming first and the least (hobbies, etc.) further down. Not everything in your past will be of interest since the letter should be no more than one page.
Checklist
Applicant´s name, address, E-mail address, telephone (cell phone) number
Recipient's name and telephone number
Name of position or a heading explaining the purpose of the letter
Brief personal description, including history of education
How you meet the employers demands
Signature and a clarification of signature
CV/resume
The main purpose of a CV or resume is to clearly provide an overview of your qualifications as to:
Education
Work experience
Additional qualifications (additional responsibilities, membership in organizations, computer and language skills, etc.)
References (NB, it is important to ask people to be your reference first), one can also write: "References available upon request."
Qualifications should be listed in reverse chronological order under each heading, i.e., the last listed first.
CV is an abbreviation of the Latin phrase Curriculum Vitae, meaning life path or life description. The main difference between a CV and a traditional resume is that a CV is more detailed and can cover additional headings such as Goals or Main Skills. Such extensive CVs have become the fashion in job searches, but what kind of overview you provide should suit your own particular qualifications and experience.
Skills
In some countries it´s very important to summarize and explain your skills in your resumé. In this article you can find information on what kind of skills that are important and how to put them in the CV to make them understandable.
Networking skills also come in handy when you are visiting a career fair, meeting potential employers and going to social events. Here are some tips to guide you to your best networking skills!