Content updated 2013-07-22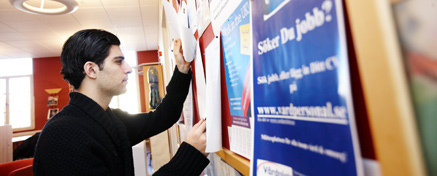 Here you will find information that will help you to search for jobs in Sweden. Some of the links are available in English and some of them are only available in Swedish, but they may still be useful.
Information about the Swedish job market
Below you can find  information about the Swedish job market, work permits and so on.
Information about work in Sweden for International Students
International students are allowed to work in Sweden when holding a student residence permit/visa. However students whose studies are shorter than one calendar year cannot obtain a Swedish civic number/Swedish personal number and instead must obtain a special number from the Tax office called "sammordningsnummer". More information at https://www.skatteverket.se/ or visit the Tax Office in Jönköping at Barnarpsgatan 62, 553 33 Jönköping.
Learning Swedish
Learning basic Swedish will give you great advantage on the Swedish job market. Although some companies has English as their business language, learning Swedish could still be important.
The University offers Swedish courses, ask your study counsellor or programme manager about upcoming Swedish courses.
Also here is a list of links where you can find more courses in Swedish:
Company databases
Listed below are databases for finding companies in Sweden, some of them also have international Companies. Unfortunately, some of the databases are only available in Swedish.
EURES and the Swedish Public Employment Service
Use the EURES website to navigate all national job market agencies in Europe through an English interface. You can also look for job opportunities in Sweden.
On the website for the Swedish Public Employment Service (Arbetsförmedlingen) you can find useful information such as links and job opportunities. If you study you are not considered unemployed and therefor not allowed to use some of their services, but you are free to use the information and apply for jobs on their website.
Recruitment agencies and websites for job opportunities
Below you can find private recruitment agencies as well as some of the biggest websites for job opportunities in Sweden. Not all websites has information in English, so start with the ones that do since they are most likely to have jobs suitable for international students.
Job opportunities in Jönköping municipality
Career websites for students
Swedish job portals focusing on international professionals
Facebook group with English jobs in Sweden
Swedish job portals
Summer jobs in Jönköping county
Recruitment and staff-up companies in Jönköping region
Recruitment and staff-up companies in Sweden
Recruitment companies and job opportunity portals for specific branches
IT
Leadership
Restaurants
Schools
Sales personnel
Household Services
Health Care
Career Fairs and Fairs