Yulia Lukyanchenko took the International Management bachelor's programme at JIBS. She graduated in June 2011. By August that year, she already had a trainee placement at Nefab's head office in Jönköping. In April 2013, her journey takes her west, to Dallas in Texas to be precise. Yulia has been appointed Aerospace Segment Manager at Nefab in the USA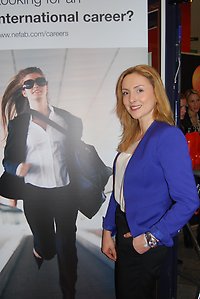 Caption: Yulia Lukyanchenko presented Nefab at the Nextstep Careers fair for students at JIBS.
I met Yulia on the Nefab stand at the Nextstep careers fair for students at JIBS. She now represents the company and the options available to students if they apply for a trainee placement. "Nextstep was really vital for meeting people and creating a network while I was a student. As a company representative, I am interested in meeting students. The company has a trainee programme, and I tell students about what is involved in being a trainee and being able to try out different tasks. For me, for example, it meant participating in project work, and being a web administrator and sales person," says Yulia.
Ukrainian students choose Europe
Yulia took a master's programme in interpreting/translation in Ukraine, but she wanted to gain international experience. Furthermore, Sweden and Ukraine have a great deal of shared history. "For example, we fought Russia together during the 1700s. Ukraine is a fertile country, and in 2008 Sweden's royal couple visited Gammalsvenskby (meaning Old Swedish Village), where descendants of Estonian Swedes expelled in the 1700s live and still speak Swedish. But it was actually through a Swedish entrepreneur in Ukraine that I discovered that I could take the bachelor's programme in English at JIBS. And furthermore, that I would be able to study abroad during the course. I went on to spend a semester studying in Montreal, Canada," adds Yulia.
Career Center
While studying at JIBS, Yulia worked at Career Center one day a week for two years. She was involved in careers days and fairs, and informed students about the options available for help with CVs and personal statements in both Swedish and English. "Career Center helps with everything relating to jobs and applying for jobs. For international students, there are special presentations such as 'Working in Sweden', which is very helpful for students wanting to do that. To look for trainee placements, for example, students can visit traineeguiden.se or the Career Center website. I worked at Career Center, so I got excellent references for my trainee job," Yulia points out.
Jönköping is absolutely amazing
"The university and my time in Jönköping have been amazing. I have been involved in various projects, created networks and made many friends for life. And Jönköping is just the right size, with everything you need. The school has an international profile and offers courses in English. There is a wide offer of studies abroad in 150 countries, with various exchange programmes," adds Yulia.
Trainee placement led to job in the USA
In April 2013, she is off to Dallas, Texas, and a job at the Nefab facility there. "The company operates in more than 35 countries, and has approximately 3,000 employees. I have a three-year contract, and will be working on the business challenges presented by major customers in the airline industry. For example, airlines and aircraft manufacturers such as KLM and Airbus need special packaging for sophisticated products such as engines, with their many small components, and other aircraft parts. The packages are shipped across the globe, and must remain intact throughout their journeys."
The company is helping Yulia with accommodation and all the documentation that has to be completed prior to the trip. "Starting a new job in the USA will be thrilling. I know for certain now that I will be in Dallas for three years. But after that, I am open to working in other countries," concludes Yulia.
Christina Almgren