A career with a global company
As part of the Career Center's series of alumnus talks, Petter Lindgren spoke about his career with Tetra Pak, a global company that operates in more than 170 countries. Petter completed his master's degree at Jönköping International Business School in 2001 before joining Tetra Pak as a trainee.
During his first 18 months as a trainee, Petter worked in different roles and different parts of the world. He then spent several years working with a major change programme, dealing with Tetra Pak's organisation and processes. During this period, he spent more than 150 days a year travelling to countries such as Mexico, Brazil, Argentina, Spain, Portugal, Turkey, Russia, Taiwan and China. He is currently working on the development and implementation of Tetra Pak's aftermarket strategy, focusing on service and parts.
A new job, a new role and new work tasks
It's important to understand what a career is and what you need to concentrate on. Make good use of your network and your experiences from your studies. A career is often described as an individual journey through learning, work and other aspects of life. There's a lot to think about when starting a new job. You need to understand the expectations that are placed on you.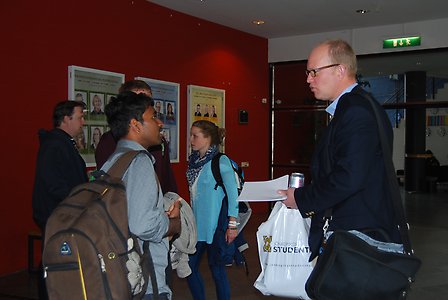 "To begin with, I said yes to most things," recalls Petter. "I didn't think about whether the things around me were what I needed in order to deliver. You should take the challenges you are offered, but you should also ask yourself whether you have what you need in order to deliver. And do you believe in this? What is the risk to you if you don't succeed? Don't be afraid to ask if you don't understand what you need to deliver. Place demands on what you think you need in order to deliver. This could be resources, or developing your own skills. And remember to have fun while you're doing it!
"Lots of people strive to become a manager. If you have management ambitions, you should strengthen your experiences and your expertise so that you're well prepared. Because once you get there, you need to deliver. Lots of people have the capacity but need to add experience and skills. If you had a sailing boat and needed a skipper, would you choose an experienced sailor or someone who had never been to sea?"
Communicate and make contact
It's important to nurture your relationships and your network. Learn about and respect cultural differences, and spread a good atmosphere. Take every opportunity to make contact with your colleagues. Striking up relationships at the coffee machine is a good way of building contacts. And don't forget your classmates from your time as a student.
"Get to know the people you communicate with, and find out which channels are best for making contact," adds Petter. "Phone calls and face-to-face meetings still beat e-mail, text messaging, online chat, etc. As a recent graduate or a new employee, it's important to make a good first impression. Read up about various issues. Prepare by showing that you know what you want from your knowledge and what you can bring to the organisation."
When Petter applied for a trainee position at Tetra Pak, there were hundreds of other applicants. He wasn't among the first to be contacted by the company. So he found out who was responsible for recruitment and gave them a call. "Think about the company's situation. They'd selected the applicants who looked most interesting on paper, but who hadn't stood out when interviewed. I happened to call at the right time, so it was only by chance that I got the job. It's important not to sit there feeling sorry for yourself. You can't think that someone else will get the job because you're not good enough.
"It's good to have a mentor. This shouldn't be your manager, but someone who can help you to understand your role. Your mentor should also be a discussion partner. So look for a mentoring programme. As Dale Carnegie said: 'The successful man will profit from his mistakes and try again in a different way.' You are your own brand. And it's important to think what your brand stands for."
What I gained from JIBS
It's important to understand what a career is and what you need to concentrate on. Make good use of your network and your experiences from your studies.
"I gained a great deal from my studies. International experience and languages, and friends all over the world. A strong network, thanks to JIBS's alumni activities. Education is the basis, not the end-destination. So in conclusion I'd recommend daring to learn new things and cultivating your own brand. And if you're not happy, look for a new career."
Christina Almgren