Aleksandra –  Graduate Trainee at Scania
Aleksandra Naglik came to Sweden in 2013 to study at JIBS. She studied a Master Program in Financial Analysis (one year program). In her home country of Poland she had earlier studied Bachelor Studies in Finance at Wroclaw University of Economics.
When Aleksandra was finishing her studies at JIBS she started to look for a job in Sweden. From August 2014 she is a Trainee at Scania in Södertälje.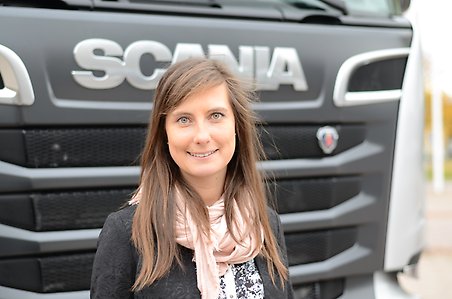 Aleksandra Naglik - Graduate Trainee at Scania.
 "I applied for a Trainee Program at Scania because I really liked the idea of being a trainee, since this position gives you a huge possibility to develop yourself within the organization and opportunity to become key figure in the company. In my home country Graduate Trainee concept is not yet present on a large scale so it was another reason for me to stay in Sweden and start my career here."
First year of "International" Graduate Trainee Program at Scania
This year was the first when application for Graduate Trainee Program at Scania was opened for international students. Aleksandra (and three other international trainees together with sixteen trainees from Sweden) started with 6 introductory weeks when they got a lot of information about the company´s structure and time to get to know the products. During that time they have had many lectures and workshops with managers and trainees from previous years. After that Aleksandra have started her first (of four) practice periods. Each period lasts for three months and is situated in different departments within your interest area. The main purpose of that is to try yourself in different jobs, check where you suit best and where you can contribute most.
"This is what makes this program great and unique. Besides, one of our practice periods takes place abroad. I am currently in the middle of my first practice period at Scania Treasury, my next period will be probably in Financial Services and the third one at the Internal Bank in Luxembourg. After the Trainee Program is finished we obtain possibility to decide where we want to start our real job. As an interesting thing I would like to add that all of us trainees have possibility to take truck driving license!"
Scania – company that respects individuals
"My opinion about what´s the greatest about Scania are people. Everyone at Scania is always eager to help you when you need it and you are always allowed to ask questions. That is very unique and it is great to work for such company. Scania. It starts with you. – this motto says a lot about the company's approach towards its employees. Scania´s values are not only spoken of –  they are truly implemented and well-rooted. Respect for individuals, customer first and quality. This is how all works at Scania and this is what enabled the company to be successful."
Swedish working culture
"Swedish working culture differs a lot from my home one. It is based on work life balance where a person is very important and you respect him/her. People are working hard here, but they are relaxed, that significantly increases their working standards, the atmosphere at work and productiveness.
Another great issue for me are sport facilities that are not only our after work activity, but you can also go and exercise during lunch time. Scania has their own gym exclusively for the employees and their families. That´s really great and gives you some time to relax and reset yourself during the day.
I must say I really thrive being part of Swedish working culture".
Some words to students and future graduates
"Living and working in the country is impossible in the long run without knowing the language. If you want to work and live in Sweden you need to know the language, no doubts. Even if the companies don't require you to speak Swedish, it will be very appreciated if they know that you are in progress of learning. Besides, it is also well-seen if you know Swedish on a communicative level and people are always willing to speak in a way so that you can follow during fikas or lunches. Use every moment of your study period to learn Swedish. I know from experience that this is not easy, there is much to learn during study period (and besides you have your student life!), but it must be your new hobby, passion, or whatever that makes you learn something new every day. JIBS enables you to have a basic Swedish course, which is a good starting point".
"Another issue is to take part in projects, try to get an internship in Sweden and stay involved. It is very important to have some experience before you find a real job. "I had chance to work part-time at the University as a teaching assistant".
Career Center at Jönköping University – great help for students with finding their jobs
Aleksandra used the services of Career Center at our University while being a student.
"I found Career Center very useful. First and for most I attended lectures organized by them where I obtained a lot of information about Swedish job market, how to write your cover letter or CV, how to prepare for the interview etc. Besides, what makes our University unique is that you can schedule the appointment with Career Center and get some feedback about your CV, cover letter or have a mock interview. This is very important especially for international students. I really encourage all the students to take part in these activities especially if you want to work in Sweden after graduation!"
The application period for the Graduate Trainee Program 2015 at Scania is 19 January - 11 February.