Sustainable Enterprise Development
Ekonomie kandidatexamen med huvudområdet företagsekonomi, 180 hp


Programstart: Hösten 2020


Praktik
Var den som leder förändringsprocesser med ett särskilt fokus på hållbarhet från miljömässiga och sociala perspektiv, i företag liksom icke vinstdrivande organisationer. Innehållet är anpassat för att stimulera kreativitet och utveckla ett entreprenöriellt tänkesätt, så att du när du tar examen är rustad att organisera och leda helt nya initiativ och att arbeta med förändring av existerande verksamhet. 
Till ansökan (öppnar 16 mars)
The programme in Sustainable Enterprise Development has been created to fill the increasing need among both for-profit and not-for-profit organisations, for leaders who can initiate and manage change processes.
The programme recruits students who are interested in the management of change and innovation, with a particular emphasis on environmental and social sustainability. It is designed to foster creativity and an entrepreneurial mind-set, so that as a graduate you are able to launch and manage new initiatives – or renew existing practices.
During your studies you will interact with students from other cultures and be taught by an engaged and international faculty team.
Elective semester
The fourth semester offers plenty of options to specify. Either by studying abroad at one of JIBS' recommended partner schools, or by taking elective courses of your choice at JIBS, which also allows you to do an internship in another country.
After graduation
After completing your studies you will be well prepared for work in the private, non-profit and public sector – and for post-graduate study. The programme provides a solid foundation for a position in general management, and in particular equips you for work as a project leader, business developer or sustainability manager.
Continue with a master programme
A bachelor's degree in business administration fulfills the prerequisites for further studies at the master's level. Here at Jönköping University, you can continue with:
Special selection
Jönköping International Business School has decided to reserve a small number of places on their programmes to applicants who are particularly suitable for the education as well as the school's profile. The aim is to widen the admission opportunities for the candidates.

Omfattning:
180 hp

Niv&aring:
Grundnivå

Studietakt:
Helfart

Ort:
Jönköping

Studieform:
Campusbaserad

Språk:
Undervisningen bedrivs på engelska

Antal platser:
33

Programstart:
Hösten 2020

Anmälningskod:
HJ-52035

Behörighet:
Grundläggande behörighet samt Matematik 3b eller 3c, Samhällskunskap 1b eller 1a1 och 1a2. Eller: Engelska 6/B, Matematik C, Samhällskunskap A.

Urval:
65 procent av platserna avsätts för sökande i betygsgruppen och 35 procent i högskoleprovsgruppen. För att få konkurrera om platserna i högskoleprovsgruppen krävs minst 0,8 poäng.

Examen:
Ekonomie kandidatexamen med huvudområdet företagsekonomi.
Year 1
Entrepreneurship 7,5 hp
Foundations of Marketing and Communication 7,5 hp
Basic Financial Accounting 7,5 hp
Microeconomic Principles and Maths for Economics 7,5 hp
The Sustainable Enterprise - Social and Ecological Perspectives 15 hp
Macroeconomic Principles 7,5 hp
Business Statistics 1 7,5 hp

Year 2

Organizing for Profit and Purpose 7,5 hp
Strategy and Technology 7,5 hp
Design and Management of Change and Innovation 7,5 hp
Finance and Accounting for Sustainability 7,5 hp
Study Abroad/Elective courses/Internship+Elective courses 30 hp

Year 3
Applied Management of Change and Innovation for Sustainability 7,5 hp
Economics for a Sustainable Society 7,5 hp
Research Methods: Design, Implementation & Analysis 7,5 hp
Bachelor Thesis in Business Administration 15 hp
Supply Chain Management 7,5 hp
Governance for Sustainability and Responsible Ownership 7,5 hp

Year 1–3
Professional Practice and Personal Development Portfolio 7,5 hp

Till ansökan (öppnar 16 mars)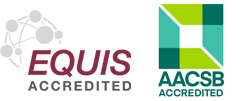 Andra program du kanske är intresserad av