Becoming a PhD candidate
Are you interested in an international career? Are you eager to learn and are you highly motivated? Can you work independently?  Would you like to become part of a dynamic research environment? As a doctoral student in one of our doctoral programmes you will have the opportunity to be all of this and to become an international researcher.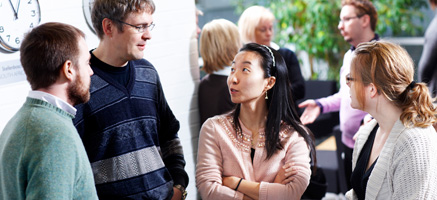 A doctoral degree from JIBS will offer you a whole host of opportunities for the future, either in academic positions in international work environments, or in other positions where your research skill is demanded.
As a doctoral student you can expect
attractive and demanding doctoral programmes,
competent and dedicated guidance from internationally experienced supervisors,
experience as a university teacher,
the opportunity to pursue a part of your education abroad, and
a regular evaluation of your performance, and a clear statement of our demands upon doctoral students.
The aim of the doctoral programmes is to provide the student with advanced knowledge within his/her field of research, skills to pursue independent research, and finally competence to contribute to the development of the scientific field.
As a doctoral candidate at Jönköping International Business School you are either employed as part of faculty or you are a self-financed doctoral candidate. For more information on this please go to financing.
Requirements for admission
Basic requirements for admission to doctoral studies (education at third level) at Jönköping International Business School, is a passed examination at advanced (masters/second) level and fulfilled course requirements of at least 240 credit points (ECTS credits), 60 of which should be at advanced level, or equivalent competences acquired in some other way within or outside of Sweden. Requirements also include a Bachelor degree, consisting of at least 90 credit points (ECTS credits, 3 terms) in a relevant subject area for the position
The doctoral programmes at JIBS are conducted in English. The applicant must show proof of fluency in English, in writing as well as in speaking the language.
Admission to the programmes
Admission to doctoral studies at Jönköping International Business School is restricted. Applicants will be assessed and selected based on previous academic merits, experience, suitability, areas of research interest and the expected capability to successfully complete studies within the intended time. 
The Research Faculty Board at Jönköping International Business School decides on admission.
 
Employment as a doctoral student can be held for the equivalence of four years (48 months) of full time studies. Doctoral students can also be admitted without holding a formal employment at JIBS. In this case, the rights and responsibilities are stipulated in separate contracts. These doctoral students are referred to as self-financed doctoral students.
Doctoral students employed by JIBS
As a doctoral student employed at JIBS you are expected to combine teaching with your studies. The typical contract comprises 80% doctoral studies and 20% teaching including administrative tasks. The doctoral position will demand intensive study and a willingness to participate in other general activities within the organization. The employment contract for a doctoral student is for one year at a time and a prolongation depends on the progress of studies in accordance with the individual study plan.
You can only apply for an employed doctoral student position in competition, i.e. there have to be positions advertised under Job openings.
Self financed doctoral students, not employed by JIBS
Self financed doctoral students can be divided into the following categories:
externally financed doctoral students enrolled at JIBS but working at other universities that do not have examination rights for a doctoral degree (both domestic and international)
executive doctoral students, employed by a company, organization or similar (both domestic and international)
The students are typically financed by a scholarship, a university, a company or an organization. The pace of doctoral studies is flexible with no teaching, but all doctoral students must devote at least 50 % of full time studies to the doctoral programme. This means that the doctoral student has a maximum of eight years to finish his or her doctoral education.  
Open positions are advertised under Job Openings on our web site.
Applications for open positions
JIBS does not have a standardized application form for you to fill in. Your application should include 2 copies of:
A letter-of-intent explaining why you want to apply, what you expect from the doctoral programme, and what your preliminary research interests are.
CV and attested documents (transcript, diploma),
A copy of your Bachelor's or Master's thesis,
A personal description of yourself
The selection criteria are the applicant's CV as a whole, grades from academic courses/programmes, field of interest, and other information demonstrating the ability to pursue doctoral studies.
Applications should be sent to:
Jönköping International Business School
Att. Registrar
P.O. Box 1026
SE-551 11 Jönköping
Sweden
For more information please contact Susanne Hansson +46 (0) 36 10 18 86,
susanne.hansson@ju.se

Please submit two copies of your application and avoid stapling the papers.
Content checked / updated 2016-12-09
Content updated 2010-10-19