HLK's Doctoral Students' Organisation
During the Spring Term 2020 HLK's Doctoral Student Organisation was created and directed by doctoral students the School of Education and Communication at Jönköping University. The purpose of the organisation is to be a locus for research students at HLK when it comes to academic and social activities. Every year two doctoral student representatives are elected by their peers at HLK to be responsible for the development of the organisation.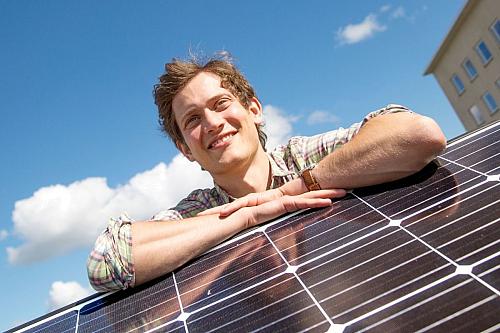 Name
Family
Girlfriend Tilde and two-year-old Vilgot.
Research
My research is about regional climate collaboration and the communicative opportunities and challenges that arise in the creation of joint climate initiatives. Of particular interest is the use of media in collaboration. The project is a co-financed by the Climate Council of Jönköping County and Jönköping University.
What in your research has been especially exciting?
I started my data collection at the same time social distancing and working from home came into effect. Suddenly all collaboration was taking place through digital media. I quickly realised that this would be exciting empirical material.
Have you an academic book that you would like to recommend?
Right now I am reading Andri Snaer Magnasons "Om tiden och vattnet" [About time and water]. It is perhaps not academic but important and definiately worth a recommendation. The book takes up the difficult task of reducing the 'noise' that occurs when discussing climate questions.
Anything more you would like us to know?
I have a master's degree in engineering with a focus on renewable energy sources. I worked for a couple of years to increase knowledge about solar power in Jönköping County, which has resulted in some people still calling me the nickname 'Sol-Otto' [Sun-Otto] in some circles.
What do we do?
HLK's doctoral organisation works to establish an informative, united environment for all doctoral students at HLK. The organisation consists of two pillars: academic and social. Therefore we organise activities for doctoral students, which are related to research and work itself, while also hosting social activities to contribute to a more cohesive environment at HLK.
What do we offer?
The academic component
We organise research related activities such as "writing retreats", various lectures and workshops with senior researchers, with the intent to support doctoral students dissertation and research work.
The social component
During 2020 have we hosted various doctoral student meet-ups lunches and breakfasts over Zoom.
Spring 2021 we have met for fika, had a doctoral book circle and an informal text seminar.
Autumn Term 2021
Doctoral Fika
We will meet the following dates digitally (in consideration of the current pandemic situation until further notice)
Tuesday, 28th of September kl.13:30-14:30 (Meet and Greet)
Tuesday, 19th of October kl.13:30-14:30 (Presentation from JU's Grants office: specifically for doctoral students.)
Tuesday, 16th of November kl.13:30-14:30 (TBA)
Tuesday,7th of December kl.13:30-14:30 (TBA)
Doctoral student Book Circle is back!
For more info please see the team group.
The Writing Retreat will take place the 15-17th of September
Registration is now closed.
If you are interested in further writing and similar please write to our email address.
Moreover, there are several tentative After Work activities in the planning stages such as: volleyboll, walks around the lake, bowling, cooking evenings, film viewings etc.
Please contact one of the doctoral student representatives linked below for for further information or suggestions regarding activities.
Our Podcast
HLK's doctoral student organisation has started their own podcast! Below you can listen to the first exciting episode with Karen Ann, Josefin, and Jens. 
Podcast Episodes
Episode 8 (The Spring that has been. Happy Summer!)

Episode 7 (with Ana Carolina Souza)
Episode 6 (a deeper conversation with Ylva Lindberg)
Episode 4 (Reflections from 2020)
Episode 3 (with Elisabet Sandblom)
Episode 2 (with Susanna Anderstaf)
Do you have a suggestion for a future episode? Don't hesitate to contact one of the following doctoral student representatives below.
Doctoral Student Organisation Representatives 2021-2022:
Jens Sjöberg

Karen Ann Blom