Young Researcher Award 2017
Why is the proximity to banks so important for new businesses? Mikaela Backman at Jönköping International Business School, knows. She has been awarded the Swedish Entrepreneurship Forum prize for young researchers in entrepreneurship .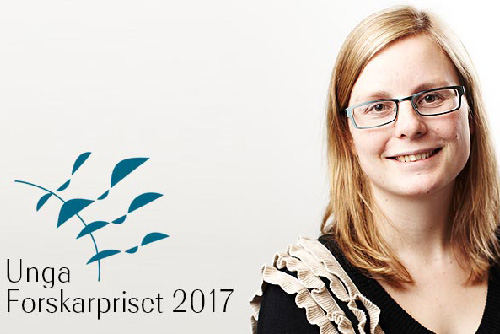 The award committee noted that Mikaela Backman has produced an excellent dissertation and subsequently demonstrated good quality and productivity in her research career. Mikaela Backman wrote her PhD thesis in 2013 at Jönköping International Business School, titled Regions, Human Capital and New Firm Formation. She has studied the relationship between human capital and education, its effects on the individual as well as for business productivity.
"Higher levels of education have a positive impact on regional business creation, given the surrounding factors such as infrastructure and capital assets", she says.
Since 2003 the Swedish Entrepreneurship Forum have awarded young promising researchers the Young Researcher Award. The Prize, sponsored by private equity investment firm Triton Advisers (Sweden) AB, is awarded annually and consists of 150 000 SEK. The award ceremony is in Stockholm Concert Hall on 15 May.
"Mikaela Backman's research shows high quality and deals with central strategic and policy-oriented issues for Sweden", says Charlie Karlsson, Professor Emeritus and award committee chair.
Today Mikaela Backman is an assistant professor at JIBS and continues her research career on the role of human capital, business survival and growth, family businesses, and regional patterns.
For more information please contact: Mikaela Backman, +46 73-151 68 65