Meeting the improvement challenge with curiosity, courage and co-production
In the area of health and welfare there is a continuous need for quality improvement to improve both processes and the benefits of the efforts being made. On September 28, Kristina Areskoug Josefsson holds her docent lecture on the topic of quality improvement and leadership in health and welfare.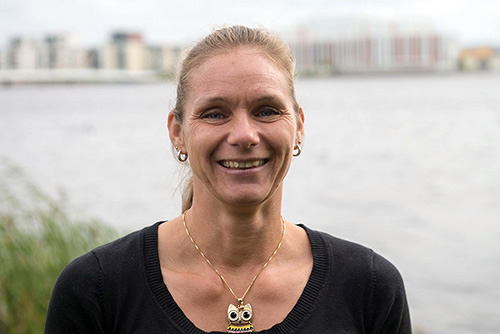 Kristina is Head of Department of Jönköping Academy for Improvement of Health and Welfare at the School of Health and Welfare, Jönköping University. Her previous work as a physiotherapist and research and development coordinator at Värnamo Hospital has given her extensive experience in practically leading and implementing improvement work to improve rehabilitation.
Kristina's interest in research came from the desire to make better use of rehabilitation efforts, as well as her curiosity in how change projects can lead to improvement in practice. What and who affects what changes are made and why do not all improvements work well? How can the individual employee make a difference and improve the results of their efforts for those whom the care is meant for? What is the benefit and who decides if a change is an improvement?
Patient reports in one of Kristina's first research projects showed the need for improvement in the rehabilitation in sexual health. Sexual health is a subject that is not communicated enough to patients / users, in spite of research indicating the need for improvement of sexual health and the connection between sexual health and health in general. Research and improvement work in a new area is challenging, especially in an area where healthcare professionals feel that they have inadequate skills and basic training, and that it is difficult to talk about. To create improvement in sexual health rehabilitation, Kristina has involved students and patients in research and improvement projects aimed at professional education in health and welfare. In the research projects, qualitative and quantitative methods have been used, but also psychometric research to ensure validity and reliability in measurements of change.
In the challenge of utilizing research results into practice, students in health and welfare are important ambassadors. By utilizing the curiosity of the students, their desire to learn something new, and enabling their participation in research projects during their internships and listening to their reflections on possible improvements, new opportunities are created for both shared learning and improvement of health and well-being.
Kristina's practical experience founded the belief that in order to succeed in improvement work, active co-operation between organizations in health and welfare, society and the patient / user is needed. Working together for better health and well-being is a challenge that may require both courage and stubbornness, but at the same time it is a success factor for sustainable improvements.
Kristina Areskoug Josefsson will hold her lecture on 28 September between 4 and 6 p.m. in Forum Humanum, School of Health and Welfare. Everyone is invited to stay and mingle afterwards.