Book on entrepreneurship most downloaded
The book "Contextualizing entrepreneurship in emerging economies and developing countries" is the most downloaded book at Edward Elgar in the period of January to August 2017.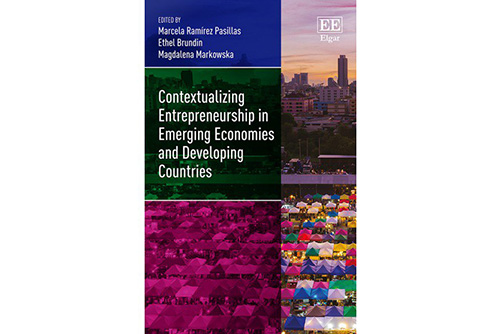 The book examines entrepreneurship as a contextualized phenomenon from different theoretical and empirical perspectives, gathering a group of researchers with different nationalities, backgrounds and contexts to shed light on how societies with alternative paths of development trigger different entrepreneurial activities and practices. It covers geographical contexts from five continents in a novel and multifaceted analysis.
It was edited by three faculty members from Jönköping International Business School: Marcela Ramírez Pasillas, Assistant Professor, PRME Project Manager and Director of the BA Bachelor Programmes, Ethel Brundin, Professor in Entrepreneurship and Business Development and Magdalena Markowska, Assistant Professor.
"This book offers space for authors from – and interested in – entrepreneurship in emerging economies and developing countries. As such it practices entrepreneuring by creating dialoguical spaces from a multiplicity of geographical contexts sharing their experiences and insights in the field", says Marcela Ramírez-Pasillas.
In the book, entrepreneurship in emerging economies and developing countries presents us with a unique set of working attitudes, modes of thinking, social practices and processes. This book explores these characteristics.
The books includes case studies, literature reviews and discourse analysis, this book will be a valuable resource for academics and PhD students as well as programme directors in the field.
Buy the book here