International award to Esther
The Esther network has received the IESI Award for best initiative supporting active and healthy ageing.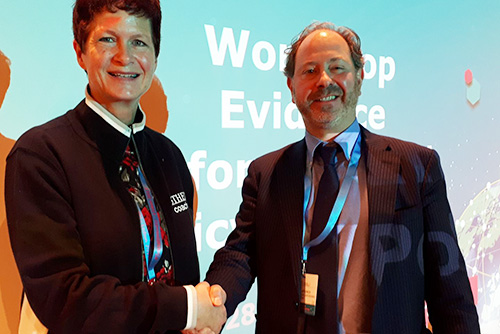 The Esther Network was selected as one of the best initiatives supporting Active and Healthy Ageing among those in the IESI database, not only because of its positive contribution to society, but also because of its disruptive ICT-enabled social innovation potential and high level of service integration.
The IESI team at the Joint research Centre (JRC) of the European Commission announced the winner at the conference "Opening Up an Era of Social Innovation", held in Lisbon 27-28 November.
The IESI award is a special occasion to celebrate the end of a three year project carried out by the JRC in partnership with the Directorate General for Employment, Social Affairs and Inclusion. The main goal of the research was to illustrate how ICT-enabled social innovation can support the implementation of social policy reforms in the EU.
The Esther network is an integrated health and social care network consisting of more than 7,000 members from health and social care services in the county of Jönköping. The network was set up in 1997 and named after an elderly patient, Esther, who had to repeat her story to 36 different service providers before getting the care she needed, with the objective of preventing this kind of situations from happening again.