Women with lipedema have major health problems but wait decades for correct diagnosis
A new study from the School of Health and Welfare (HHJ) at Jönköping University (JU) shows that women who have the disease lipedema have greater health problems and a lower quality of life than many others. Even so, it takes decades from the onset of the disease to a correct diagnosis in healthcare.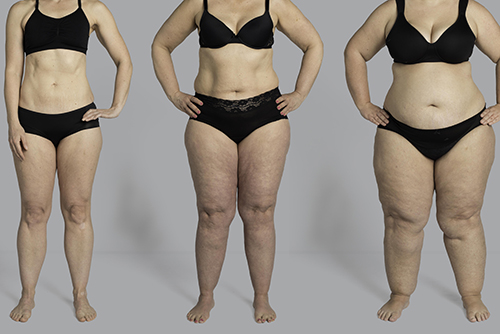 Lipedema is a chronic disease of the adipose tissue (body fat) that almost exclusively affects women. The disease causes the body's fat cells to increase abnormally, especially on the buttocks and legs, and is often mistaken for obesity or being overweight. Knowledge of lipedema is generally low, and access to care is also very limited. The numbers of sufferers is unknown, but probably high, around 10% of all women may be affected.
The research study that has been carried out at the School of Health and Welfare shows that women with lipedema report major health problems and a lower quality of life than others. The time between getting the disease (usually in puberty) and receiving a correct diagnosis in care, can take decades. In the meantime, the symptoms may worsen.

The first national lipedema study in Sweden
The research group sent out a digital survey to all lipedema patient associations in Sweden. A total of 245 woman with lipedema responded to the survey, which included questions about health and quality of life. This national lipedema study is the first of its kind in Sweden.
"It is remarkable how little research there is on lipedema. Like several other chronic diseases that affect women, lipedema has been both misunderstood and given low priority. But it is gratifying that this disease has recently received more attention and that several major international research projects are now underway. Our study contributes knowledge on how women who have lipedema feel and how the disease affects their daily life, "says Johanna Falck, PhD student in Health and Care Sciences at the School of Health and Welfare.
Correct diagnosis is delayed
The study shows that lipedema, even early in the course of the disease, is associated with several health problems which contribute to a poorer quality of life. In all stages of lipedema one can experience pain, the feeling of heavy and swollen legs as well as numbness, cold skin, easy bruising and difficulty sleeping. The results also show that it often takes a long time from the onset of the disease to a correct diagnosis. Of around 70 % of women who developed lipedema before the age of 30, only 1.6 % (three women in total) had been diagnosed by healthcare providers before that age.
"It is very important that healthcare professionals detect the disease at an early stage so that the women can receive good support. However, the long wait for a diagnosis indicates that women have to struggle with their health for many years with very little or no support from health services," says Johanna Falck.
The study has been published in the international scientific journal BMC Women's Health.
"These are important results to communicate and there is much more to find out. We are now continuing to research lipedema at the School of Health and Welfare, and in our ongoing study we are investigating the experiences of the health care system for women with lipedema in terms of treatment, knowledge and support, but also the experiences of the women of different types of lipedema treatments and self-care," says Johanna Falck.