Researcher of the Month for December is Sofie Wass, Doctoral Candidate in Informatics.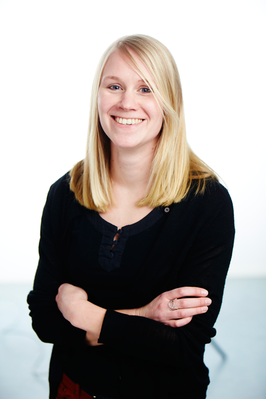 Who are you?
My name is Sofie Wass, and I'm originally from Linköping but I have lived in Halmstad and Ljungby before I moved to Jönköping. I'm married and we have two cats. In my spare time I usually work out, have "fika" or work on my allotment that I rent together with a friend.
What led you to join JU?
I began working at the marketing department at JU, then one of my former teachers told me about an opening as a PhD candidate. I'm not sure that I was aware of what it meant to be a PhD candidate but I applied and got the job. Today I am very happy and grateful that I got the opportunity.
What is your research about?
My research is about e-service in healthcare, often described as eHealth. I take part in several projects with the aim to, for instance, develop different services for citizens such as the opportunity to follow your referrals, access your health record and to use apps and e-services that have been developed by private companies. I focus on the prerequisites and challenges of allowing both private and public companies to contribute to the improvement of eHealth.
What is the best thing about conducting research at JU?
The best part about working at JU is the opportunity to work with interesting and nice colleagues in several different research projects. During my first years as a PhD Candidate I have had the chance to participate in several different research projects and experienced first-hand how research is conducted in my area. I have been involved in smaller project with five participants as well as national projects with representatives from healthcare, developers, patient organisations, lawyers and research colleagues. I have also had the possibility to teach in Rwanda, something that I hadn't even thought of before starting at JU.
What are your plans for the future?
First of all, I have a dissertation to complete and then I would like to continue working within academia. I don't have any have any further plans and will try to stay open to new opportunities.