Researcher of the Month for January is Eleonor Fransson, Associate Professor in Epidemiology.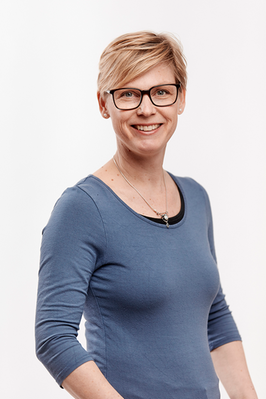 Who are you?
My name Eleonor Fransson and I am an Associate Professor of Epidemiology at the Department of Natural Science and Biomedicine at the School of Health and Welfare. I started my career as a physiotherapist, and when I had worked for a few years I began to study, first at Linköping University and later at the University of Stockholm, where I got a master's degree majoring in statistics. Then I started working in a research project at Karolinska Institutet, and after a year or two I became a doctoral student in epidemiology with a focus on cardiovascular diseases. I finished my PhD in 2006 with a thesis that dealt with physical activity in relation to the risk of suffering a heart attack.
What led you to join JU?
When I was in the final phase of writing my thesis, a couple of post-doc positions were announced at the Institute of Gerontology at the School of Health and Welfare. I had heard very good things about the institute's research on aging, so I applied and got one of the positions, beginning in 2007. When the post-doc period was over, I got a lectureship at the Department of Natural Science and Biomedicine, which I started in 2010.
What is your research about?
My research focuses particularly on how different factors in our work environment, but also in our lifestyle, affects the risk of suffering various diseases, such as heart attack and stroke. Several of my projects have been about work-related stress. I am also still involved in some projects related to aging, including a project where we study the mobility of the elderly.
What is the best thing about conducting research at JU?
The best part about being a researcher at JU and School of Health and Welfare is the interaction between different professions and research directions. It is easy to find new ways to collaborate and exciting project ideas often spring from conversations with research colleagues.
What are your plans for the future?
I would like to continue with the research that I've started at JU. From those projects, new issues that I want to study are constantly emerging. I have started to build a research group and in the future I hope to connect with more PhD students for current and new projects.