Researcher of the Month - Jakob Olofsson

Researcher of the  month for September is Jakob Olofsson, Senior Lecturer in Materials and Manufacturing.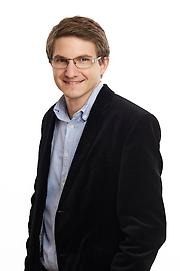 Who are you?
I am Jakob Olofsson, a music loving materials researcher from the region of Nybro. I got my Master of Science in Engineering degree in Linköping. There I met a girl from Jönköping, who became my wife and who is the reason to why I moved here in 2007.
What led you to join JU?
I was working as a design engineer in the automotive area when I ran into a researcher from the School of Engineering, who mentioned that he was looking for Ph.D. students. That brought my interest in developing new technologies to life, and when I checked around I discovered that the materials department was looking for Ph.D. students with experience of design and structural analysis, which suited me perfectly! I started here in 2009, and in 2014 I got my doctoral hat.

What is your research about?
I develop new methods for product development, which are meant to give better products that last longer, e.g. cars, trucks and chainsaws. More specifically, I develop new computer based technologies for design engineers and structural analysts. With these new methods it will be possible to estimate how a new product will behave and perform in use already before you manufacture it. Focus is on cast materials, but we use the methods for other types of material as well.
Right now I am running two projects – one in which we look at material characteristics in truck components made of cast iron, and one where we use computer optimization to find geometric shapes which give polymeric materials the right characteristics. By understanding the material and by using it in the right way we can for example get lighter and more fuel-efficient vehicles that last longer.
What is the best thing about conducting research at JU?
Here at the School of Engineering the atmosphere is really positive and there is a sense of fellowship. In the same time there are high ambitions and constantly new challenges! It is a wonderful mix of local companies, big Swedish companies and international contacts that are woven together to a powerful and unique research environment – also from an international perspective.
I don't think many of Jönköping's inhabitants are aware of all the accomplishments that have been achieved here at JU and of the positive reputation we have all over the world! When our international guests come to Jönköping they are of course struck by the beautiful nature, but also by the environment inside our walls. Nowadays, our department is one of the largest research groups within cast materials in the world, and we are only one example out of many of how JU is growing. The appointment of JU to a so-called KK environment is one of many fantastic quality stamps that we have got lately!
What are your plans for the future?
I will deepen our research at the intersection of materials research, design and product development. Right now I am starting up a new project, in which we use scanning electron microscopes to take "live" pictures at nanoscale of the material in use, and then use digital image analysis techniques to understand what the pictures show. That gives us knowledge which we need to create mathematical models of what happens inside the material. It also makes it possible for us to connect simulations and optimization technologies to control the design and manufacture in the right way.