Content updated 2014-04-02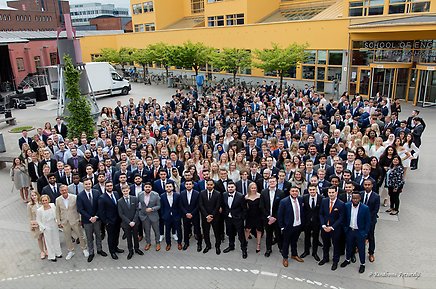 On Friday, June 2nd 2023 the completion ceremony will be held for the students at the School of Engineering.
Each year, about 500 students graduate from the School of Engineering. We celebrate this with a Final Thesis Fair (Xjobbsmässan) and a completion ceremony.
Program
1 June
10:00-13:00 The Final Thesis Fair, Xjobbsmässan, and Scholarship Awarding in Campus Arena
2 June
09:45-12:00 Class photo shoot outside the JTH entrance
09:45 Byggnadsteknik: Byggnadsutformning med arkitektur
09:55 Byggnadsteknik: Husbyggnadsteknik/Väg- och vatten
10:05 Ljusdesign
10:10 Datateknik: Inbyggda system
10:15 Datateknik: Mjukvaruutveckling och mobila plattformar
10:25 IT-infrastruktur och nätverksdesign
10:30 Grafisk design och webbutveckling (New Media Design)
10:40 Industriell organisation och ekonomi: Logistik och ledning
10:50 Industriell organisation och ekonomi: SSCM
10:55 Maskinteknik: Industriell ekonomi och produktionsledning
11:05 Maskinteknik: Produktutveckling och design
11:15 Produktveckling med möbeldesign
11:20 Civilingenjör i Industriell produktframtagning
11:25 AI Engineering
11:30 Materials and Manufacturing
11:35 Product Design
11:40 Production Engineering and Management
11:45 Supply Chain Operations Management
11:50 Sustainable Building Information Management
11:55 User Experience Design

12:00 Joint photo session outside the JTH entrance (all classes).
12:15 Programme activities, more information will be provided by your programme manager.
13:40 All students gather outside JTH
14:00 Closing ceremony in Hälsoparken. The ceremony lasts about 2 hours.
21:00 After party in Aka. More information will come from HI TECH.
Information for relatives
Family and friends are welcome to visit both the Final Thesis Fair, Xjobbsmässan and the graduation ceremony. As the graduation ceremony is outdoors, there is no maximum number of people you can invite.
Xjobbsmässan
When: June 1, at 10-13
Where: Campus Arena, Jönköping University
More information is available at ju.se/xjobbsmassan.
Graduation ceremony
When: June 2, at 14:00
Where: Hälsoparken
There are a limited number of seats, these are intended for those who have difficulty standing up for a long time, such as the elderly, pregnant and injured people. You can bring your own chair if you want to make sure you can sit down. No visitors are allowed to be inside the fenced area or behind the stage.
Umbrellas may not be used during the graduation ceremony.
Parking is available on the gravel field below Campus Arena. If this is full, we recommend the nearest parking garage, e.g. Parkeringshus Per Brahe.
Degree certificate
Once your courses are all registered in Ladok you can apply for you degree certificate.
Join the JTH alumni network
Join the JTH alumni network by adding School of Engineering, Jönköping University

External link, opens in new window. in your education section on LinkedIn.
I have not finished all my courses, can I still participate?
Ofcourse! All students who are registered on their last semester can participate on the graduation day.
Is it okay for family and friends to come?
Yes, family and friends are very welcome to visit both the thesis fair, Xjobbsmässan, and the Graduation ceremony. The Graduation ceremony is held outside so there is no maximum number of people you can invite.
Will our names be called out on stage?
The scarfs and diplomas are handed out to you by your Programme Manager during the programme activities. At the start of the Graduation ceremony the classes will be called to the stage area one by one. So, your name will not be called on stage but there is an opportunity for your family and friends to see you as your class join the ceremony.
Do I have to pay for the scarf?
No, the scarf is gifted to you by JTH.
What is the dress code?
There is no official dress code for the graduation day, but most students choose a smart casual look.
Will I get a diploma even if I haven't passed all courses yet?
The diploma handed out on the graduation day holds only a symbolic value, it is not your official degree certificate. Even if you have not passed all courses by the graduation day you will still get the diploma. But once you have passed all courses you need to apply for your degree certificate.
If you have questions regarding the graduation day, please contact lisabeth.sundstrom@ju.se
Photograph
If you wish to buy a photograph from a previous graduation day, contact Kindboms Fotoateljé.