Can JU's new research project help us get a better night's sleep?
During the pandemic, many people have had problems with sleep and, as a result, society is now facing a wave of sleep-related ill health. Sleep researchers at Jönköping University have therefore started up a unique, interdisciplinary project that will provide sufferers tailor-made treatment via an app.
"Everyone has different needs. A successful treatment needs to be custom-built for the individual," says Professor Anders Broström.
Why is it so important to sleep well? Anders Broström, Professor of Health and Welfare Sciences at the School of Health and Welfare, Jönköping University (JU), is someone who has studied this question extensively.
"Sleep is often linked to other health problems and diagnoses. If you sleep poorly, for example, the risk increases that you will suffer from cardiovascular disease. Therefore, it is good news that the importance of sleep is gaining interest in society."
Sleep problems on the increase
The issue has become even more topical during the pandemic. Anders Broström and Amir Pakpour, a professor of health psychology at the School of Health and Welfare, recently published a study along with researchers from England, the USA, Hong Kong, Taiwan and Iran

External link, opens in new window. that included data from 39 countries. The results showed that problems with sleep have increased sharply during the pandemic, and that this is connected to increased anxiety and depression.
"In the broader general public, sleep problems are cropping up more often now, but this is especially clear among healthcare professionals and among those who have suffered from Covid-19," explains Anders Broström.
"It happened quite often that when I talked to patients with heart failure, they sat there and almost nodded off a little."
An interesting observation
Anders Broström is one of Europe's leading authorities in sleep research and has been researching the importance of sleep for humans' health and well-being for more than 20 years. It was in his job as a nurse, in clinical meetings with patients with heart failure, that his interest was first aroused.
"It was about pure curiosity. At the time I was working at the heart failure clinic at the University Hospital in Linköping. It happened quite often that when I talked to patients with heart failure, they sat there and almost nodded off a little. I started thinking about why this was so," says Anders Broström.
People with heart failure often have difficulty sleeping well. Heart failure creates so-called sleep apnoea – a kind of respiratory arrest - which disturbs sleep and makes you function less well in everyday life. The whole thing can easily develop into a vicious circle because poor sleep can, in turn, have a corresponding negative effect on heart disease. Anders Broström wrote a PhD thesis about this very subject matter, and, after his defence in 2004, he continued to research sleep apnoea in other groups of people.
"This type of sleep apnoea is also very common in people with high blood pressure," he explains.
For several years, Broström also worked at the University Hospital's department of clinical neurophysiology, which investigates and treats people with sleep problems at its sleep clinic.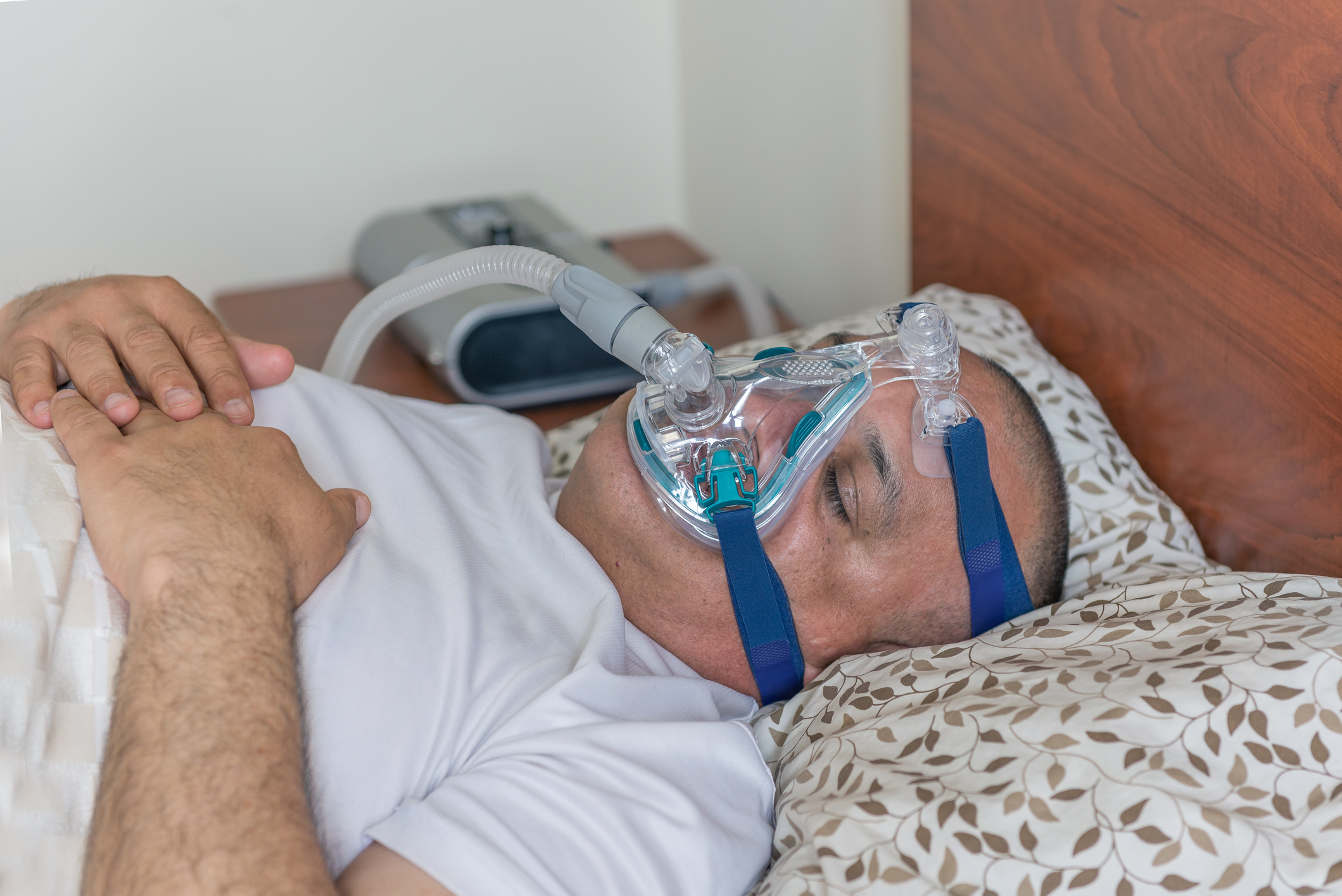 Exciting phase of sleep research
Since 2009, Anders Broström has been leading sleep research at Jönköping University. Together with Professor Amir Pakpour, he has built up a vital research community with a focus on sleep and health, in which many different types of situations and problems are studied.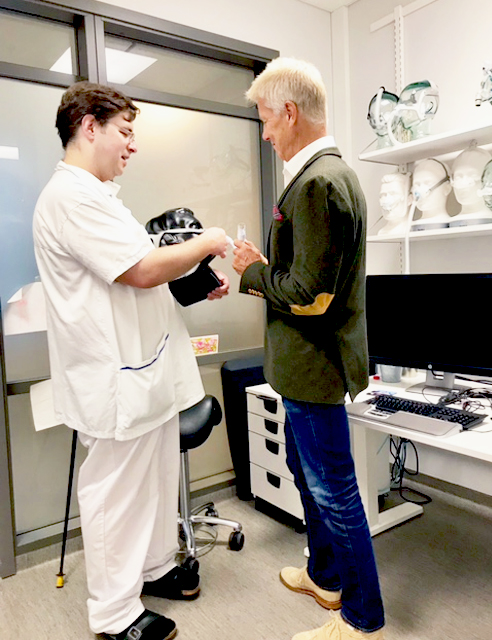 "We have a very good research environment here in Jönköping with close collaboration between the university and the rest of the region. That was actually one of the reasons why I chose to come here. The research climate is positive and over the years we have worked a lot with both the Ear Clinic at Ryhov (hospital) and several health centres regarding sleep apnoea. We also have a close relationship with the Sleep Clinic in Linköping, which gives us further opportunities to conduct clinical studies around diagnosis and treatment. Another thing that we are happy about is our many international research contacts, which is very much in line with JU's vision," says Anders Broström.
Right now, the School of Health and Welfare's sleep research is in an exciting phase which, Anders Broström hopes, will affect the future treatment of sleep problems.
"We have an ongoing doctoral project on insomnia linked to people with cardiovascular disease in primary care. The project has used internet-based CBT (Cognitive Behavioural Therapy) to help people with sleep problems."
Insomnia (which includes problems related to falling asleep, frequent awakenings and when sleep does not make one feel refreshed) is often seen in people with cardiovascular disease, which can lead to the disease getting worse. The treatment means that the sufferer receives help and support through a nine-week program to change their behaviour, which in the long run will contribute to better sleep and a better quality of life.
"This will probably be a challenge for society - but especially for primary care in the coming years."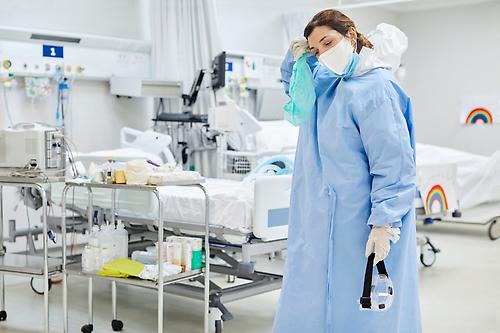 JU Sleep Well
As a result of the research conducted during the pandemic and the insomnia project, the researchers at the School of Health and Welfare have initiated a new, interdisciplinary research project that is hoped will revolutionize the treatment methods for sleep disorders.
"The situation we have had with Covid-19 has shown, in several research studies, to increase problems with falling asleep, symptoms of depression and increased anxiety in all age groups. This will probably be a challenge for society - but especially for primary care in the coming years," says Anders Broström.
This autumn, the JU Sleep Well project will start, involving all four schools at Jönköping University: the School of Health and Welfare, Jönköping International Business School, the School of Engineering and the School of Education and Communication. Anders emphasizes the importance of collaboration between researchers with different skills and clinically active staff. Together, they want to find a way to provide individual-based CBT via a mobile phone app that, for example, can be used in primary care.
"What has happened during the pandemic is that many people who suffer from sleep problems have developed unhealthy behaviours. Such behaviours are difficult to change by yourself - you need help. And it is important to remember that in many contexts, drugs are not always the best option, you need to bring about a long-term behaviour change," explains Anders Broström.
AI will create individualized treatment
The challenge will be to create a tailor-made application that can be based on the individual's specific needs, type of illness and behaviours. It is a complex challenge that requires collaboration between many different disciplines. The idea is that each school at JU will contribute with its expertise. The plan is also to use AI and other self-learning technology that can collect and process the information required for an individualized treatment.
"In total, our project group has around 25 representatives from the various schools, but also many others from a variety of clinics in the nearby region. This project connects health, pedagogy and learning, communication, technology, economics, and societal benefits, and this is where our different skills really come into their own. We will also involve many researchers who are at different stages of their career, which will be extra fun. We are fired up and eager to get started!"
Anders Broström's tips for better sleep
Sleep in a way that does not negatively affect your day. If you are feeling well, there is no reason to change your sleep routines, but if you are tired during the day, have difficulty concentrating, or have to go to bed to take a rest, then this is an early warning signal.
Create regular habits for your sleep that do not differentiate too much between weekdays and weekends.
Let your body and mind unwind in the evening before you go to bed. Listen to the body's signals! Actively trying to fall asleep is very difficult.
Make sure you have a suitable temperature in the bedroom, it should not be too hot but of course you should not freeze either.
Do not watch TV or movies in bed. Do not use your mobile phone just before going to bed.
The need for sleep is individual, but there is a connection with ill health both if you sleep too long and too little. The average need for sleep in adult men and women in many countries is around 7 hours, but this can look different during a lifetime, mainly linked to our age and life situation.