Professor at Jönköping University contributes to "Encyclopaedia of Language and Education"
Sangeeta Bagga-Gupta, Professor at the School of Education and Communication, Jönköping University, has contributed to the new edition of "Encyclopaedia of Language and Education". On the theme "Signed Languages in Bilingual Education", Sangeeta Bagga-Gupta presents an expose over the past and current research landscape and front lines. She highlights a divided knowledge field and presents a new emerging approach in bilingual research.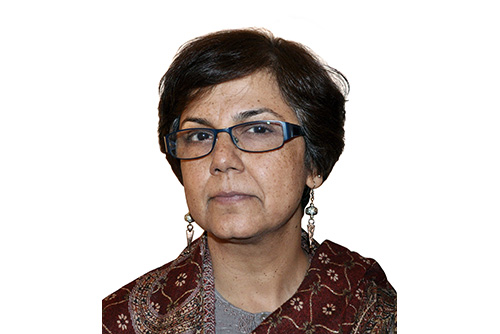 "Encyclopaedia of Language and Education", the international standard work in the fields of language and education, is revised every ten years. In the third, completely revised ten-volume edition, Sangeeta Bagga-Gupta's contribution to volume 5 is titled "Bilingual and Multilingual Education". In the chapter "Signed Languages in Bilingual Education" she presents an overarching summary of the historical and current research on and position accorded to various Signed Languages (SL) within bilingual education specifically and within education and society more generally. She also identifies and presents past and present positions accorded to SL's in research, society at large, bilingual education and deaf education from an international perspective.
"Research and education have, since the 1800s, been based on two normalizing positions. A bit simplified, one can say that the first position adopts a handicap and technical perspective, where improvements, including a normalization of the deaf is based on a hearing-oral standard. Learning of an oral language using technical-devices such as hearing aids or cochlear implants are, from this position (and as we see in Sweden since the turn of the century), seen as key to normalization and integration. The second position takes a linguistic perspective as a starting point. Here the world's various SLs are understood as central to deaf children and adults' normalization and wellbeing. This position calls for segregating the deaf (as has been the case in Sweden for a very long time), and instead of an oral language, the provision of education through a national sign language is prioritized", Sangeeta Bagga-Gupta explains.
Sangeeta Bagga-Gupta highlights recent international and Nordic research that goes beyond this age-old polarization and instead builds on the analysis of social practices where deaf and hearing children and adults participate inside and outside school contexts.
"The dominant polarized positions obscure the variation and richness of human communication where a SL is used. Irrespective of hearing status, complex interlinked resources are used in communication where oral language, SL, written language, including various national languages are used. Whatever our hearing status, we often use at least two – often even more – linguistic varieties or codes, including modalities. We are a 'languaging' species."
Sangeeta Bagga-Gupta emphasizes the importance of a third position within education for different groups, including the education of the deaf, for immigrants and minorities. In the deaf context, oral, written and signed communication constitute essential dimensions of a one education and one society for all. In education and communities where multiple languages are deployed in the course of everyday life, it is important to consider "languaging" from a multilingual perspective.
"A third position makes "languaging" visible and draws attention to social practices, rather than idealized and normative positions. It makes it possible to discuss learning and communication through one or more spoken, written, and/or Signed Languages. It also highlights issues of communication, culture and identity that are valuable for working towards a society for all."
Sangeeta Bagga-Gupta's contribution in the "Encyclopaedia of Language and Communication" presents key proposals for future research based on recent discussions within the language and educational sciences more generally.
"I think – and hope – that this will be the pathway ahead for established research. The question of how we "language" is a key burning issue in Europe today, where we have become aware that the majority of people use multiple languages. At the same time, we must continue our efforts to create an inclusive society for various national minorities and persons with disabilities."
For more information about the "Encyclopaedia of Language and Education" volumes, see:http://www.springer.com/series/15111
For more information about Sangeeta Bagga-Gupta's contribution in Volume 5, see: Bagga-Gupta, S. (2016). Signed Languages in Bilingual Education. In: Stephan May (General Ed.), Encyclopaedia of Language and Education. Ofelia García & Angel M.Y. Lin (Eds.) Volume 5: Bilingual and Multilingual Education. 1-15. Rotterdam: Springer. doi:10.1007/978-3-319-02324-3_12-1