Helping to improve the business environment in Colombia
He started out as an accountant, but now he is doing research about entrepreneurship in Colombia.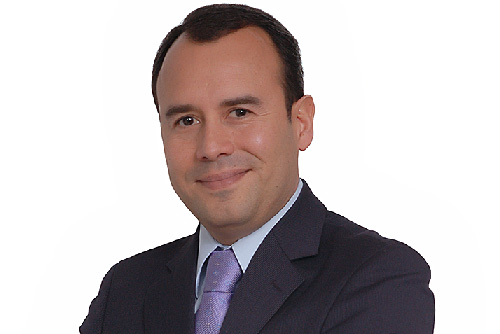 Enrique Sandino Vargas recently arrived at Jönköping International Business School to start writing his dissertation. But he is not your average PhD student (if such a thing exists), coming from the position as dean of the School of Accountancy at the Universidad Antonio Nariño in Bogota, Colombia.
From accounting to entrepreneurship
It all started with an MBA at the University of East London in 2005. Enrique Sandino Vargas came there as an accountant, but wrote his thesis on innovation as competitive strategy. His supervisor encouraged him to take the step from accounting to entrepreneurship, and advised him to someday do a PhD on the subject. JIBS was one of the schools she suggested.
"When I came back to Colombia, I started teaching at the Universidad Antonio Nariño, and at the same time I was the coordinator of the entrepreneurship centre at the School of Business Administration. After one year, the president asked me to become the dean of the School of Accountancy, and I accepted," says Enrique Sandino Vargas.
For the next eight years, in parallel to being dean, he worked as a contributor for the Doing Business project, a report published by the World Bank that measures business regulations around the world, and he was also a consultant for a project for young entrepreneurs. Then the university gave him the opportunity to do his PhD. He decided on JIBS, and is now connected to Centre for Family Enterprise and Ownership (CeFEO).
"Research in entrepreneurship and regional development are in its early stages in Colombia, but here in Europe I am close to some very famous researchers in the field. I was pleasantly surprised that some of them even work here at JIBS!" he says.
Coming to Sweden has not been easy. Opening a bank account turned out to be a bureaucratic mess, and finding a flat or house so that his family can join him has been equally difficult. But on the positive side, at JIBS he found himself surrounded by friendly, helpful people from all over the world.
Improved business environment
"The thing with Colombia is that we are very creative, but we have a high rate of failure. I want my research to have a positive effect on the entrepreneurship knowledge in Colombia, helping policy makers to improve our business environment, reduce the failure rate and basically make everything easier for entrepreneurial activity in Colombia."
In Colombia, a difficult and complex conflict has been going on for more than 50 years, but in November 2016 a peace deal was signed between the government and the FARC rebels. During the conflict, people left the rural areas and fled to the cities or to other countries. Now, they are starting to move back and there is a land restitution programme in place. This back migration provides a background for Enrique Sandino Vargas' thesis work.
"This back migration is a non-economic phenomenon which affects the economy. Rural businesses are a big part of the economy in a developing country, so in this first stage, I am looking at family businesses in the countryside. Later, I hope to move on to other aspects of entrepreneurship, and to and to contextualize phenomena that can have a positive or negative effect on entrepreneurship in Colombia", he says.
Reaching out
Enrique Sandino Vargas hopes to reach out to policy makers, and there are already several politicians who have shown an interest in his research.
"My university wants to become an important institution in entrepreneurship research, and learn from JIBS and CeFEO. If we can start a centre like CeFEO, that would really help to create a healthier business environment in Colombia."
He is optimistic about Colombia's future. The conflict is hopefully over and a new phase is starting, where Enrique Sandino Vargas can play an important part.
"I want to do my research in this peaceful country, and then go back home and fix everything I can."