Nanocomposites may replace environmentally hazardous surface treatment of metal parts
Electroplating of nanocomposites could be used to achieve wear resistant surfaces on metal components. A new doctoral thesis by Santiago Piñate at the School of Engineering, Jönköping University, takes the technology one step closer to being ready for industrialisation.
– This technology has a good potential to become a better and more environmentally-friendly alternative to the hard chromium coatings that have been common, says Santiago Piñate.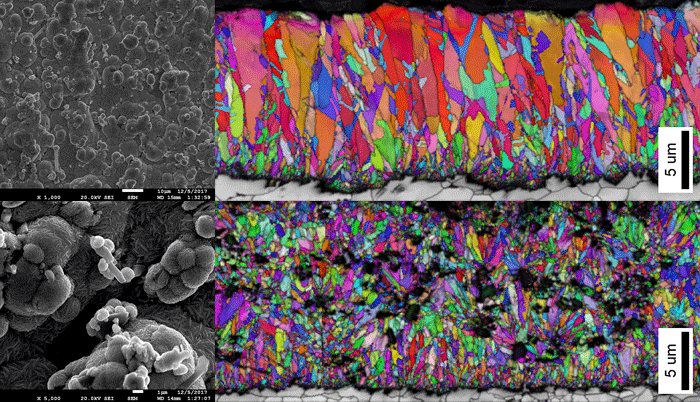 A long-wearing surface is an important characteristic in many products, such as engine components or cutting tools for hard materials. Traditionally, coatings based on hexavalent chromium have been commonly used to provide a durable surface. In recent years, however, the EU has limited the use of hexavalent chromium, since it is hazardous for the environment and the public health. Therefore, European companies need to find good alternatives for chromium coatings.
"In my thesis, I have studied the electroplating process of nanocomposite coatings, which could potentially replace the use of chromium coatings. Electroplating is used for large-scale production of composite coatings already today, but with microparticles instead of nanoparticles. With the use of nanoparticles, we may develop more wear-resistant coatings," explains Santiago Piñate, doctoral student at the School of Engineering and the author of the new thesis.
The doctoral thesis provides a complete picture of the electroplating process for coatings with nanocomposites – from the understanding and control of input parameters to the final properties of the material and how all factors are interconnected.
"Before we can tell if this technology is a suitable replacement for the hard chromium coatings, we need to understand and be able to control the process. So, I have investigated the interaction between the nanoparticles, which function as a reinforcement in the material, and the conditions of the process. I have also studied how the nanoparticles change the crystallisation of the metal, as well as how different aspects influence the properties of the material," says Santiago Piñate.
The new knowledge generated from Santiago Piñate's research is valuable, for instance, for companies that use different processes for surface finishing, and especially for those companies that are currently using microcomposites to provide durable surfaces and want to increase the durability further.
"I hope that my research will arouse interest in nanocomposite coatings, since it shows that it is possible to control the process. An increased understanding of how we can control the process of the nanocomposite production will enable us to find better and more environmentally friendly alternatives for providing wear-resistant surfaces," says Santiago Piñate.
Santiago Piñate successfully defended his thesis "Control of Particles Codeposition and Strengthening Mechanisms in Nickel Based Nanocomposite Coatings" on 31 May. The opponent was Mari Lundström, Assistant Professor at Aalto University in Finland.
The doctoral thesis was part of the research project FunDisco. You can read about FunDisco here:
https://ju.se/en/research/research-groups/materials-and-manufacturing/research-projects/fundisco.html
If you would like to know more about Santiago Piñate's research, you are welcome to contact him via e-mail: santiago.pinate@ju.se