International scholars gather for Image Schema Workshop
On 24-25 March, Jönköpings AI Lab (JAIL) at the School of Engineering, Jönköping University, hosted The Sixth Image Schema Day workshop attended by a group of scholars from all over Europe, and from research areas as diverse linguistics, art, design, robotics, and computer sciences. The topic was Image Schemas – a recurring structure within human cognitive processes that helps us organize and understand the physical world. It was the first time the workshop has been held in Sweden and the aim was to bring together scholars to network, present research and find new collaborations for future research.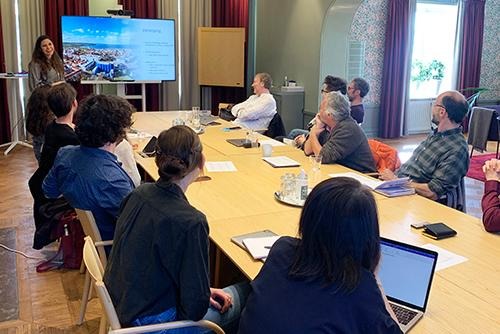 The Sixth Image Schema Day was held at Mariedal, JU's conference centre, and was organised by the School of Engineering's AI research environment, JAIL. Over two days, international scholars from several disciplines and scientific levels gathered to present their research and discuss the topic of images schemas.
Image schemas are conceptual micropatterns that humans use to construct their understanding of the world and is a growing research field in psychology, philosophy, linguistics, artificial intelligence and cognitive robotics. Whereas humans see and instinctively understands objects in the world, and their relationship with each other, a robotic eye receives this information as pixels and has no embodied experience to help it understand what the object is or how it behaves.
Cutting edge in robotics
Mihai Pomarlan, a PhD in Robotics from the University of Bremen in Germany, attended the workshop and explained why this topic is an important one.
"Image schemas are about the cognition about the physical world, basic things that humans discover from an early age, but that for robots and artificial intelligence in general is very difficult to do. Computers can compete in chess games, but they can't very easily walk down a flight of stairs. So this aspect of the embodied interaction with the world is where the cutting edge is in robotics," he explains.
Crossing disciplinary boundaries
The multidisciplinary aspect of the workshop is something that another international attendee, John Bateman, Professor of English Applied Linguistics, sees as important:
"A lot of the questions we have to face these days don't align with these traditional disciplinary boundaries. We have here people from linguistics, from computer science, hard-core formalisms, cognitive approaches and from various creative areas. All of these are providing serious input into how we conceptualize the entire area of image schemas. For many of the problems we are now addressing, we need to do distributed research working on common tasks."
For organizers Maria Hedblom (JU) and Oliver Kutz (Free University of Bozen-Bolzano, Italy), the mission of the workshop was accomplished:
"I think it is safe to say that, while obscure in topic, we had with us some important people interested in these ideas that are part of the "image schema community". As organisers, we provided an interdisciplinary platform to do great collaborative research, while at the same time promiting Jönköping University and our research internationally.
More information
You can find out more about the workshop here

External link, opens in new window..
Contact