New dissertation studies how new technology can support patients in psychiatry
In psychiatry, investments are often made to improve care, but whether or not they have an effect is only known to a small extent or not at all. The lack of both good outcome measures - to see to what extent patients get better - and an appropriate theory for how to pursue follow-up and improvements with the support of new technology means that psychiatry is largely groping in the dark. This according to Andreas Gremyr who recently defended his dissertation at the School of Health and Welfare, Jönköping University.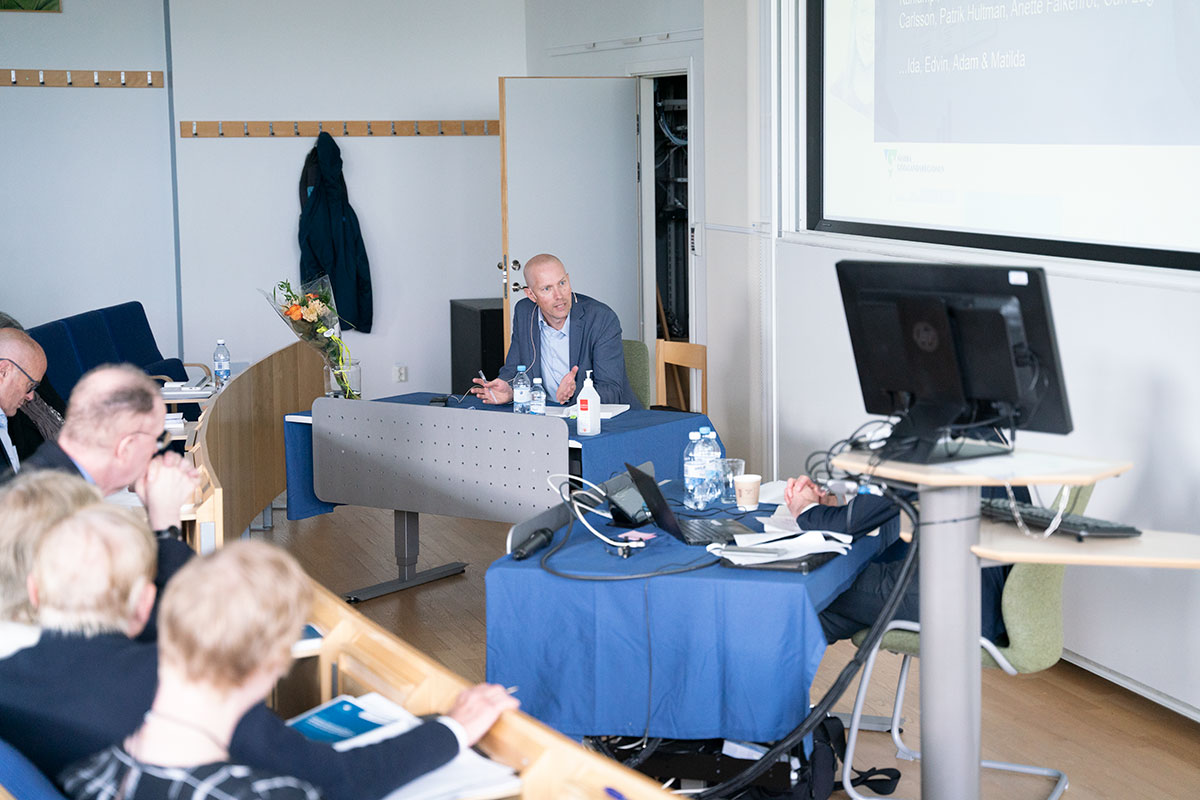 Schizophrenia and similar psychotic disorders usually arise in early adulthood, with symptoms such as delusions and thought disorders. This contributes to many types of difficulties, such as establishing and maintaining relationships. These are conditions that have a significant impact on individuals' health and well-being - and generate large costs for society.
Despite knowledge on what constitutes effective schizophrenia care, more than 70% of treatment attempts fail for individuals with schizophrenia in Sweden, sometimes leading to premature death.
Difficulties for both patients and therapists
Surveys of psychosis and schizophrenia care in some of the regions in Sweden show difficulties for both patients and therapists to systematically navigate towards better health for the individuals. This is partly due to a lack of ways to jointly plan and evaluate care, and to a lack of credible theory about how change can be driven.
For patients with other chronic conditions, the vision of the so-called learning health system (LHS) has been translated into theories and models used to systematically improve health outcomes - but in a psychiatric context, very little, or nothing, has been done.
The main purpose of Andras Gremyr's dissertation is to increase the understanding of LHS and its usefulness in schizophrenia and psychosis care in co-creation (when different actors jointly create knowledge, research results and other things of common interest) of better health. This from both the patient's and the health care perspective.
The purpose is addressed through two different research questions:
How can the improvement of health for individuals with schizophrenia and the improvement of the function of the system be supported by co-creation in an LHS model?
Can an LHS-based intervention, the use of a digital patient overview during care visits, contribute to better health for individuals with schizophrenia?
Significantly positive results
The work on the dissertation took place within the Department of Schizophrenia Spectrum Disorders at Sahlgrenska University Hospital, Gothenburg, in collaboration with Jönköping University and the Schizophrenia Association. The dissertation presents a model for what is important in developing psychiatry into a learning health system.
"Tests in the practice of technical support, in the form of a patient care record for schizophrenia, show significantly positive results regarding patients' self-estimated level of function. This is probably because the patient care record supports a more proactive approach where patients and therapists together earlier discover when there are deteriorations, or improvements – simply put, reasons to tackle the matter or to celebrate," says Andreas Gremyr.
According to Andreas Gremyr, it is not enough to try to implement guidelines when it comes to developing better psychiatric care - instead, different actors - patients, therapists and others - need continuous feedback on how things are going for the patients. In this context, useful outcome measures, user-adapted data visualisations and working methods are needed so that all actors work together to improve the quality of care.
Andreas Gremyr has a background as a psychologist with clinical experience from psychiatric care, mainly in out-patient care. In addition to his doctoral studies, he works as operations development manager at the Department of Schizophrenia Spectrum Disorders at Sahlgrenska University Hospital. The lessons learned from the dissertation work, he says, have already led to further development and testing of new working methods with the support of new technology.
"We are in the process of testing in psychosis care in Gothenburg and are about to scale it up to other patient groups. I see it as extremely valuable to be able to bridge between care and academia in practical development work and research studies, and hope to be able to do so in the future as well," says Andreas Gremyr.
Andreas Gremyr defended his thesis "Improving health with and for individuals with schizophrenia using a learning health system approach: From idea to daily practice" at the School of Health and Welfare on 25 May 2022. The opponent was Professor Martin Graham, THIS Institute, University of Cambridge.
Fact
The concept of Learning Health Systems was coined in the United States in 2007 by the Insitute of Medicine (IoM). It combines person-centered care with the use of new technology, to enable continuous improvement together with patients, relatives and other stakeholders.