Digital competence among the elderly investigated
Jönköping University (JU) is developing a new instrument to measure the digital competence of people over 65. The goal is to identify which digital activities are difficult for the elderly to perform. It is hoped that the results can form the basis of a developed IT support that is adapted to the users' skills.
The research is carried out by Caroline Fischl, university lecturer in occupational therapy at the School of Health and Welfare. She has previously researched challenges the elderly have in activities where digital technology is used, based from the perspective of different activities in question.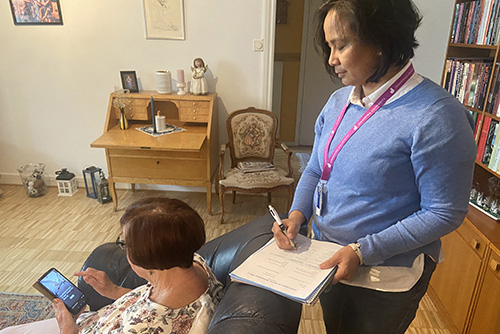 The newly developed instrument is used to observe people over 65 when they choose to carry out an activity on an ipad, smartphone, computer or digital TV that they think may be problematic and difficult. Examples could be downloading an e-book, moving pictures from a phone to a computer, writing e-mails or using social media. Each moment is observed by the researcher and scored in the instrument so that it can later be measured and analyzed.
"We have seen that there are activities that are difficult for older people to carry out, such as booking a health care appointment. With a clear answer to what types of activities are difficult for them to perform, we can measure and understand the users' skills and challenges in a better way," says Caroline Fischl.
Many older people excluded from digital society
Over 95 percent of Sweden's adult population is categorized as "internet users" and Swedes over 76 are the age group that is increasing the most when it comes to internet use. In 2017, a research project, run by Ulli Samuelsson, lecturer in pedagogy at HLK, Tobias Olsson at Lund University and Dino Viscovi at Linnaeus University, was published where they came to the clear conclusion that at least 400,000 people in the 65-85 age group are excluded from digital society.
"Many older people avoid using digital services if they don't need to, but as society looks today, it is needed more and more often. Those who then do not use or cope with digital technology will be excluded," confirms Caroline Fischl.
The pandemic contributed to an already difficult situation in that many of the elderly were cut off from the hands-on help that they needed, for example, when buying a new phone and having its functions explained to them in a practical way.

Custom technology
With the results of the research, Caroline Fischl hopes that those who develop digital services can develop technology that is more useful for the elderly.
"The research can also contribute to broadening supply for the labor market. It's the case today that older people are not considered to be able to perform a job because they do not have the technical skills. Through adapted IT support, more people can perform technical tasks, which will benefit both employers and employees," says Caroline Fischl.
The research is being carried out in collaboration with Hiroshima University, Japan during 2022-2023.