The JIBS story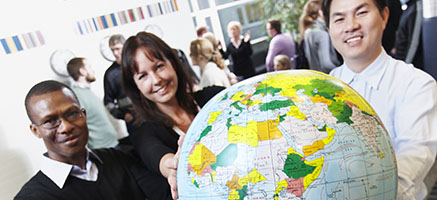 In 1992, a report was presented to the Swedish Minister of Education, proposing a business school in Jönköping with an international dimension in faculty, student exchange and curricula.
Deans
1994 - 1996 Agne Boeryd
1996 - 2000 Leif Lindmark
2000 - 2001 Leif Melin
2001 - 2007 Rolf A Lundin
2007 - 2010 Niclas Adler
2011 Agneta Bladh (interim)
2012 - 2015 Johan Roos
2016 Anna Blombäck (interim)

2016 - 2023 Jerker Moodysson
2023 Johan Klaesson (interim)
Background
Higher education in Business Administration had started as early as 1970 in Jönköping, then in collaboration with the University of Gothenburg. In 1977 Jönköping University College was set up as a state university college, with two programmes: an accounting audit programme and a secretary programme. In 1989, a four-year programme in Business Administration was founded.
At the end of October 1988, Professor Åke E Andersson, who was very active in the debate on regional development, met the (then) Governor of Jönköping County, Gösta Gunnarsson, over lunch to discuss the regional development issues. As a result of this lunch meeting, the county administrative board commissioned an analysis of Jönköping County, emphasising knowledge, infrastructure, and culture.
This first report, titled Regional revitalisation - an analysis and vision for Jönköping County, was delivered to the county administrative board in early 1990.
One person who had been a particular help to Andersson was (then) PhD Charlie Karlsson. The main proposal of the report was an investment in an internationally oriented business school of the highest class in Jönköping.
Many thought that the proposal was unrealistic, but others found it fascinating. A survey conducted in the region showed that there was strong support for such a school.
The county administrative board wanted to move forward. Later that year, the Foundation Jönköping International Business School was founded, with the governor Gösta Gunnarsson as chairman and Charlie Karlsson as project manager and managing director. In the coming years, extensive work was done to establish an international business school in Jönköping.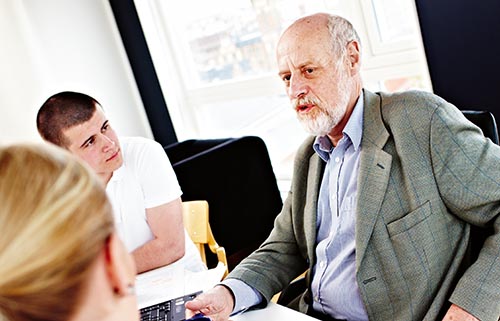 The foundation
The Foundation Board published a report (with Charlie Karlsson as the primary author) in 1992 containing "a substantial proposal for a new school in Sweden that can contribute to the development and renewal of higher economic education and research in Sweden".
The report argued for entrepreneurship as well as small and medium-sized companies as a major profile. The proposal was presented as an alternative to the "administrative" perspective traditionally dominant in Business Administration and Economics education in Sweden. The report also stressed further cooperation with local and national businesses.
A significant innovation presented in the report and later implemented was the host company programme. Undergraduate students could have a hosting company to create an arena for meetings between theory and practice.
The report also strongly argued for resources to establish a doctoral programme, based on the belief that a possible success of the undergraduate and master programmes depended on a faculty with a solid academic reputation and knowledge.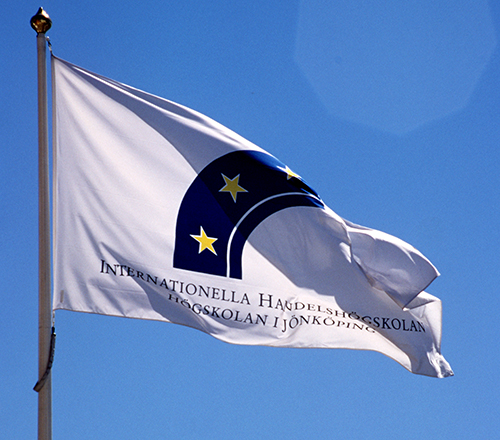 An opportunity to implement the plans presented itself when in 1993, the Swedish parliament decided to privatise the then relatively small governmental university in Jönköping. Jönköping University became a foundation university, and The Department of Management and Economics became the base of the new Jönköping International Business School. The other two schools were the School of Education and Communication and the School of Engineering. (The School of Health and Welfare became part of the university in 2002.)
A Board of International Advisors was set up and comprised 12 prominent Professors from renowned universities in Europe and the USA. During the build-up of JIBS, the experience and expertise of the board was of great value and played an essential role in the recruitment of the first Professors.
The first years
When the first students arrived in 1994, there was a four-year MSc programme in International Business Administration, a three-year BSc programme in Business Informatics (MSc from 1995) and an LLM programme in Commercial and Tax Law. In 1995, another programme, the MSc in Economics and Politics, was started.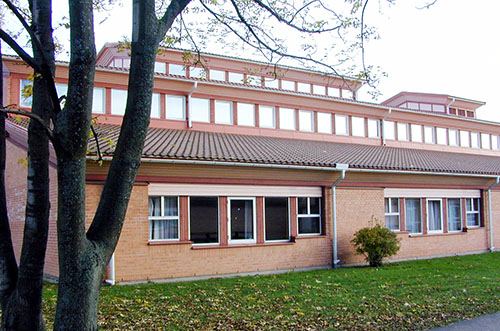 At the beginning of 1994, JIBS had 33 employees, including administrative staff and three Professors, but no premises of its own. Office space was rented in two different locations, and classes were held in several buildings around the city. A joint initiative between the municipality and the university and sponsorship from some 30 regional companies made it possible to create a new campus in 1995. The characteristic round white building of JIBS, designed by White architects in Gothenburg, was inaugurated in 1997.
All programmes had an international focus right from the start, and all students had the opportunity to study abroad for one or two terms. JIBS started to develop partnerships with universities worldwide and soon reached the country's highest student exchange rate. From 2003 international students could apply to study entire programmes taught in English at JIBS.
The focus on internationalisation has remained both in terms of educational content and the composition of students. In 2020, approximately 50 % of degree programme students came from other countries. JIBS early sought to develop quality systems and curricula among the best to manifest international competitiveness and relevance. In 2008 JIBS obtained the first programme accreditation. Since 2015 the school holds double institutional accreditation, from EFMD (EQUIS) and AACSB – the two most internationally renowned organisations for accreditation of business schools.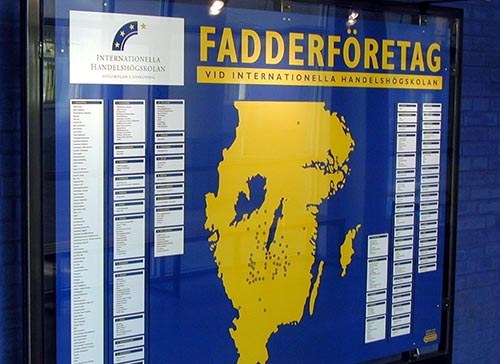 Entrepreneurship and collaboration with society were stressed in both research and education. All bachelor students were required to take a course on entrepreneurship. The students in Business Administration were assigned a "host company" to visit during the first two years of study. Later on, Universitys all over Scandinavia copied the idea of host companies.
Research and research centres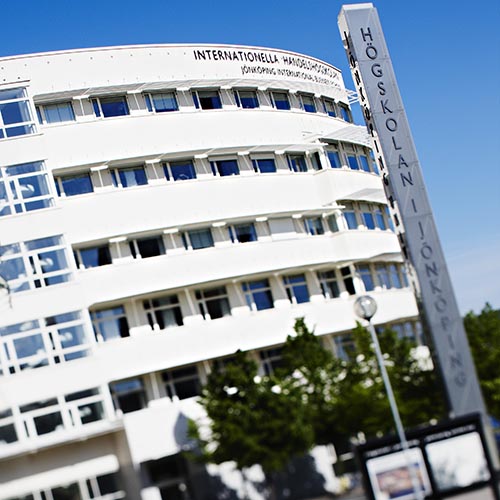 Since the start, JIBS has focused on research and research education. The focus has been on themes that cut across disciplines, rather than on a specific discipline or subdiscipline, to facilitate knowledge density and increase impact.
The themes have only changed slightly over the years. Since 2012 the defined focus areas are Entrepreneurship, Ownership, and Renewal.
Since 2001, several "centres of excellence" mainly financed by external funds have been established to further establish and benefit from specialised hubs of cross-disciplinary knowledge. The current three centres are; Media, Management and Transformation Centre (MMTC) (founded in 2003), Centre for Family Enterprise and Ownership (CeFEO) (founded in 2005), and Centre of Entrepreneurship and Spatial Economics (Cense) (founded in 2010).
The continuous focus on research and specific focus areas has resulted in strong international recognition. Based on publications and citations, JIBS ranks very high in Europe and globally in entrepreneurship, family business, and regional economics.
Timeline
1970 A university-level education in Business Administration starts in Jönköping, in collaboration with the University of Gothenburg.
1977 Jönköping University is created as a governmental university, and two national programmes in Business Administration started: Accounting and Auditing and education for secretaries.
1990 The Jönköping International Business School foundation is created to work for the implementation of a new business school in Jönköping.
1994 Jönköping University is privatised as a foundation university. The first students arrive at Jönköping International Business School – one of three schools at Jönköping University.
1995 Jönköping University is granted rights to award doctorates in Business Administration, Commercial Law, Economics and Political Science at JIBS.
1996 The first installation of professors.
1997 Moving into newly built campus. JIBS is the first in Sweden to use the international ECTS scale for the grading of courses.
1997 The first doctoral dissertation: Anders Melander, Business Administration.
1998 Major research grant from the Wallenberg Foundation - SEK 25 million to the Program for Entrepreneurship and Growth plus SEK 10 million to set up an Information Centre for Entrepreneurship at the University Library. Founding of JIBS Alumni Association.
1999 First woman professor installed: Elisabeth Sundin, Business Administration.
2001 The world-leading entrepreneurship conference Babson College – Kauffmann Foundation Entrepreneurship Research Conference is held in Jönköping. First woman PhD: Eleonor Alhager, Law.
2003 Entire programmes are taught in English to allow international students to study full-time in Sweden.
2008 The bachelor programme International Management obtains EPAS accreditation.
2010 1000 regional scientists worldwide gather in Jönköping for the 50th ERSA congress, organised by JIBS and ERSA (European Regional Science Association), making it the largest congress ever for regional scientists.
2011 The first fee-paying degree programme students arrive. JIBS obtain double programme accreditation as the Master programme Strategic Entrepreneurship succeeds with EPAS accreditation.
2012 The first award ceremony for JIBS Entrepreneurship Challenge, a student competition made possible by a donation from Lennart Israelsson.
2013 JIBS becomes a signatory of the Principles of Responsible Management Education (PRME). The initiative Vertikals is launched, aiming to increase the visibility of JIBS.
2014 EPAS re-accreditation. The Master programme Strategic Entrepreneurship obtains a 5-year accreditation.
2015 JIBS obtains EQUIS and AACSB accreditation.
2018 JIBS obtains a renewed EQUIS accreditation for the maximum period of five years.
2021 JIBS is ranked among the top 95 in FT's European Business School ranking and the top 100 in FT's Masters in Management ranking for the first time.