Study at JIBS
We offer our students a relevant business education and a truly international experience.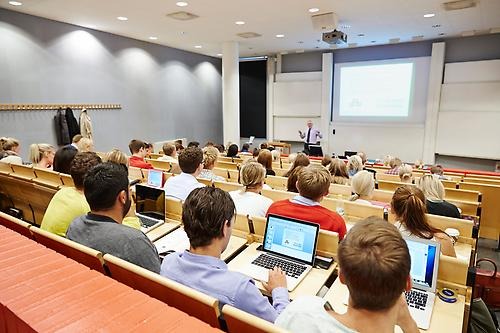 As a student at JIBS, you are part of a diverse mix of students and faculty, giving you a unique educational and personal experience. You collaborate with peers from all over the world who share your ambition to gain deep knowledge, essential skills, and a can-do attitude. All of this makes you attractive to employers and well prepared to enter the job market or start your own company.
To ensure you get a relevant education, JIBS maintains close ties to business and society. Our pedagogical approach is built on interactive and experiential learning and the combination of theory and practice. As a student, you will collaborate a lot with other students and connect with companies and organisations in various learning activities and assignments.
We continuously develop our education portfolio and aim to match the needs of different types of students and stages of life. We offer complete degree programmes at Bachelor, Master and PhD levels, as well as single-subject or "lifelong learning" courses.
Read more about our programmes.
JIBS education is delivered in English, except for a few courses that focus on Swedish law and accounting standards. Our campus environment is truly international, with approximately 50 % of students and 50 % of teachers originating in other countries.
Accreditations
JIBS has double international accreditation from AACSB and EQUIS. These accreditations guarantee an internationally competitive education based on relevant links to practice and monitored through a well-defined quality assurance system.
FT ranking
The Financial Times (FT) conducts annual rankings of business schools and different types of business programmes. The FT rankings are highly regarded across the globe and build on a range of data, including information from previous graduates.
In 2021 and 2022, JIBS was ranked among the top 95 in FT's European Business School.
JIBS also ranked top 100 in FT's Masters in Management 2021, 2022 and 2023.