Nearly 17.5 million SEK for JTH research projects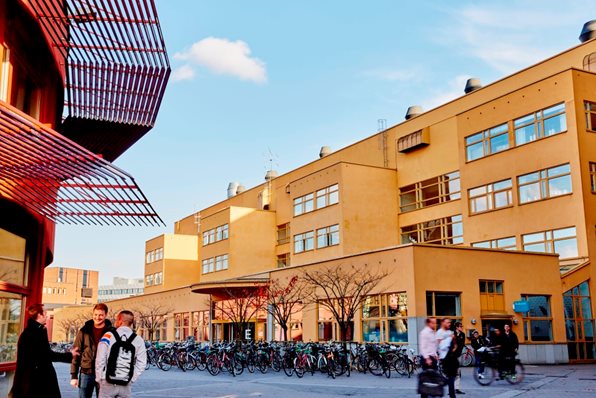 The School of Engineering (JTH) at Jönköping University (JU) has been awarded approximately 17.5 million SEK in grants from Vinnova for various research projects this summer and fall.
On 5 October, Vinnova decided to allocate just over four million SEK to the research project "Refuse - Resource-efficient use and development of reconfigurable processing systems", which JTH runs in collaboration with the University of Skövde (HiS).
"This is a fantastic opportunity to contribute to a competitive and sustainable Swedish automotive industry. This also takes the important research area within reconfigurable production a step forward," says Carin Rösiö, Associate Professor and project leader for Refuse, for which JTH is the main applicant.
Smarter technical solutions
The project is about extending the lifespan of processing machines in the Swedish automotive industry through smarter technical solutions. It can, for example, be about the equipment being adapted and used for more types of products.
"The contribution from Vinnova means that we get to work to a large extent on creating adaptable and sustainable vehicle factories," says Carin Rösiö.
The industrial partners in the project are Volvo GTO, Aerobay, AC Floby, Leax, AFRY, Scania and IDC West Sweden. They all strive to drastically reduce their environmental footprint while introducing new generations of electric vehicles.
"Bringing these dreams into reality"
Ehsan Ghassemali, Associate Professor at JTH, and project leader for the research project "ALL4Hydro II (Alloy development for hydrogen-related applications: Part II)". It is about fully implementing hydrogen as fuel for the automotive industry and was awarded 3.3 million SEK in grants from Vinnova on 15 September.
"Imagine a fuel or an energy source that, when burned, produces no pollution. Imagine driving without the need to even charge with electricity or flying with net-zero carbon emissions. Hydrogen is bringing these dreams into reality, says Ehsan Ghassemali.
The project's industrial partners Volvo Technology AB, Ovako AB, Thermo-Calc Software AB and Nilsson-Energy AB, are contributing the same amount of money as Vinnova, so the total funding will be 6.6 million SEK.
Focus on the automotive industry
Hydrogen atoms are very small and can diffuse into the atomic structure of metals, which can make metals very brittle and cracking easily. This is a phenomenon called hydrogen embrittlement. "ALL4Hydro II" deals with this very challenge, developing metallic materials resistant to hydrogen embrittlement thus contributing to the full implementation of hydrogen as a green fuel or energy source in many industrial sectors. The project's focus is on the automotive industry where hydrogen can be used as fuel in motor vehicles.
"Vinnova's contribution is timely and crucial. It will help lift the competence to another level in this fast-growing area and thus keeps Swedish industry and academics on the map of world experts in the area of strategic-metallic-materials development, says Ehsan Ghassemali.
Facts
Here are more research projects at JTH that have received grants from Vinnova this summer and fall:
¤ Four millions SEK to "KlirAl" (Climate Adapted Purified Aluminium). Project leader: Anders Jarfors.
¤ Approximately 3.5 million SEK to "MaReAl - Manufacturing of Al-MMC brake discs from recycled Al-Si alloys". Project leader: Lucia Lattanzi.
¤ Approximately 1.4 million SEK for "Cognitive digital twins for the production of sustainable modular houses". Project leader: Ibrahim Yitmen.
¤ 1.3 million SEK to "InReal - Increased use of recycled aluminum in foundry processes". Scientific responsible for JTH: Catarina Zanella.
Professor Materials and Manufacturing - Casting

School of Engineering
Professor surface technology

School of Engineering