JTH International Campuses
The International Campuses of the School of Engineering (JTH-IC) are our nodes for implementation of education and research in an international environment. By means of JTH-IC, we offer students to do their internship or thesis abroad, in collaboration with a company, and usually in combination with academic studies. We give advice and support in many practical matters relating to the semester abroad. JTH-IC also promotes Swedish companies that operate globally, but also other companies and organisations, who are in need of manpower, skills, research and development.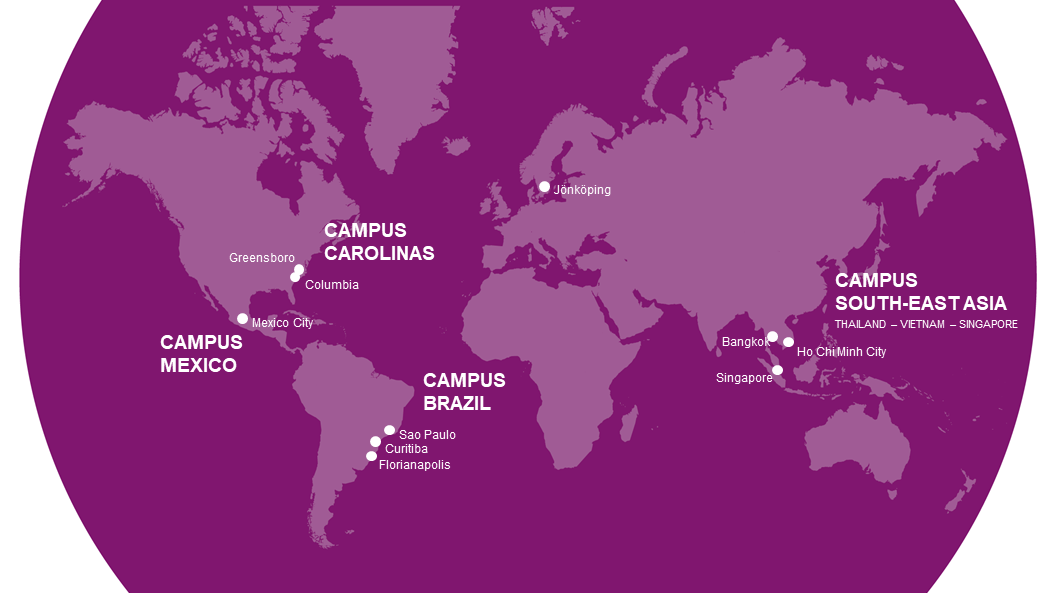 Our International Campuses - JTH-IC

You find our International Campuses - JTH-IC - in the following regions:
Both students and companies benefit by being an active partner in JTH-IC. Students at the School of Engineering will aquire international and cultural experience. The companies, on the other hand, can make new contacts with students while receiving help with development and projects. Through the internships or project works, students contribute with valuable solutions.
Student internship and Thesis work
Students from the School of Engineering do 16 week part-time Internships called Industrial Placement Course, "IPC",  or Thesis work.
The cooperation with the business community and the fact that students can learn practical skills while studying abroad is one of the most important part of the concept of the School of Engineering. We invite more companies and organizations to collaborate with the School of Engineering and Jönköping University through the International Campuses (JTH-IC).
Take the opportunity to recruit the employees of the future already today!
Industrial Placement Course
What can you expect a student to know?

Networking events with the Chamber of Commerce

The Swedish Chamber of Commerce is an active strategic partner in each region, as a part of JTH-IC. Companies and students can see new opportunities for networking and exchange of experience. We cooperate with:
A number of network events are held annually. We connect businesses and students, who can develop new ideas, products and services in collaboration.

The basic criteria for us to establish an International Campus includes among other things that its region is attractive for business growth, and that a Swedish business network is already established in the region. There should also be a possibility to develop new partnerships in education and research with one or more partner universities.