Lovisa Dehlin, arbetsterapeutprogrammet, James Cook University, Australien (In Swedish)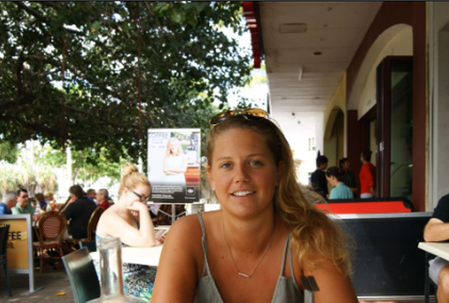 Anledningen till att jag åkte utomlands, värme, sol, bad, och få en snygg bränna. Nej det var inte de anledningarna till att jag valde att studera utomlands och i Australien, även om det såklart var helt fantastiskt med värme och sol! Att åka och studera i ett annat land under mina universitetsstudier har jag haft en längtan efter innan jag ens började studera i Jönköping. Att få komma ut i världen och se andra fantastiska platser och möta massa människor samtidigt som jag visste att jag kommer utvecklas och få med mig en massa erfarenhet vidare i livet.
Jag var i Townsville, Australien. Det ligger ca 4 timmar söder om Cairns på nordöstra sidan. Jag läste där tre olika kurser, en som var specifik för arbetsterapi, OT2015 Physical and Cognitive-Neurological Determinants of Occupation. Denna kurs var otroligt givande, höll ett högt tempo och var väldigt intressant, föreläsarna var otroligt kompetenta och höll en seriös och otroligt givande stämning där man alltid gick ifrån lektionen med mer kunskap om arbetsterapi. Är man inne på att läsa en termin i Townsville är denna kurs ett måste! Man inser varför arbetsterapi är så otroligt viktigt! Det var 6 timmars workshop varje vecka och ca 2-5 timmars föreläsning varje vecka och mycket egenstudier. Jag hade även en form av praktik där jag hade en egen klient, en äldre kvinna som jag var ansvarig att gå igenom hela arbetsterapiprocessen med under ca 8 veckor. Det var inga problem att hänga med i varken kursen eller under mina samtal med klienten, det tuffaste var tentorna i slutet av terminen, men främst för att man tentar av alla kurser samtidigt! Jag läste även två andra kurser, health promotion som jag också skulle rekommendera då den är väldigt relevant i alla länder, däremot så var det en hel del fokus på samhällsproblem i Australien men läraren var väldigt inbjudande och ville gärna veta mycket om Sverige och våra problem. Den sista kursen var en första termins kurs som vi här saknar och jag tror att man får ut otroligt mycket av denna kurs då man pratar mycket om ICF samt samarbetar med andra professioner men man får även lära sig om olika hjälpmedel och ta blodtryck med mera, denna kurs hette " Foundations of Allied Health Professional Practice"
Informationen som jag fick från James cook university (JCU) innan jag åkte var bra, jag var förberedd på hur allt skulle gå till och vad som krävdes av mig innan jag åkte dit. Det hade dock inte gått lika bra utan min kontaktlärare Inger här i Jönköping,
Det som strulade när jag väl kom dit var first aid kursen som krävdes, jag var medveten om att den krävdes att göra i Australien, men den var också tvungen att göras innan kursstart, vilket var svårt. Eftersom att jag då inte kunde registrera mig på mina kurser förens mitt bevis för first aid kursen fanns tillgängligt i JCU's system. De hade kunnat informera om att resultatet tar 10 dagar att komma fram. I efterhand hade jag nog valt en annan first aid kurs som jag hade bokat innan jag åkte ned till Australien. Men allt löste sig till slut och ibland får man väl ta att allt inte flyter.
Jag bodde i det bästa huset i hela Townsville helt klart! Funderar du på att åka dit så kontakta mig så får du alla uppgifter! I huset var vi 7 stycken, några av oss var utbytesstudenter, en dansk och jag! Det brukar vara danskar som bor där varje termin och nu har jag väl infört svenskarna med! Sen var det 5 Australiensare som var från olika ställen i Australien.
Det var ett stort hus med bra umgängesytor, stort kök och det bästa av allt, en asgo pool! Jag saknar den otroligt mycket J Huset låg ca 7 min från skolan med cykel, det sög dock att cykla eller inte sög, det var härligt men ja, du blir otroligt svettig när du kommer fram, so bring a cold towel to school mate! Klimatet kommer du nog aldrig vänja dig vid, det är en helt obeskrivlig värme. Värmen låg på mellan 39-45 grader varje dag i ca 2.5 månad, det är även ca 90% fuktighet under dessa dagar, men som sagt, cold towel and a pool and you're safe, use sunscreen too!
Det var väldigt lika priser som i Sverige, köttet är väl något billigare. Fräscha grönsaker och mycket ohälsosam mat! Men som sagt grönsakerna och frukterna var grymma! J Mat på restaurang var i stort sett som hemma både med mat och dryck, jag tyckte att alkoholen i butikerna var lite billigare, åtminstone de Australienska vinerna låg på ca 50 kr motsvarande samma flaska hemma ligger på ca 70 kr. De har inte alkohol i de vanliga matbutikerna men de har BottleWineSpirits och Liqourland osv.
På frågan vad jag har utvecklat under min vistelse så vet jag aldrig vad jag ska svara, jag tycker alltid att den frågan är så otrolig svår att besvara, men främst är jag inte alls lika rädd för djur längre. Jag både hatade alla djur i stort sett och var rädd för de innan jag åkte Och ja jag var rädd ibland i Australien, men jag insåg väl tillslut att om jag ska vara rädd och oroa mig för att varenda pinne är en farlig orm i 6 månader så kommer jag ju inte njuta av allt annat som var så otroligt häftigt, som alla 1000 wallabys som sprang runt på skolan och alla bush-turkeys som försökte sno din mat! Helt enkelt har jag kommit över min djurfobi, hoppas jag. Att kunna klara av att vara iväg från vänner och familj var viktigt för mig, att jag klarade av det gjorde att jag nu har ett bevis på att jag klarar mer än vad jag trodde. Det känns otroligt stärkande idag. Min kunskap inom arbetsterapi har blivit djupare och jag har om inte annat fått ett större intresse för det! Det finns säkert massa annat som jag utvecklat, men som jag själv inte märkt, ni får väl ringa min familj och fråga!
Vilka råd vill du ge studenter som funderar på att åka till universitetet där du läst?
Vad jag vill säga till dig som funderar på att åka till Australien eller någon annanstans i världen, vare sig det handlar om USA, Spanien, Sydafrika, eller Finland, åk, fundera inte, bara gör det! Det är det mest fantastiska jag gjort, de vänner jag mött, de djur jag sett, den natur jag fått vara i och det klimat jag fått bo i, allt jag lärt mig om mig själv. Jag har fått en ny familj som jag idag saknar något otroligt och det enda jag ångrar med min utbytestermin är att jag inte stannade en termin till. Hela Australien är ett helt fantastiskt land, med otroligt givmilda, härliga och avslappnade människor, de är aldrig stela och de vill alltid hitta på massa goa saker utan att stressa! Just detta, att inte stressa är nog det jag utvecklat mest, att inte ha ett sådant sjukligt kontrollbehov utan jag kan verkligen släppa taget mer idag och det tror jag att mina Aussie-friend's och hela omgivningen lärt mig! Även alla skandinaver har fått mig att må så otroligt bra. Det är väl också ett tips, skaffa dig en umgängeskrets så fort du får chansen, jag åkte själv vilket tvingade mig att hitta vänner själv och dirket, visst jag bodde med en dansk men jag ville ha mer så ta chansen att prata med alla du kan vare sig du åker själv eller med en vän, fäst dig INTE vid en person. De du träffar första dagen kommer förmodligen bli dina vänner för livet! Och tänk smart, bli vän med folk från länder som du vill besöka, en av mina bästa vänner är från Kalifornien, dit ska jag!! En sak till jag vill säga är att du måste vara beredd på att alla djur som du hört om finns i Australien faktiskt finns just där, krokodiler, hajar, farligaste och mest dödligaste jellyfish, men vet du vad! Alla är så otroligt medvetna om detta så det är inget som händer så länge du lyssnar och inte gör något dumt. Njut och tänk att du är fett cool som gör detta! Som sagt, bara åk! Sluta tänka, du kommer aldrig ångra dig!
Bästa höjdpunkterna var alla mina fantastiska vänner men såklart alla småresor, res, res och res!! De som ägde mitt hus äger även bungalows på magnetic island som ligger 20 min med båt från Townsville och är en fantastisk ö med massa lugn och vacker omgivning, en hel del Koalor om man har tur! Massa papegojor med alla färger du kan tänka dig! Det är som att vara på goaste semestern. Och ja, åk överallt du får chansen till men missa för gud skull inte Whitsundays öarna och whitehaven beach om du åker till Autralien, det är något helt otroligt och jag kommer aldrig kunna berätta eller ens med bilder få dig att förstå hur fantastiskt det är! Och väljer du åka någon annanstans i världen, leta upp alla otroliga platser och bara lev!
Men som sagt det bästa av allt var ändå alla underbara människor jag träffat och alla vackra platser jag fått se! Townsville är en otroligt mysigt och härlig stad, alla är galet sköna! Jag är så sjukt avundsjuk på dig just nu, om du ens funderar så bara åk. Jag önskar att jag gick termin 1 eller 3 nu så att jag kunde söka igen!
Lycka till och kör hårt, hör av dig om du vill veta något eller ha ett boende så berättar jag ännu mer!
Nummer: 0733-097002
Mail: l.dehlin@outlook.com
Jag hade en blogg under min vistelse, funkar den fortfarande borde ni kunna se lite bilder där:
Lovadownunder.blogg.se

External link, opens in new window.