Christina Sjögren, Nursing Programme, Hong Kong University, Hong Kong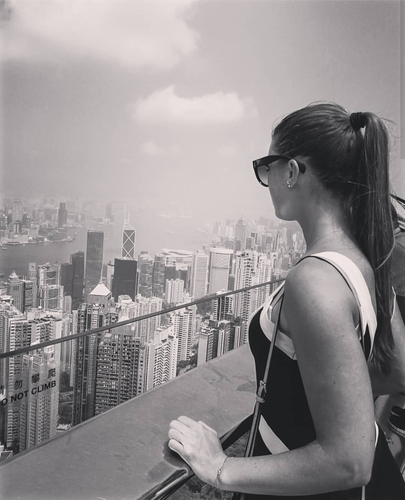 My name is Christina Sjögren and I am 23 years old. During my fifth semester, spring 2018, I was an exchange student in Hong Kong and at The University of Hong Kong and School of Nursing. The reason why I wanted to go to Hong Kong was because I really wanted to have something totally different from Sweden and Jönköping, and so was the case! I wanted to have a country that had a different culture, city, weather, food culture, beautiful nature, and close to many other countries.
View over Wan Chai on Hong Kong Island.
The second picture is from the Nan Lian Garden in Kowloon.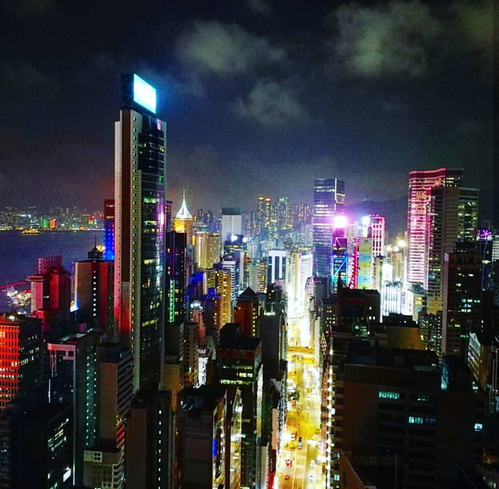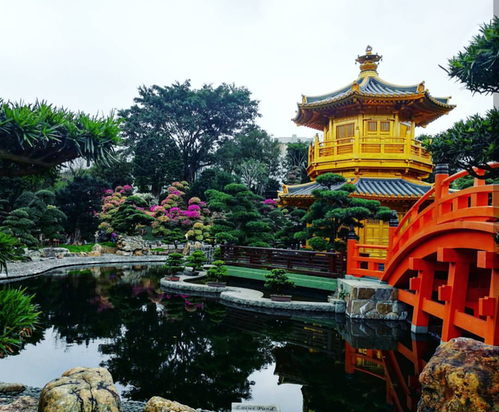 Why I wanted to do one semester in Hong Kong as a exchange student was because I wanted to develop as a person, challenge myself, stand more on my own, try living, studying and living abroad, practise my English and getting international friends.
I read four courses at the same time in Hong Kong, so that is a bit different compared to the system in Jönköping. But it was a great experience to have tried an other system. It was a bit hard in the beginning but I actually was getting used to it quit fast. I read Gerontological Nursing, Introduction to Statistics, Health promotion and education and heath assessment. There was no internship in my replacement semester but I am still very pleased with the knowledge I have brought with me home from Hong Kong.
Picture of my classmates and me after we had our presentation for secondary school students in the Newterritorys.
The second picture is taken from Hong Kong Sanatorium and Hospital, a private hospital in Hong Kong.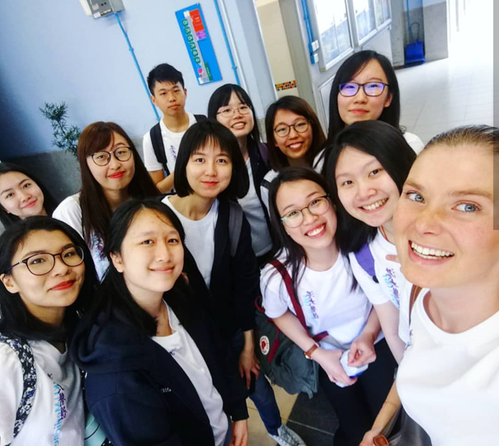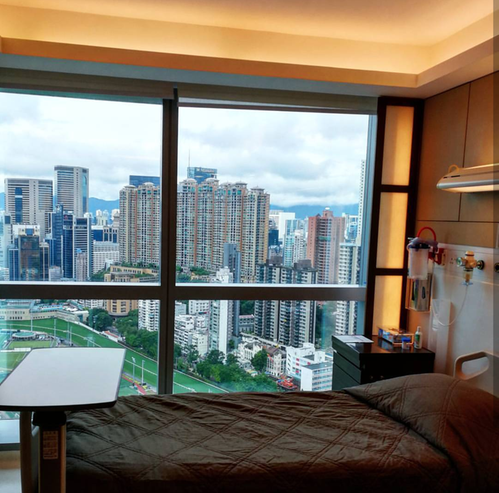 There was a very good welcome from the staff at HKU (The University of Hong Kong) and the first weeks were planned in the schedule different visits to elderly residents, private hospitals and state hospitals. I really enjoyed these activities because now I can compare it with Sweden.
The teaching at Li Ka Shing Faculty of Medicine and School of nursing was very good. The teachers were clear and very read about their subjects as they taught you. They were also very nice and helpful. As an exchange student, I felt that I could always come to them and ask if there were any ambiguities, and the same was for the students in my class. Now that I have been one semester in Hong Kong, I feel that my English has evolved, both in speech and writing. That was one of my goals I set before I left Sweden.
This is a photo taken from one of the school buldings. View from the School.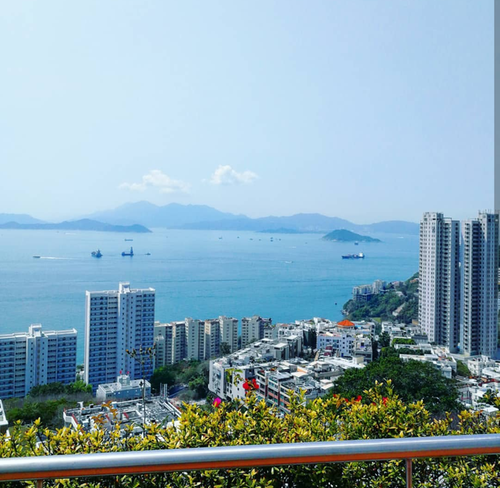 During my time in Hong Kong I was living with five girls from Shanghai. We all shared an apartment with kitchen, one shower and toilet, and a social-room. There were two bedrooms with tree beds in each room. The standard was not the best but it was totally fine just for one semester and it was actually a really good experience. One other thing that was good with the accommodation was that I paid just around 6 500 HKD for one semester. How I got my accommodation was HKU who sent me a link when I was in Sweden, and then I could apply for a residence via their website. It went very smoothly and I found out that I had been home when I was still in Sweden. So I did not have to go to Hong Kong without knowing that I had an already arranged accommodation, it was a great deal of security.
I experienced incredibly much during my time in Hong Kong. I have met many amazing people, both in school and outside school. During my exchange, I also had several beautiful Hikes with friends I have received in Hong Kong. I'm a person who has always liked to workout and something that was a big plus was that the school offered all the students at HKU a gym completely free of charge.
The first picture are taken from the hike called The Dragongs Back.
The second picture is the tradidtional food Dim Sum.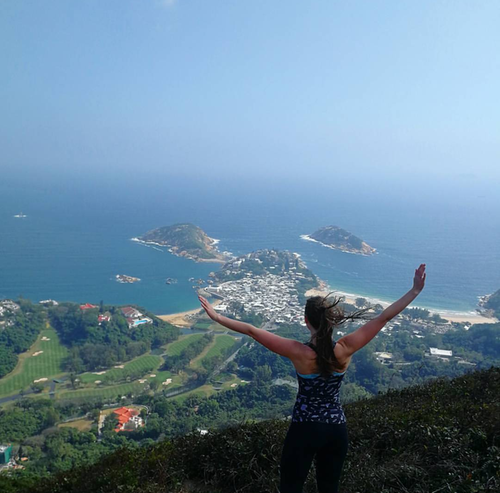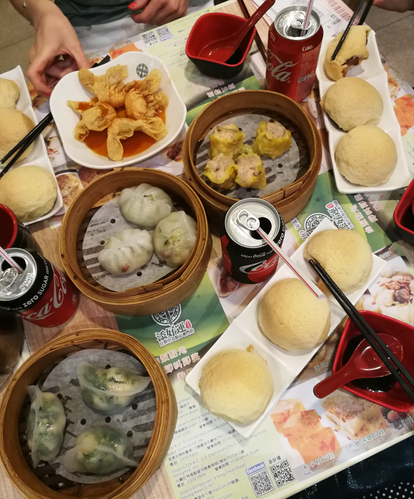 There was always something to see, eat or experience in Hong Kong. Always a new restaurant around the corner or a new garden to discover and walk around in. This is something I love with Hong Kong, close to many different places and even though it is a very populated city, the people are very helpful and friendly. In Hong Kong you can find both expensive food and great food. It's also one thing I love with Hong Kong, but can find it most in all price ranges. But generally, it's not very expensive in Hong Kong. Public transport is cheap and is very smooth. Taxi is also cheap and much cheaper if compared to Sweden.
This picture is from Victoria peak.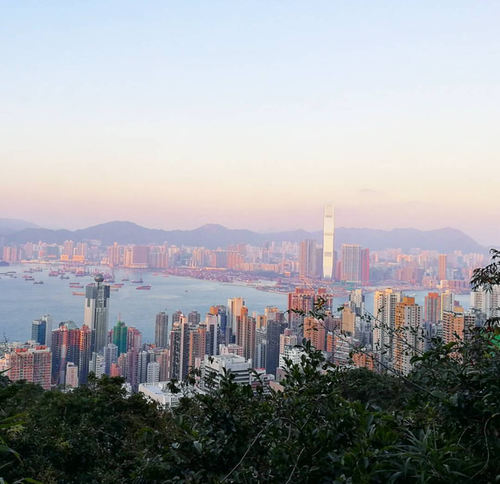 I love to travel and about mid-term, two girls from Germany and I traveled to Cambodia. This is also one thing that is so amazing with Hong Kong, it's close to so many countries and the adventure you can do is unlimited.
This is a picture from my trip to Cambodia.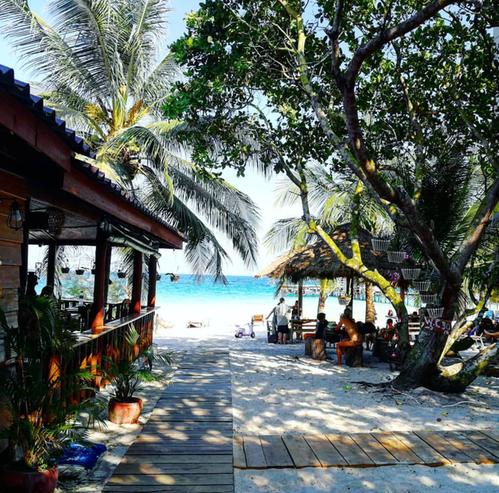 I really hope that I could inspire some of you to read about my time in Hong Kong! If any one of you wondering something about Hogn Kong or if you tinking about going to do one semester at The University of Hong Kong just contake me at my school mail: sjch16ey@student.ju.se
I had the best time in Hong Kong and I learn so many thing about life, in school and about my self! I don´t regret anything, I am just so proud over my self that I did this amazing journey! I really think that you can to this too, sometimes it is scarry to do something that you ever have done before, but just be brave and everything will be good at the end! This is a greate opportunity, so if you thinking about going to Hong Kong, take the change and you will have an experience the you will never forget.
Best regards, Christina Sjögren