Emma Filipsson, Biomedical Laboratory Science focusing on Clinical Physiology, Minor Field Studies, Vietnam
Hello! My name is Emma and I have just graduate from the program biomedical science, focusing on clinical physiology. Me and my friend Cecilia decide to apply to MFS so that we could write our bachelor thesis in Vietnam, and our thesis got accepted and we got to spend 8 weeks in Vietnam, Da nang spring 2018.
If eight weeks feels like long time to be away from home, don't worry! Eight weeks will just fly away and suddenly you are home again with so much experience!
I had never thought about going to Vietnam for vacation but after spending eight weeks in Da nang, I really want to go back! They are very very friendly and even thou their English isn't the best, they try so hard to understand you so that they can help you.
During our stay we choose to change hotel every two weeks, totally we stayed at 4 different hostels/hotels. This is something I recommend because you can see different neighborhoods and can find new coffee houses where you can sit and write your thesis. Don't worry, almost all restaurant and coffee houses have WIFI. But you should know thou that the quality of the WIFI can change during the day.
An effective way to see different areas around and in Da nang is by taxi, my tips is don't take a taxi car that stands next to the sidewalk, they usually take an overprice. Instead download the taxi app Grab, because then you get an exact price for the journey. The only negative part with grab is that you need WIFI for the app to work. Places you should visit during a day off is Lady Buddha, marble mountains and the city Hoi An.
Something I also recommend you is to try diving! I have never tried it before and it was such a wonderful experience and I want to do it again. We saw a lot of fishes (small ones) the one I recognize was from the movie finding nemo, clown fishes and regal blue tang. The corals were also very beautiful. The company have their office in Hoi An, so its not to fare away from Da nang (30 min drive).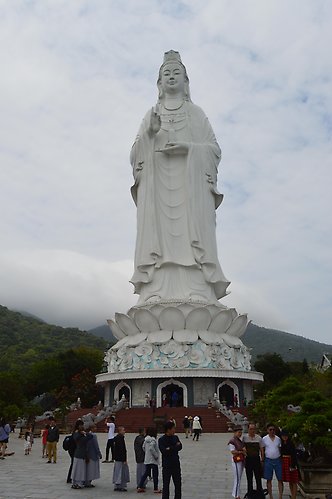 I had one of my best time in Da nang, the beach is amazing, and you can find a lot of different restaurants with very good food, don't be afraid to try new dishes! Everything is very cheap, a dinner cost around 100 000 dong and that is approximately 38 Kr. It feels like you never will understand their currency, but after a while you will find your strategy.
Our thesis was about interobserver variability when measuring the abdominal aorta in young adults. We collected our data on student at Da Nang University of Medical Technology and Pharmacy, they were very excited to meet us, and they also wanted to practice their English because they don't practice speaking English in school. But we did have a supervisor with us that could translate for us when we didn't understand each other and helped us to understand the ultrasound machine.
It's hard to sum up eight weeks, all I can say is this experience have been amazing and if you are thinking about it, just go you won't regret it!
If you have questions you can email me: efilipsson@hotmail.com