Viktoria Forsberg, Internationellt arbete inriktning globala studier, Minor Field Studies programme, Zanzibar
Jag gjorde min MFS på Zanzibar, Tanzania. Ni kan nå mig på viktoriaforsberg@hotmail.com om ni har några frågor.
Jag med barnen, Aboud, Wallid och Sawe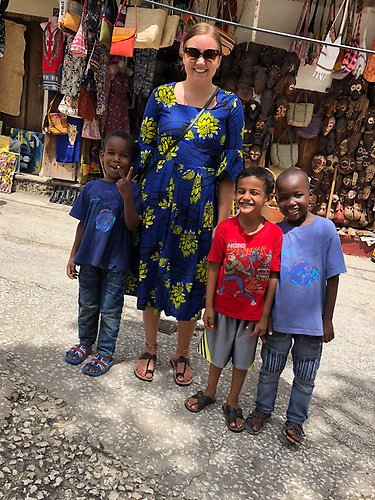 Anledningen till att det blev just Zanzibar var för att min syster bodde där och gärna ville att jag skulle hälsa på, men också för att hon sett vilka utmaningar som finns för boende på Zanzibar i och med klimatförändringarna. Genom det hon berättade, letade jag och min medresenär Veronika vidare i tidigare forskning och hittade det vi ville skriva om. Ämnet blev seaweed farming, vilket är odling av tång på svenska. Framförallt ville vi fokusera på kvinnor då det huvudsakligen är kvinnor som odlar tång på Zanzibar. Detta kom vi dock inte på förrän i november 2017, men vi hade tur och det fanns fortfarande MFS-stipendier kvar att söka. Det var bara en vecka kvar till deadline för ansökan, jag var i Sverige och Veronika var i Sydafrika. Vi lyckades skriva vår ansökan på en vecka och i december fick vi veta att vi fick stipendiet. Så den 10 mars 2018 började vår resa till Zanzibar.
Havet i Paje och traditionella båtar kallade Dhows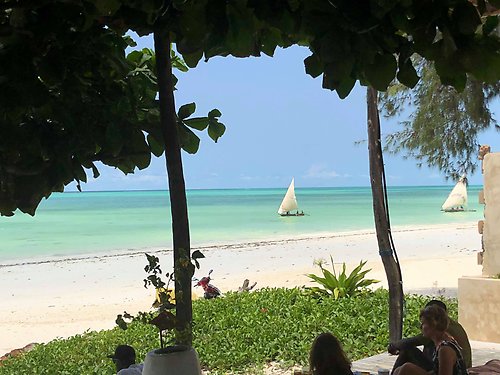 Vidare så handlade vår uppsats om hur kvinnors livelihoods påverkades av olika tekniker av att odla tång. Det finns nämligen en gammal teknik och en ny teknik. Vi undersökte hur dessa tekniker upplevs av kvinnorna, vilka positiva och negativa sidor det finns med båda. Sedan kollade vi på hur främst den nya tekniken påverkar kvinnors livelihoods. En sista frågeställning för vår studie var om det finns några konflikter mellan kvinnor och män när det kommer till att använda havet för odlingar eller fiske. Detta försökte vi ta reda på genom semi-strukturerade intervjuer med 11 kvinnor på Zanzibar.
Jag, vår kontaktperson Dr. Narriman Jiddawi, Veronika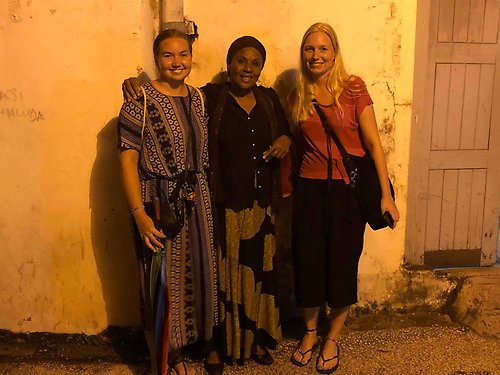 Zanzibar är en väldigt fin ö och många turister åker dit även under lågsäsong, vilket det var under tiden vi var där. Resan pågick för oss från 2018-03-10 till 2018-05-12 och då är det regnperiod på Zanzibar. Trots detta hade vi mycket sol också, även om det ibland regnade oerhört mycket. Man behövde definitivt regnkläder, stövlar och paraply för att ge sig ut under de dagarna. Det är många försäljare i Stone Town eller Zanzibar City där vi bodde och det kan upplevas som jobbigt då de är väldigt på att man ska komma in i deras butiker. Det är smala, trånga gator med mycket människor, mopeder och cyklar. Trots detta upplevde jag att jag gillade kulturen där, människorna är överlag väldigt snälla, trevliga och hjälpsamma. Folk spelar fotboll på gatan, där vem som helst får vara med. Människor på vägen försöker lära en kiswahili och hälsar på en som en vän.
Min syster och barnen Aboud och Sawe med masker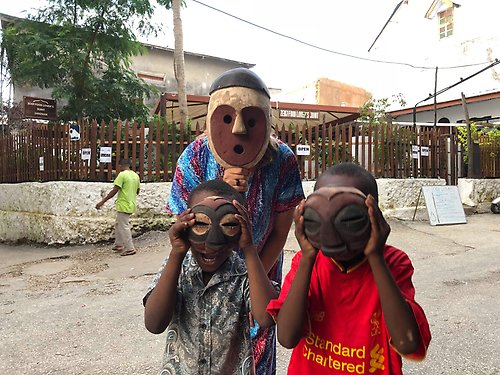 Organisation vi besökte och fick hjälp av heter Institute of Marine Sciences (IMS) och hör till University of Dar Es Salaam på fastlandet i Tanzania. Det är en organisation som tar emot många studenter för uppsatsskrivande eller forskande. För att kunna vara med den här organisationen och få all deras hjälp behövde vi dels betala 100 dollar för att vara en "visiting scientist" på IMS, detta tillåter oss att använda deras lokaler, tolkar och få översättningar gjorda. Förutom detta betalade vi 275 dollar för research permit och business visa. Detta täckte vårt stipendie vilket vi är tacksamma över då det kostade över 3000kr. Genom att vi fick research permit måste vi också skicka in vår slutgiltiga uppsats till regeringen på Zanzibar.
Jag och Veronika matar sköldpaddor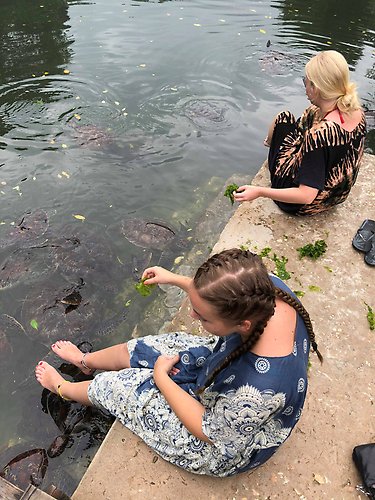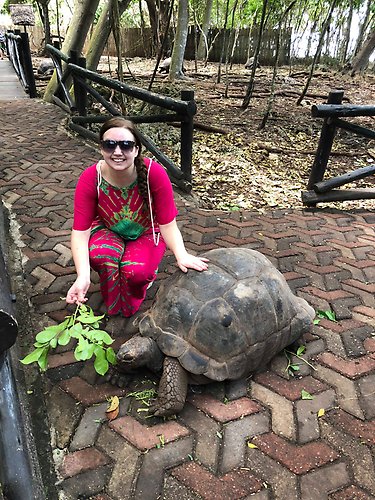 Vårt boende löste sig väldigt lätt eftersom att min syster redan bodde på Zanzibar och hade en stor lägenhet där. Det gjorde att jag och min kompis, Veronika, kunde bo där. Därför var det enkelt för oss att få tag i boende och vi var väldigt nöjda med att bo där. Vi betalade lite i hyra om man ska jämföra med vad vi hade fått betala för en egen lägenhet och vi betalade el på lägenheten. Lägenheten var fin och hade en hög standard, jag skulle även säga att det finns bra möjligheter att hyra lägenheter överlag på Zanzibar och i Stone Town där vi bodde.
Matmarknad i Stone Town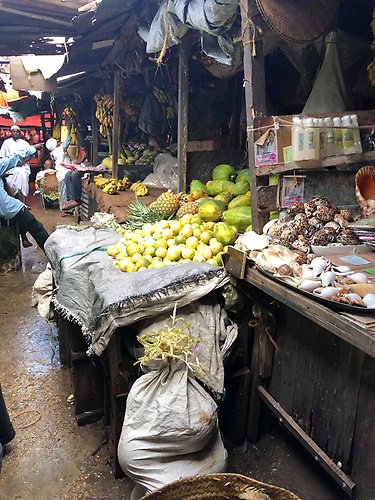 När det gäller priser på Zanzibar så var vissa grejer billigare än hemma, medan vissa grejer hade i princip samma pris. Detta beror också på vart du väljer att äta. Om man åt på ställen där lokal befolkning åt så var det helt klart billigare än i Sverige, samma gällde ofta om man tog lokala rätter på en restaurang. Till exempel, så kostade ris och bönor ungefär 3000 tanzaniska shillings på restaurang vilket motsvarar cirka 12 kronor. Äter du däremot pasta kostar det mellan 12000–25 000 shilling vilket motsvarar cirka 46–96 kronor. El kostade ca 400 000 shillings för 1,600 kWh vilket motsvarar ca 1600kr och detta räckte i ungefär en månad.
Ute på en sandbank mitt ute i havet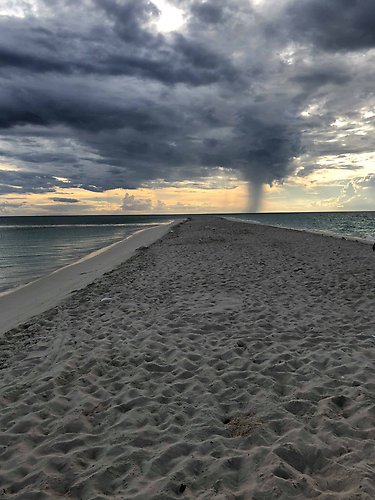 Att åka på MFS känner jag personligen var en fantastisk möjlighet för mig. Det var min första längre vistelse utomlands och det var en utmaning. Jag ångrar det inte en sekund och jag lärde mig mycket. Jag fick utveckla min engelska i akademiska sammanhang men även personliga. Jag lärde mig oerhört mycket om tång (seaweed farming) som var vårt forskningsämne men även andra växter i havet och effekter som klimatförändringarna har på dessa. Vidare fick jag lära mig att komma in i en ny kultur och lära mig enklare fraser på ett nytt språk. Framförallt växte jag personligen genom att inte vara kvar i "bekvämligheten av Sverige". Med det menar jag att det var en utmaning för mig att leva annorlunda även om jag fortfarande levde i "lyx" jämfört med många andra. Strömavbrott, att inte kunna dricka vattnet i kranen, olika kryp i lägenheten och så vidare gjorde att livet var annorlunda än hemma. Jag anpassade mig väl efter ett tag och det tycker jag var en personlig vinst. Jag var alldeles för van vid Sveriges alla möjligheter och hur vi lever. Här fick jag testa på ett annat liv och det var oerhört nyttigt för mig. Det jobbigaste var att se människor man kom att bry sig om, ha det mycket sämre än en själv.
Översvämmning på vägarna i Stone Town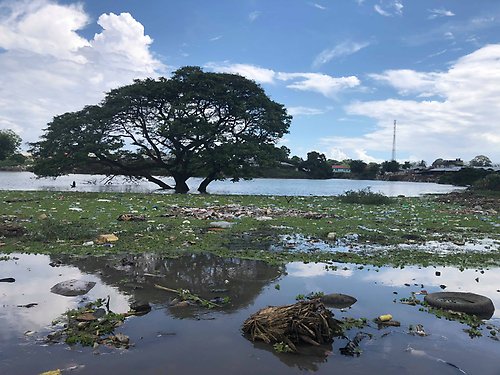 För er som ska åka på MFS eller vill åka, vill jag bara säga att det mesta ordnar sig. Mycket kan kännas jobbigt att fixa, det kan kännas stressigt eller till och med omöjligt. Men det allra mesta går att lösa. Jag var väldigt osäker på om det skulle bli bra, om jag skulle klara att vara borta i 2 månader. Det gick oerhört bra och det var en sån häftig upplevelse. Ta chansen.
Jag uppe i fyren på Chumbe Island, en ö som är "marine protected"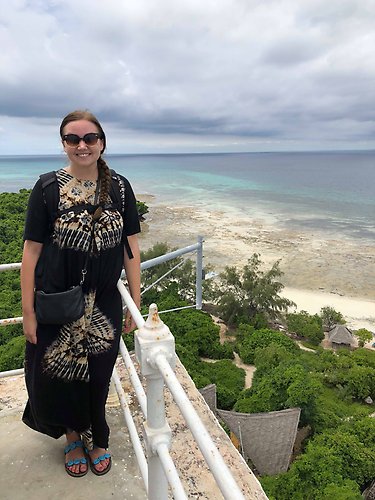 Det allra bästa med min MFS var att lära känna alla underbara människor där. Tack vare att min syster redan kände många på Zanzibar fick jag lättare att komma in i samhället och träffa folk. Jag träffade bland annat barnen som bodde på vår gata, som jag kommer sakna mest av allt. Jag tyckte allting med min MFS var bra, det akademiska arbetet, våra intervjuer, att lära känna folk, komma in i kulturen, gå på marknaden, sy upp klänningar, åka ut till öar, se sköldpaddor, se solnedgångar och så mycket mer. Det var en verkligt fantastisk upplevelse. När jag först kom till Zanzibar tänkte jag att jag aldrig skulle klara 2 månader där. Men redan efter 1 vecka kändes det bättre. Jag trodde inte jag skulle bli ledsen av att tillslut lämna Zanzibar men det blev jag. Det är en speciell känsla att leva och bo någon annanstans och jag tror det kommer finnas med mig föralltid. Det är nog det enda negativa med om ni också väljer att åka på MFS, ni kommer lämna människor bakom er när ni åker tillbaka till Sverige och det är inte lätt. Väljer ni däremot att söka och sedan får stipendiet så kommer ni inte ångra er. Allt det positiva överväger det negativa.