Cecilia Dahllöf, Nursing programme, Glasgow Caledonian University, Scotland
Hello! My name is Cecilia. I'm in the nursing programme and went to Glasgow Caledonian University for my fifth semester, autumn 2018.
I always wanted to try living abroad, and five months sounded perfect to me - not too long and not too short period of time! Since I really like English literature, music and movies, the UK was the perfect choice. To get to Glasgow, the most convenient way was the direct connection between Gothenburg and Edinburgh and then go by bus to Glasgow.
The communication with and information from GCU was good. They have useful information on their website and answer emails quite quickly. Their accommodation site near campus was not too difficult to apply for, and although it is not the nicest place to stay, it is very well situated in the city and there are many other international students around, which is nice. The only difficulty I had was choosing courses. The list of courses on the website was not up to date. I had to change courses three or four times, so I recommend that you ask your coordinator at GCU which courses you can really choose from before even looking at the list online.
I took these three courses:
Supporting anticipatory care for long term conditions
Applying evidence-based practice
Teams in interprofessional
Many parts of them really reminded me of courses I had already finished at home, but they were alright. The workload was not overwhelming, and there was plenty of time to explore the city and make excursion to other beautiful places around Scotland. Each course had one or two classes a week, always the same day and time, which was very convenient for planning other things to do. Living expenses are about the same as in Sweden, I believe, when it comes to food, accommodation and travels.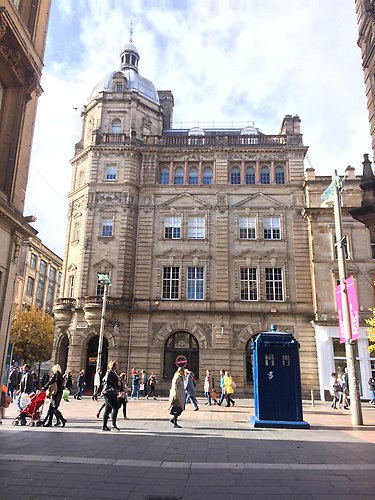 The best things with my exchange journey have been the travels I made, and just the opportunity to live in another country – to bag a munro (climb a small mountain), enjoy fish and chips on Buchanan Street close to one of the street musicians or go on a pub crawl with the other international students. Also, the introduction activities for international students were really nice.
For my personal development, I believe I have developed my abilities with the English language, and maybe the Scottish too, just a wee bit. I also think that this journey has made me more open and more secure in myself.
I really enjoyed studying in Glasgow. The city is big, versatile and exciting, and people are generally very nice and helpful. The language is somewhat difficult at times but always charming, and the weather extremely similar to the weather in Sweden – possibly a bit more wet – but that way you get to experience all sorts of Glasgows: Sunny, windy, rainy, foggy...
I hope you decide to go if you are thinking about it!
Cheers!