Sofia Anarp, Nursing programme, University of North Carolina,USA.
My name is Sofia and I spent my fifth semester of the Nursing programme at the University of North Carolina at Chapel Hill in USA. Like so many others I have had this dream of going abroad since the beginning of high school but that is what it has always been, a dream. I was too scared to leave my comfort zone back home with friends and family and especially the feeling of knowing what comes next. When I heard about all the different countries you could go to at one of the information meetings at JU, I just got the feeling that this is now or never, let go, take a risk, however it will turn out you will learn so SO much!
Said and done I applied, and the one thing I had in mind while doing my application was that I wanted to go to a country that had English as their first language to really become fluent in English, and be part of a true college spirit!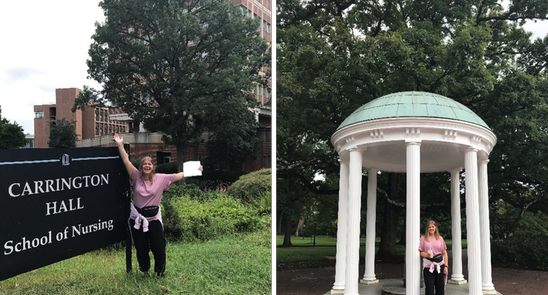 I got accepted to University of North Carolina at Chapel Hill which from now on will be written as UNC since that is the name everyone uses over there. As soon as I got accepted the most time-consuming thing on the list: to start the paperwork. Don't push that ahead of you, start right away, there is stuff they need paperwork of that you didn't even know existed. You need records of everything from a TOEFL (English test) result to all vaccinations you have ever received. That applies for both UNC and the Visa process. However, UNC´s application process is simple to follow and there you also apply for housing at campus which I did. I ended up in the dorm Connor which was in the middle of everything and 5-10 minutes' walk to everything around campus (except Target that took a 20 minute walk). Keep in mind that it is humid in North Carolina, it takes a few weeks for the body to adjust and before it does it feels like you´re walking around in a constant sauna. Hurricanes and tornado warnings are somewhat common so pack a rain jacket because when it rains it floods. We had snow once and school got cancelled but when I left in December it was 17 degrees Celsius so don't focus on packing winter stuff, pack light and airy clothes!
I had a minifridge in my dorm, so I bought breakfast and snacks to keep in there. Apart from that I bought a meal plan with 100 swipes for the dining halls and different restaurants on campus instead of buying every meal. The food I ate I bought from Target and the prices are similar to Sweden, maybe a little bit more expensive, but it just depends on what you´re buying. Remember that the taxes are added on everything at the cash register so it is always more expensive then you think. Back to the meal plan, UNC has one of the freshest dining halls with all different types of food from Italian to Asian and all typical Southern and American food and a lot of fresh salads and fruits. They have Mexican nights, poker night and carnival themes, well they have it all. The meal plan is pretty expensive, but I just felt that I don´t have time to buy and prepare meals every day. I wanted to enjoy the college life and not having to plan the next meal in my head, I just went to the dining halls or a restaurant to swipe my card instead. I also think it is important to mention that for my dorm Connor with four floors, we had two kitchens. With kitchen I mean one microwave and one stove and one sink, so really think through your decision of food.
The dorms are separated which means that it is only girls on the floor and above or below are guys so its every other floor with guys and girls. On my floor we were around 55-60 girls that shared four toilets and six showers. It takes time to get used to the setup, but it will be normalized within the first weeks. Then there is the fact that I´ve never shared a room before so to sleep 7 feet away from basically a total stranger can be challenging and as the Swede, I am… sometimes I found it hard to never be alone or to have my own space. However, when I think back on it my roommate was a super sweet American girl and I truly would not have wanted to be alone, you´ll miss out on so much different activities and just hang out with new people. You must just put yourself out there and enjoy every minute! The dorm also arranges different events which is another opportunity to meet and hang out with new people, and there´s always food and snacks. There is also a lot of activities for international students which means you´ll get a lot of friends from all over the world and that is so amazing!
Pretty early on in my exchange I got a contact person at their International Relations office and a mentor at the School of Nursing at UNC and they helped a lot especially my mentor at the School of Nursing, no silly questions existed and as she always said "I´m only an email or a call away, don´t ever forget that".
One negative thing about my exchange was that when I arrived at the University new things popped up which I didn´t know of like blood draws and drug screening at a separate clinic away from the campus. Like the icing on the cake my classes didn´t match up and it was just too much in the beginning of the exchange that I never got any information about. It was a rough start with moving across the world, new language, new culture and you know no one. It just didn´t go as smooth as I would have thought it would because it was so much preparation in Sweden that you just thought that it would go smooth. However since their exchange programme for nursing students is still pretty new, I was the second student to be there so both JU and UNC have some stuff to work on to make it perfect but my mentor have saved me so many times and she did everything for me, we had weekly meetings about the classes, she had contact with teachers, gave me some travel ideas and we went out to dinner once a month to try different Southern foods and to catch up!

Take the opportunity to travel as well during the exchange. There are different American holidays like Labor Day and Thanksgiving but also a full week of Fall break. I feel that I manage to do basically the whole east coast during my stay in the States. Do the big cities like New York and Washington DC but do not forget all the amazing places in North Carolina like the mountains in Boone or Ashville or the beaches in Wilmington.
Moving on to the classes I took. I took four classes, Interprofessional Teamwork and Communication, Nursing inquiry and Evidence-Based Practice, Public Health Nursing and an Independent study (I did mine within the oncology area). The biggest difference is that you are reading four classes at the same time the whole semester. You have one lesson in each class once a week and it is three ours, part from this you always have reading assignments, group projects, quizzes to study for or clinical. All classes are mandatory to attend you will either sign in on a paper or have your name called in class to get attendance which is a part of the grade. As an international student I could get extra meetings with the professors if there was something I needed explanation or clarification about but apart from that I had exactly the same tasks as the American students had, so no benefits or easier tasks because I was an international student. This was hard sometimes but looking back I´ve learned so much, and I got the same grades as the American students so don´t worry to much, you´ll do great!
Overall the professors are very nice and helpful, and the quality of the classes were really good and I learned so much!
Interprofessional Teamwork and communication was a class read by Nursing- and Physician students. We worked on how to make the healthcare safer and how to communicate and delegate tasks to get the best outcomes with as few mistakes as possible. In this class we had simulations every week with both dolls and living actors and did the tasks both individually and in teams. All from CPR, caring for a teen whilst trying to find her diagnosis to explaining medical errors that ended in death to family members.
Nursing inquiry and Evidence-Based Practice was a class that is like JU´s Vetenskaplig metod fortsättningskurs where we learned about research and its methods. The big thing we worked on during the whole semester was a group project where we wrote our own clinical guidelines in a subject of our choosing.
It was in Public Health Nursing I had one of my clinicals. I spent one day a week at the University Employee Occupational Health Clinic and helped with everything from vaccinations to taking care of acute situations that had occurred with the employees of UNC. This was the hardest class with a lot of quizzes, papers both in group and individually, different discussion forums throughout the whole semester.
The last class I took was an Independent study and I did mine within the oncology area. This was really an independent class because it was me and my professor. I did five days at the different oncology care units at the UNC Cancer Hospital where I was shadowing the health care professionals. Along with this I wrote different reflection papers containing the experiences I acknowledged during those days and compared it to Sweden. This developed into an article which was published in Clinical Journal of Oncology Nursing. To have that possibility because of the exchange is truly amazing. I can still not believe that I have published an article in a big Nursing Journal before I'm even a licensed nurse, that is just … I´m speechless, wow!!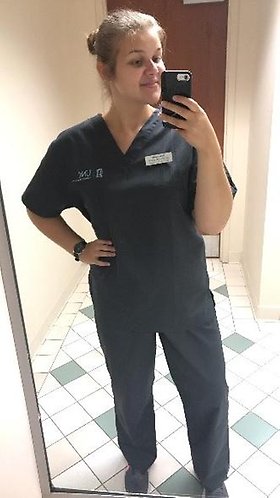 During my exchange I have grown so much, and I can honestly say that I've become a greater human being. Academically I´ve learned a totally different study technique and just to be able to learn the scientific English language and become fluent in English, it's a no brainer nowadays and I don't even register if what I'm reading is in English or Swedish, it is crazy how submerged you can be in a language and culture in just a semester.
Personally, I think I´ve become more social and extroverted, I dare to do more things, I've come out of my shell. After this exchange with its ups and downs I´m so much stronger and more confident in myself. It is truly a feeling that you cannot explain in words, you just must go on an exchange to find out. If I could do it again I would, no doubt, it's a time I'll remember for the rest of my life and I'm planning on going back soon to hang out with all my American friends. I got family on two continents and I´ll always feel welcome when I arrive in the US, its my second home and will forever be. Once a Tar Heel always a Tar Heel!
With that said, if you´re thinking about going on an exchange and especially to UNC or the US, DO IT!! I´m honestly speechless, it has given me so much and I'm so thankful. It is scary looking back at it because it feels like a dream, like I´ve been in some sort of a parallel universe for a semester and everything back in Sweden is just the same and no one really understands what I´ve been a part of. Do not hesitate, just do it, go to the basketball games, go to the American football games, to the coffeeshops, to the gym, to the pit, to the parties experience it all, college is awesome and you´re only there to experience it once!!
If you have any questions concerning anything at all, feel free to contact me at sofia.anarp@gmail.com and I´d be more than happy to help!
All the best,
Sofia Anarp