JIBS Entrepreneurship Challenge
JIBS arranges an annual student competition to stimulate entrepreneurship and creativity. The competition is developed to foster cross-disciplinary thinking and teamwork among students from School of Engineering and Jönköping International Business School.
Each year a different company is invited to present a problem they are encountering. The teams are then allowed 24 hours to come up with a solution and prepare a pitch to sell it. On the final day they pitch their solutions to a jury.
The best pitches are repeated in a grand finale, open for all students and faculty. Winning team and runner ups get prizes for the equivalent of up to 130.000 SEK in total. 
Aktiestinsen
JIBS Entrepreneurship Challenge is based on a donation from the Lennart "Aktiestinsen" Israelsson's foundation. Lennart Israelsson, born in 1916, made his fortune buying stocks. He bought his first stock in 1946 for 600 sek and at most the value of his portfolio grew to over 140 million sek!
Entrepreneurship Academy
This year's challenge is arranged by the student association Entrepreneurship Academy on JIBS. Entrepreneurship Academy's mission is to promote and foster entrepreneurship among students at Jönköping University. Through workshops, lectures and events, their vision is to enable students to turn their ideas into a reality.
Read more about Entrepreneurship Academy here.

Photos from previous awards ceremonies
JIBS Entrepreneurship Challenge 2021 - celebrating our 10th Anniversary
This year celebrates 10 years of the JIBS Entrepreneurship Challenge.
The competition will take place on the
12-14 April 2021, and due to the current situation with the coronavirus pandemic, will take place digitally. Registration will open on 14th March.
More information about this year's challenge, including who this year's case company will be, will be announced on 11th March.
The following challenge was emailed out to the students:
"Building upon our current but incomplete knowledge, your task is to present a business idea based on the emerging entrepreneurial opportunities that can bring light in the shadow of Covid-19."
The teams then had 48 hours to come up with a solution, make a 7 minute filmed presentation of their pitch, and then send it to a panel of jurors made up of representatives from the Aktiestinsen Foundation, Science Park and Jönköping International Business School (JIBS).
The winners of the JIBS Entrpreneurship Challenge 2020 were...
TEAM 4
Julia Blomberg (JIBS); John Synnes (JIBS); Vivien Geschwind (JTH) and Raghunandan Bangalore Rajanna, (JTH) with their solution "Unifi".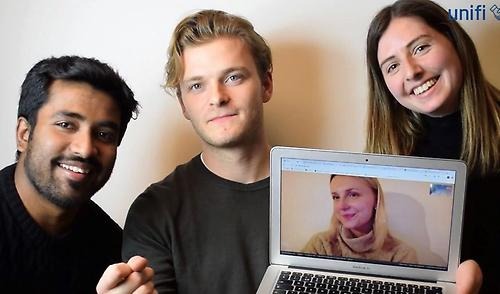 The team's answer to the challenge was to create an application that would help people in need during a difficult situation, such as a virus outbreak. The app connects people, thereby building a community that can offer help to each other -  for example, buying groceries or helping out with childcare.
The jury said that the solution was "An immediate and simple solution to bring relief by combining community building with the power of solidarity and the gig economy."
Well done Team 4!
RUNNERS UP
Second Prize: Team 3 - Rein te Winkel (JIBS), Arne Ibo Stein (JIBS) and Jasper van der Ster (JTH) with their solution "Smart Hero". 
Third Prize: Team 6 - Katharina Müller (JIBS) Anton Karlsson (JIBS) and Charles Aubert (JTH) with their solution "Shop Local".
Science Park Prize for Best Pitch:
Team 3 - Rein te Winkel (JIBS), Arne Ibo Stein (JIBS) and Jasper van der Ster (JTH).
See Team 3's winning pitch below.
See all the motivations for the jury's selection of winners and runners up here

. 
Video: Message from the Entrepreneurship Academy to all competitors and announcement of winners. 
Previous Winners
Lucas Rohlik, Marlene Schollweck, Anoop V M, Prince Johnson
First Prize 2019

Ida Modée, Hanna Johansson, Jacob Carlquist and Philip Svenningsson
-First Prize 2018

Patricio Garibay, Brandon Fong, Kafui Quashie and Amaresh Ashok
-First Prize 2017

Ellen Philipson, Arvin Maryami, Moritz Witter and Thomas Sabatahier
-First Prize 2016

Patrick Morak, Alexander Kreil, Anja Freudenberg, and Christian Schneider
First Prize 2015

Monica Navarro, Jacob Mueller and Chen Sun
First Prize 2014

Trung Hoang and Anton Korityak
First Prize 2013

Henri Valvanne
First Prize 2012

Natallia Pisareva
Second Prize 2012

Vassil Afzali
Third Prize 2012

In 2010 Aktiestinsen, Lennart Israelsson, donated a portfolio of shares worth almost Euro 560,000 to Jönköping International Business School and in 2012 he made another donation of approx. Euro 125,000. The yearly revenues are used to support, among other things, the entrepreneurial activities of JIBS students.
"Entrepreneurs fascinate me. People who dare to take chances are indispensable. If I had not dared to take a chance long ago, I could never have done this today," says Lennart Israelsson.
Lennart Israelsson was born not far from Jönköping in 1916. He made his first stock investment in 1946, but had already retired when the media first drew attention to his successful and farsighted stock trading. In recent years he has made several donations, and he is a popular lecturer who often gives expert comments for major Swedish newspapers.