Suicide prevention day at Jönköping University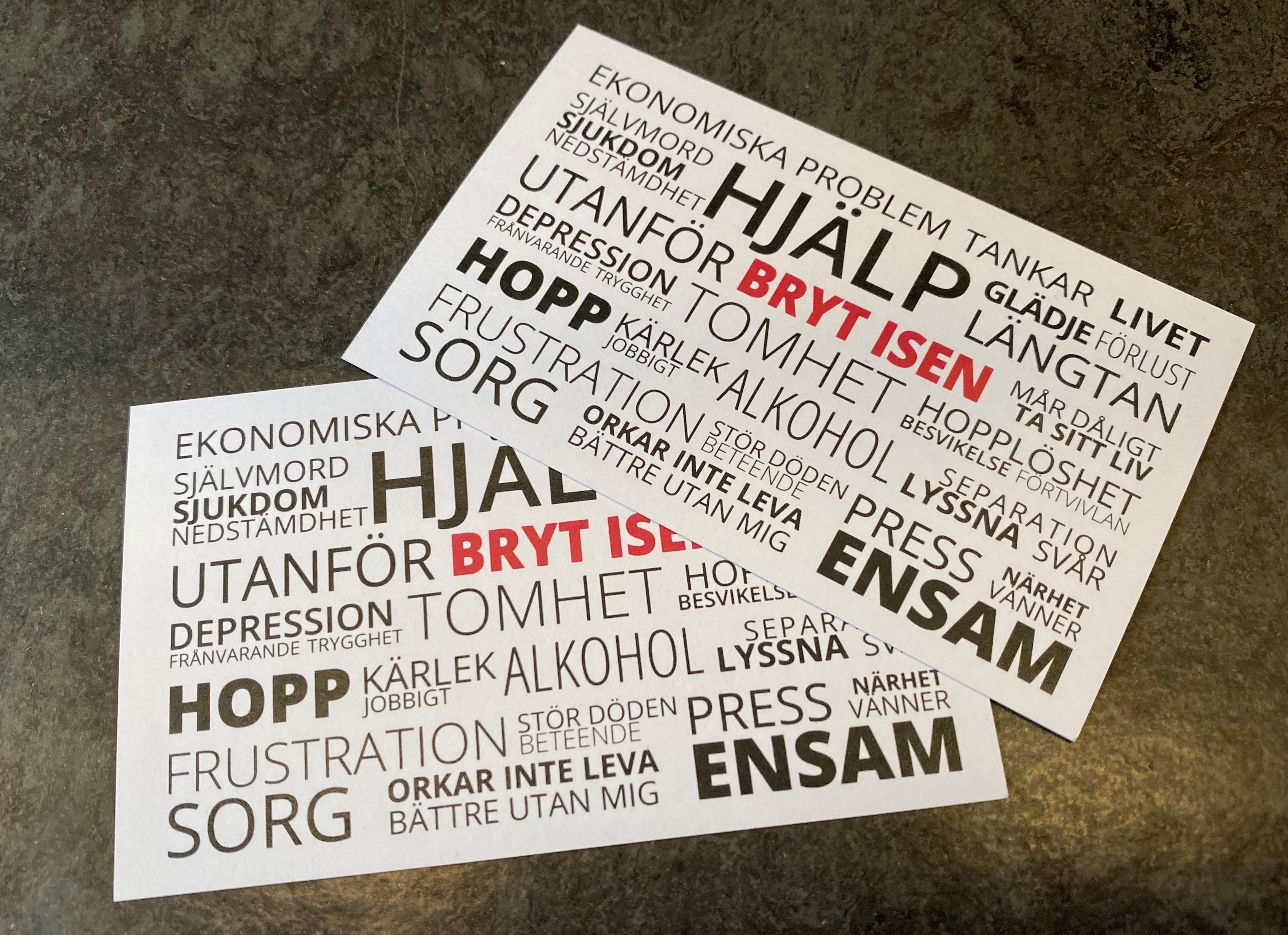 On 8 September, a Suicide Prevention Day was arranged for the second time at Jönköping University. The day, which was organised by Karl Hedman, Assistant professor at the Department of Social Work, was this year held both on site, at the School of Health and Welfare, and via Zoom.
In the morning, the program was given in English, while in the afternoon it was held in Swedish and began with the Dean at School of Health and Welfare, Marie Ernsth Bravell, wishing everyone welcome.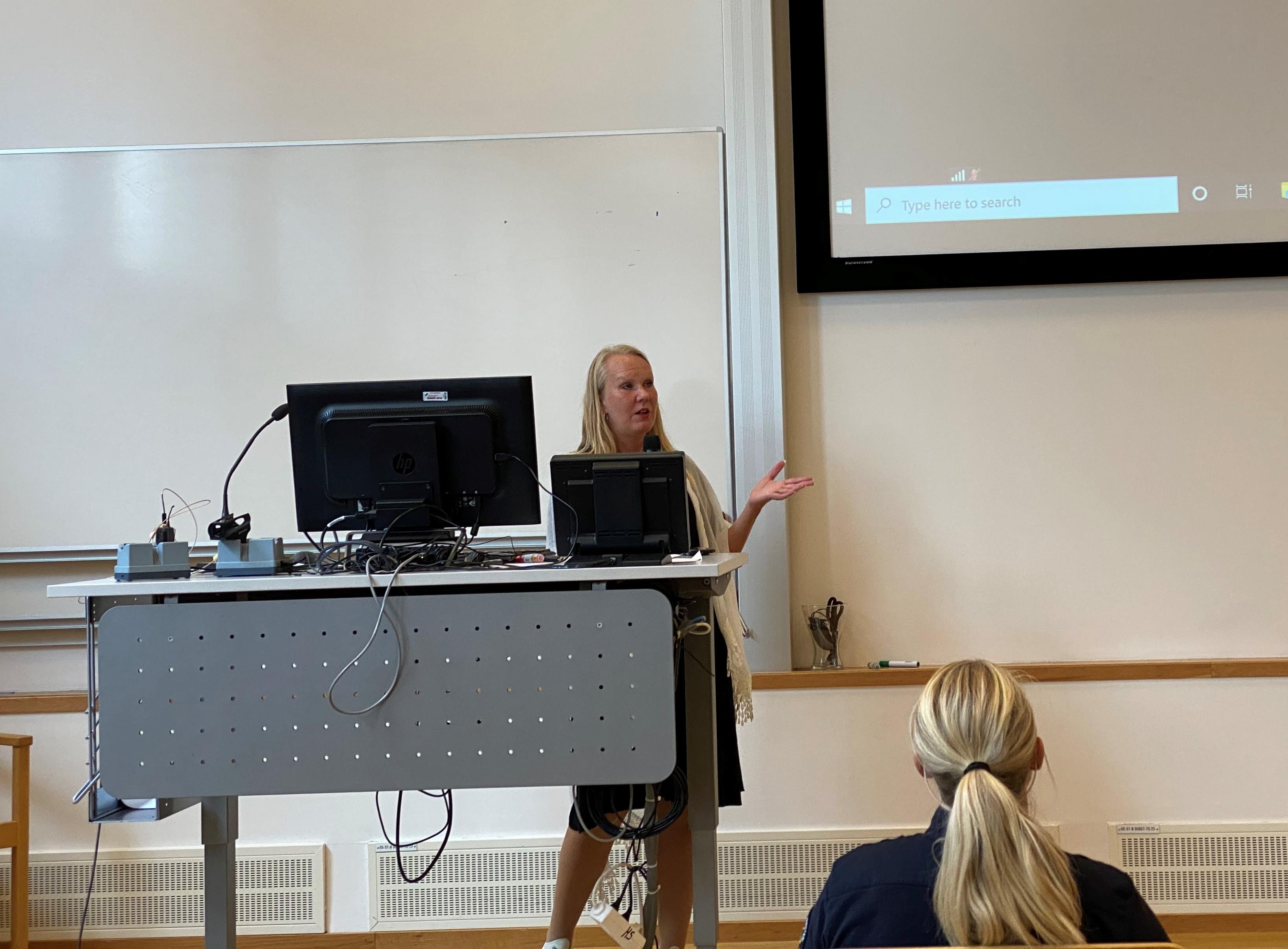 "This is an incredibly important day and I want to welcome you all here, but also thank all of you who are here for taking the time. Thank you to both our presenters and the audience for wanting to be involved and contribute to a positive development around suicide prevention," said Marie Ernsth Bravell.
The first speaker of the afternoon was Elin Isfall, fire engineer from the Fire and Rescue Service in Jönköping. She said that for this year's Suicide Prevention Week, a special target group was been selected, middle-aged and upper middle-aged men.
"There is a lot we can do with knowledge and information. Suicide is the most common cause of death for men between 15-44 years and really is a societal issue," said Elin Isfall.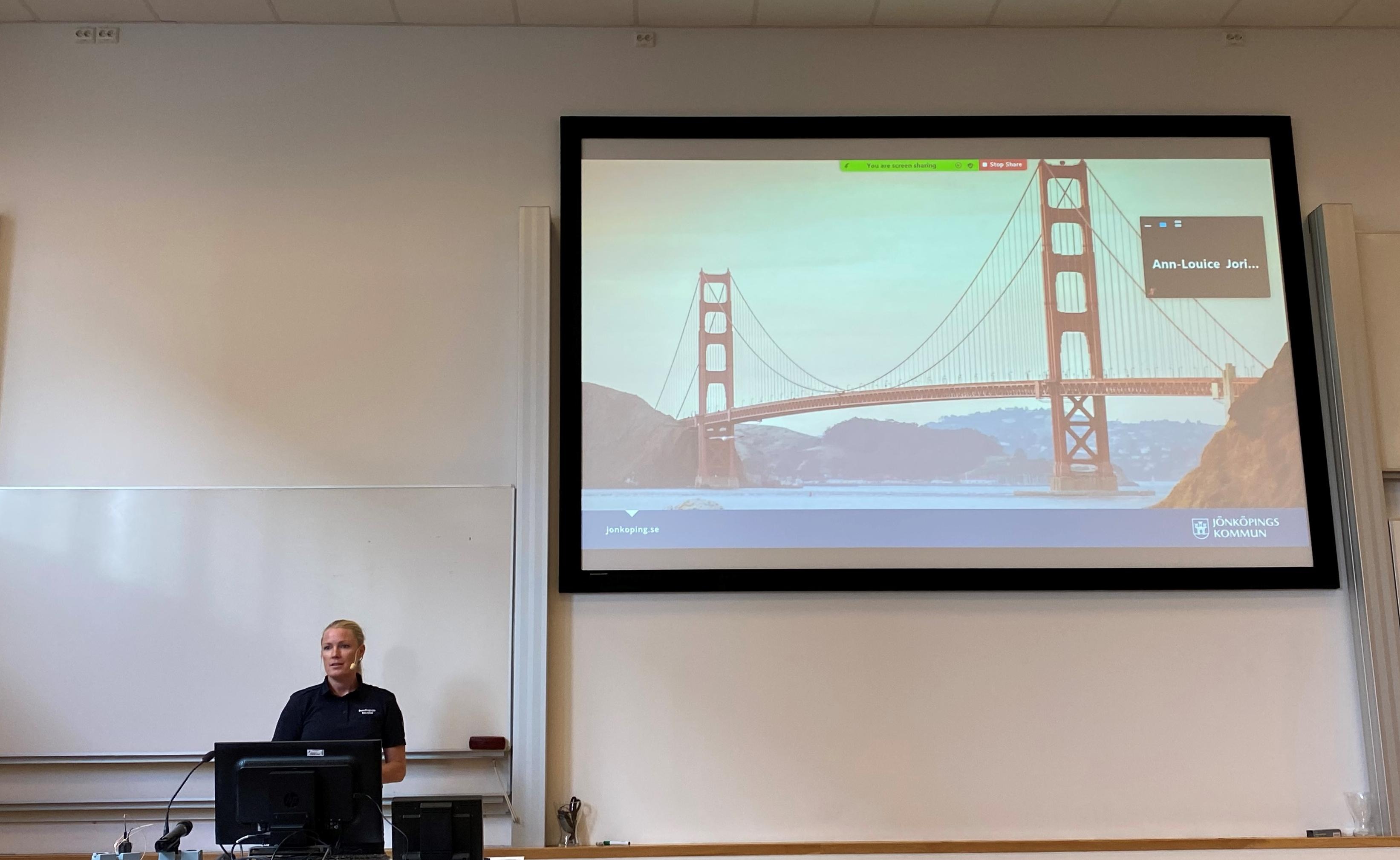 She took the opportunity to dispel some of the myths that exist around suicide, for example: "Suicide only occurs within certain groups in society" and "The person has already made a decision and nothing can be done about it" which are both false. Elin Isfall was also careful to point out that it is important not to talk about methods around suicide, which is an era where the media has also improved. She mentioned Swedish artist Avicii, who committed suicide, as an example of this.
Elin also showed the films #BrytIsen ("break the ice") and "Steps for Life/Steg för livet", the first is a newly produced film that is a collaboration between Region Jönköping County, Jönköping municipality and the organisation "RäddSam-F". Elin said that in the beginning of the film production, they had a wish-list with eight famous people from the Jönköping area to be in it, and all eight wanted to be a part of the project. The film includes the artist Uno Svenningsson, HV71's sports director Johan Davidsson and J-södra's team captain Fredrik Fendrich. The film #BrytIsen is available via this link

External link, opens in new window..
The next presenter was Morgan Miledal, who works at Höglandets Rescue Services Association. He addressed the important aspect that one must look at suicide, and suicide attempts, as psychological accidents rather than a controlled act or a choice.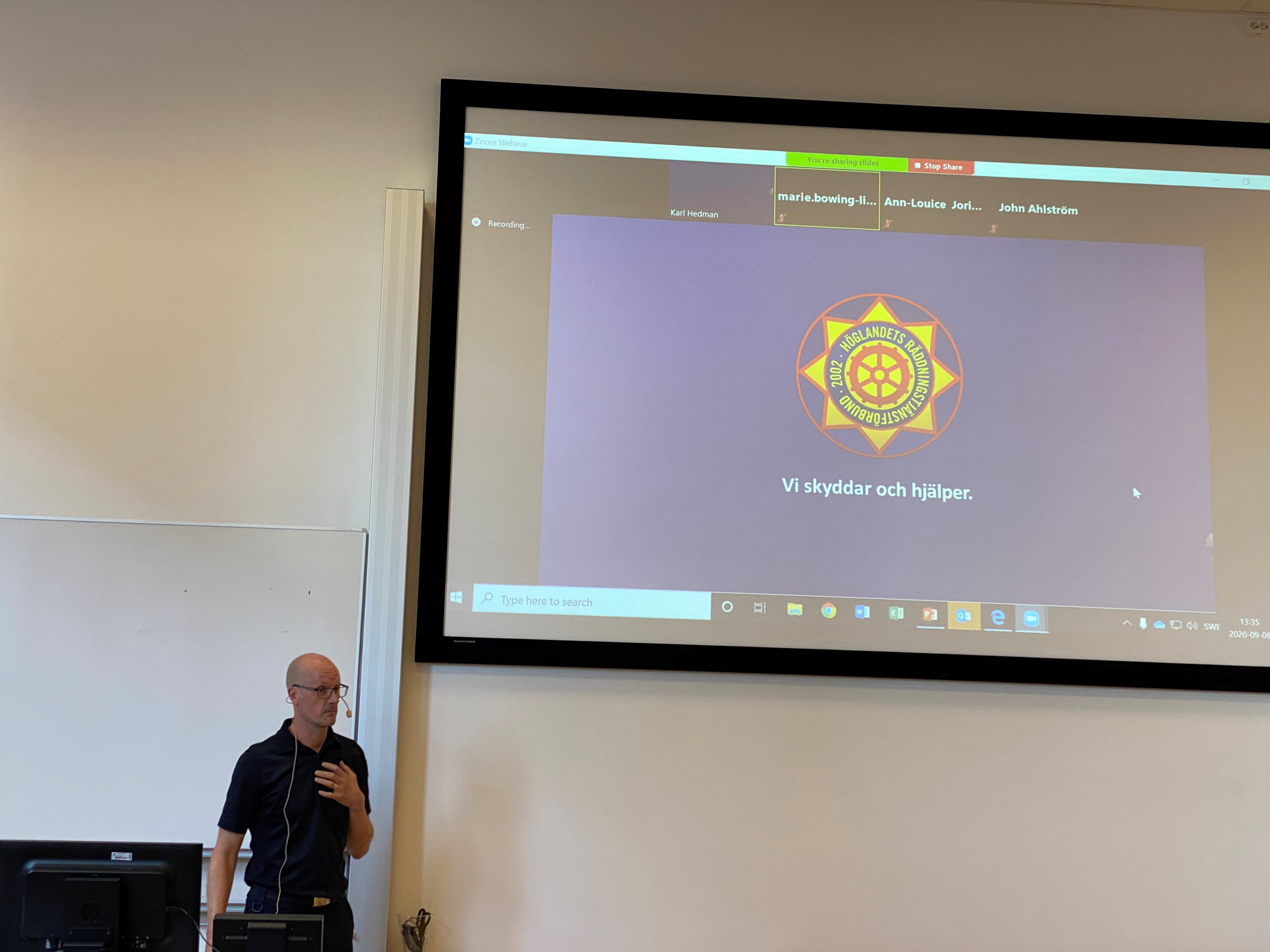 "It is important to look at suicide as a course of events, just as in other types of accidents, where it is possible to intervene at an early stage and where you can also work preventively. When a person is exposed to psychological stress to an extent that leads to inability to cope, such as an unexpected divorce, a personal loss or a seemingly insoluble life problem, perhaps in combination with alcohol problems, it can lead to psychological accidents," Morgan Miledal said.
He also mentioned that there are gains to be made by working preventively with mental health, as figures from the Swedish Social Insurance Agency (Försäkringskassan) in Jönköping county show that about 50% of the ongoing sick leaves are due to mental illness.
The next speaker was Nina V Gunnarsson, assistant professor at the Department of Social work at the School of Health and Welfare. She spoke about self-harming behaviour, what it is, how it manifests itself, who engages in it, and its connection to shame.
"Since the 1970s, there has been a stereotype about people with self-harming behaviour as a young, white, middle-class woman who injures herself. But the truth is that if you look at people who are hurting themselves, they are people of both sexes and at different ages, even though most start when they are between 12 and 15 years old. They are also people in different types of life situations, ethnicity, and it happens in a lot of different countries," said Nina V Gunnarson.
She also said that self-harming behaviour is above all a way to survive, not a means to die, and a way to deal with one's emotions.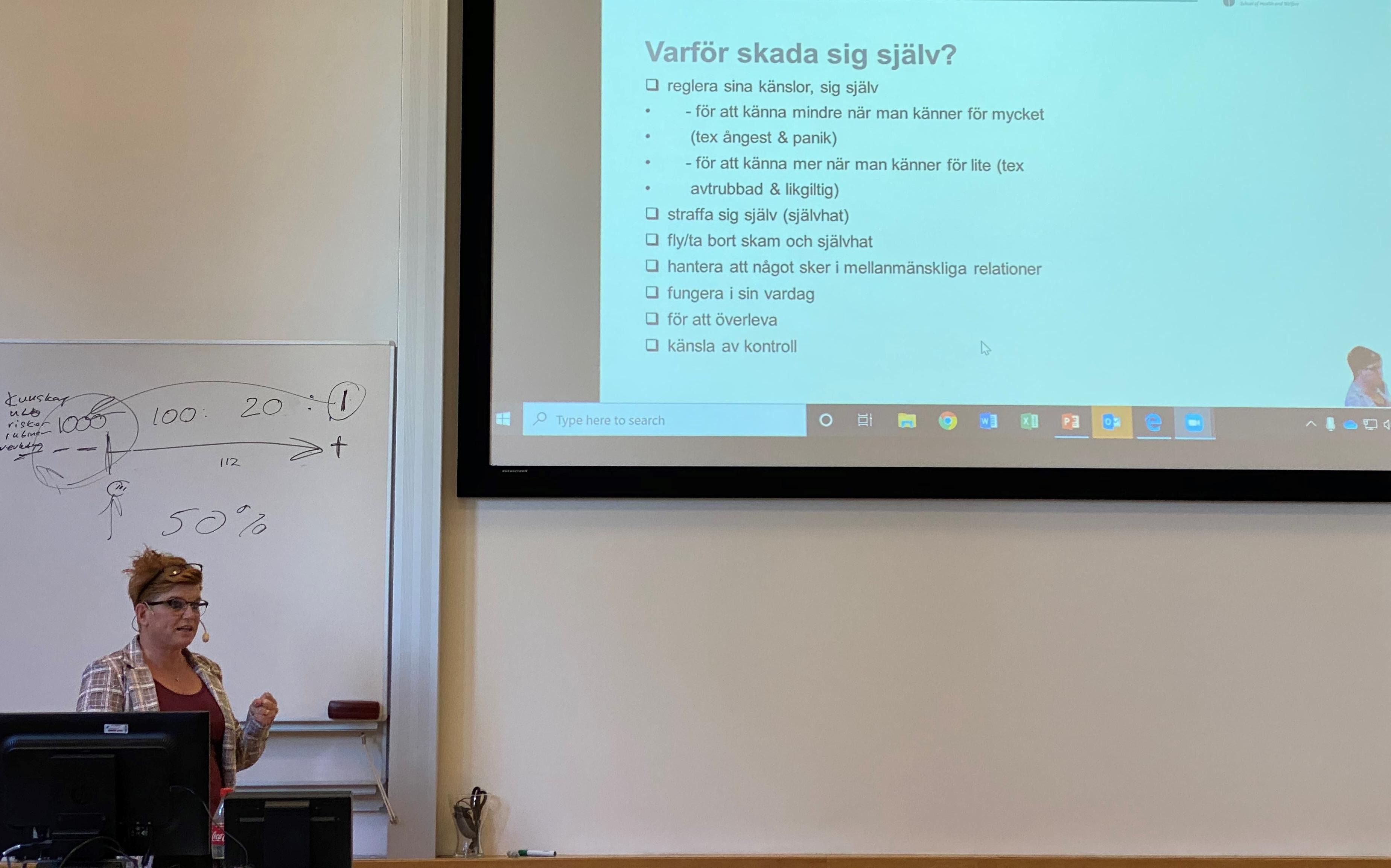 After that, John Ahlström, student pastor at Chaplaincy, Jönköping University, talked about Existential issues regarding suicide prevention.
"I think that the existential issues can definitely be a way to prevent suicide, most things in our society today should be measurable and in all this measurement there is a risk that we lose the big issues, those that are deep, which we cannot really measure. Something that is very important for creating meaning are relationships," said John Ahlström.
He also brought with him a guest, Henrik Landén, head of the chancellery at Småland's Football Association, who said that their leadership training includes measures to develop both groups and individuals.
"Mental health and mental illness have been discussed a lot in the media and in football. Many have stepped forward and talked about their experiences and feelings around this. I think it is very important that we come out, discuss, and raise these questions," said Henrik Landén.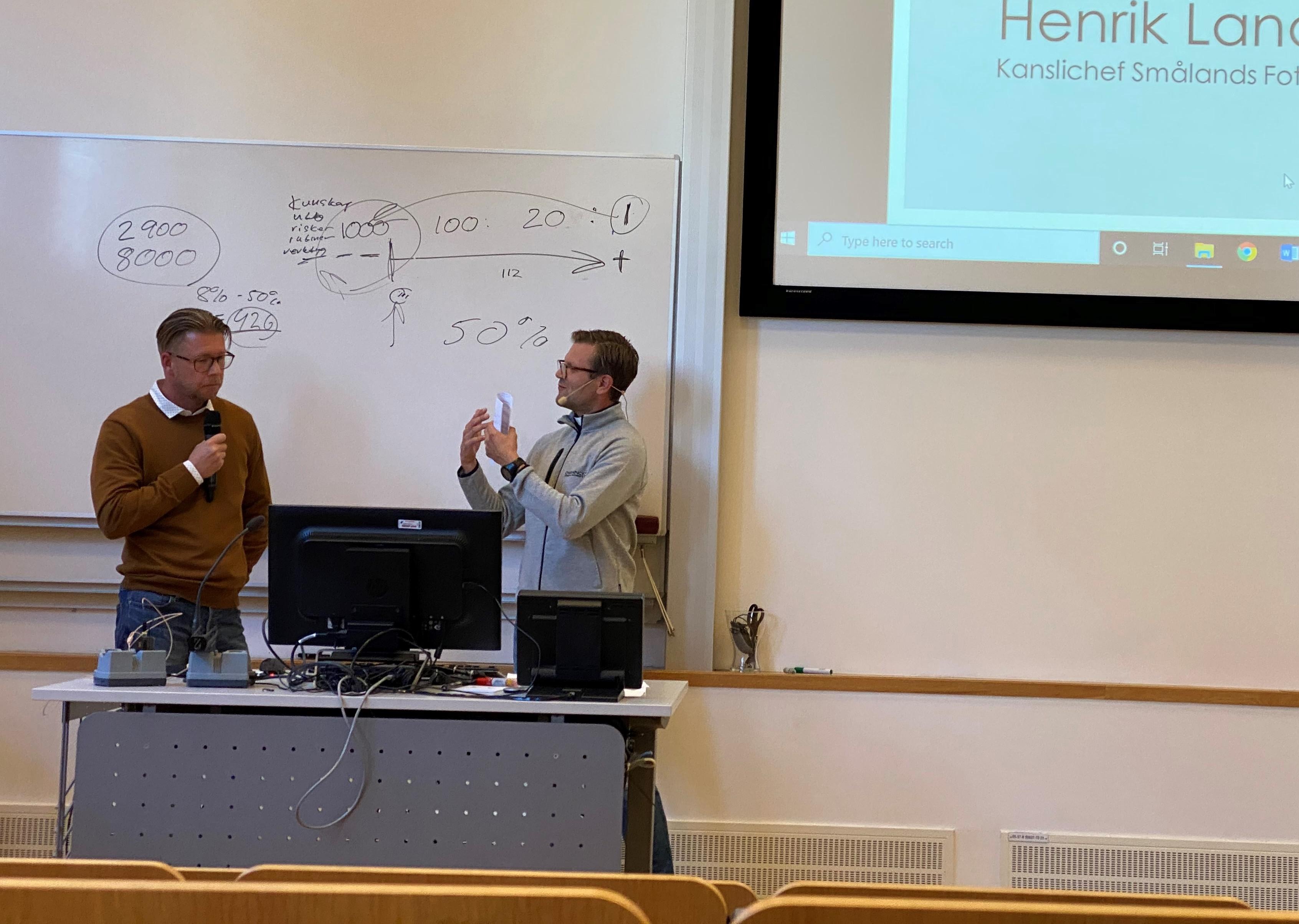 The last speakers for the day were Marie Böwing-Lindström and Ann-Louice Jorikson from The Student Health Care at Jönköping University. They talked about their mission and activities. The Student Health Care works a bit like the students' occupational health care, by working to promote the students' mental and physical health. Right now, during the pandemic, they offer individual conversations via digital platforms and give digital lectures on procrastination and stress management.