Successful AI day at JU with around 150 participants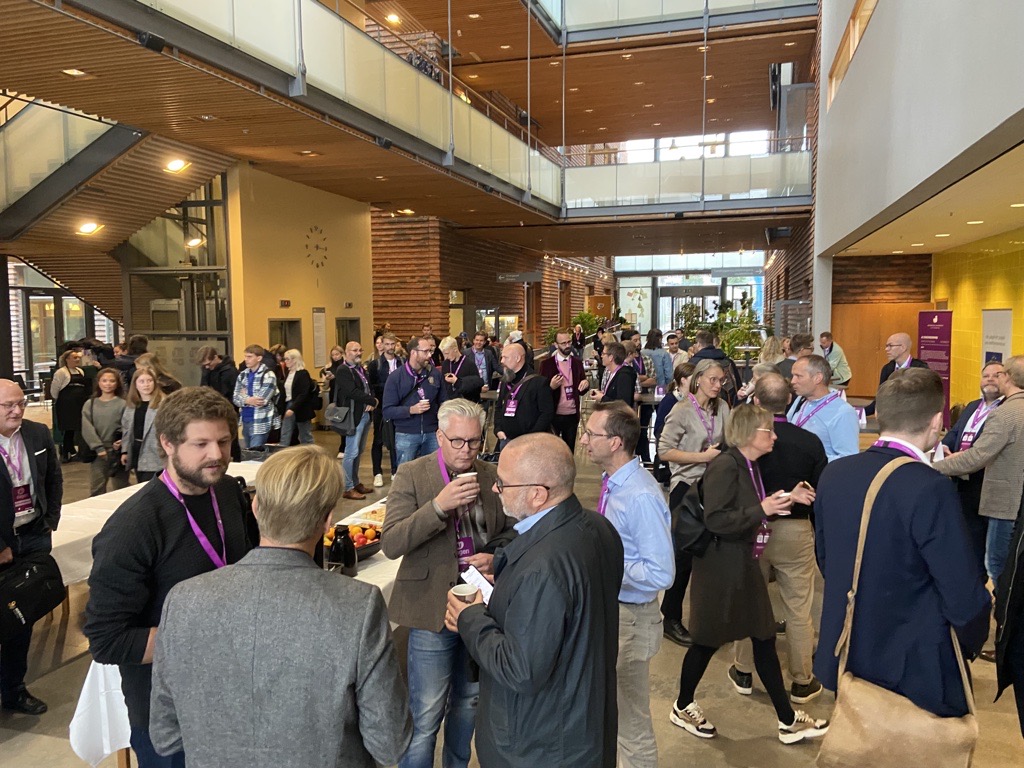 About 150 people participated in the AI ​​day at Jönköping University (JU) on 28 September.
"A very successful day with a good mix of speakers who work with AI from different perspectives," says Sonny Johansson, Lecturer at the School of Engineering (JTH) at JU and one of the people who organized the event.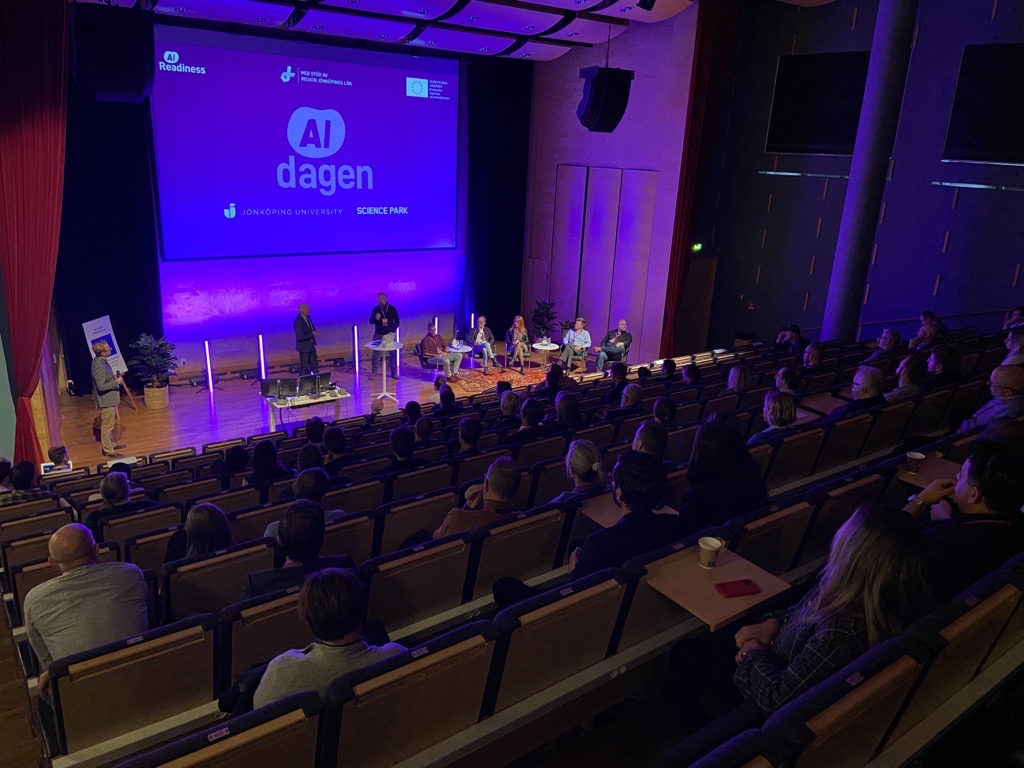 The AI ​​day is organized by Jönköping University and Science Park. The aim of the AI ​​day is to increase the business community's competence in AI and two good examples that was highlighted during the AI ​​day are Padelplay and SävsjöAppen, which are run by Jimmy Lindström and Linus Anderås respectively. Both businesses have grown through the AI ​​Readiness project at Science Park and both Jimmy and Linus praise the arrangement where staff and JU students help and coach companies get started on their AI journey.
"The threshold to start working with AI through AI Readiness is very low," says Jimmy Lindström.
"Great contrasts"
Sonny Johansson thinks that one of the best things about the day was the great contrasts, from how small, local businesses to giants like Microsoft are working with AI.
"This means that everyone can find possible areas to work with AI in their own business," says Sonny Johansson.
Magnus Littorin, data and AI specialist at Microsoft Sweden, was one of the speakers during the AI ​​day. He mentioned that the Forestry Agency uses AI functions to use drones to see which forest areas are infested by spruce bark beetles. Furthermore, SOS Alarm uses Microsoft's AI services to detect whether the caller has an increased risk of cardiac arrest, and Skånetrafiken calculates with the help of AI when they have the most bus passengers, so that people see it when they book their travel.
Helping people in Ukraine
AI from Microsoft is also being used to help people affected by war in Ukraine. Magnus Littorin mentions that AI can also be used for preventive maintenance of machine parks as a way to avoid unforeseen costs. However, he thinks that companies should develop AI at their own pace and that AI Readiness sounds like a good way to go.
Anna Felländer is founder of anch.AI, which is a platform for the management and control of ethical and legal AI risks. She believes that AI creates enormous value for society, people, the economy and companies. But for the commercialization and innovation of AI she emphasizes that an ethical filter is a prerequisite.
Challenges us intellectually
Julian Togelius is the gamer who via crooked paths ended up as a associate Professor in Computer Science and Engineering at New York University. He also runs the company modl.ai and is considered one of the world's foremost experts on the use of AI in video and computer games.
- Computer and video games are designed to teach us how to play them and to challenge us intellectually, says Julian Togelius.
It's been 20 years since the IBM computer Deep Blue defeated the world chess champion and AI beats humans even in some video games like Super Mario Bros, as long as you stick to a certain course or map in the game. Julian Togelius says that companies can transfer simulations from computer and video games to optimization processes in their businesses and make a business out of it.
Address simple problems
"A good way for companies to start using AI is to address what simple problems they have and use AI to try to find a solution to those problems," says Julian Togelius.
Mikael Hejel from Kapsch TrafficCom and AI strategist Magnus Unemyr thinks the AI ​​day provides an umbrella overview of what AI is and how we can use AI in other ways than today. Mikael Ronder, CEO at Östrand & Hansen in Bankeryd, thinks it was a very interesting day that has given him both new ideas and business contacts.
Next year's AI Day will be held in the Science Park Towers in Jönköping, which will be inaugurated next autumn.