Ministerial visit to Jönköping University
"Jönköping University conducts very good education and research, and offers students a lot of internships with direct links to working life. JU is a university that is good at finding its strengths and focusing on its profile areas," said Minister for Education Mats Persson when he visited Jönköping University (JU) this week.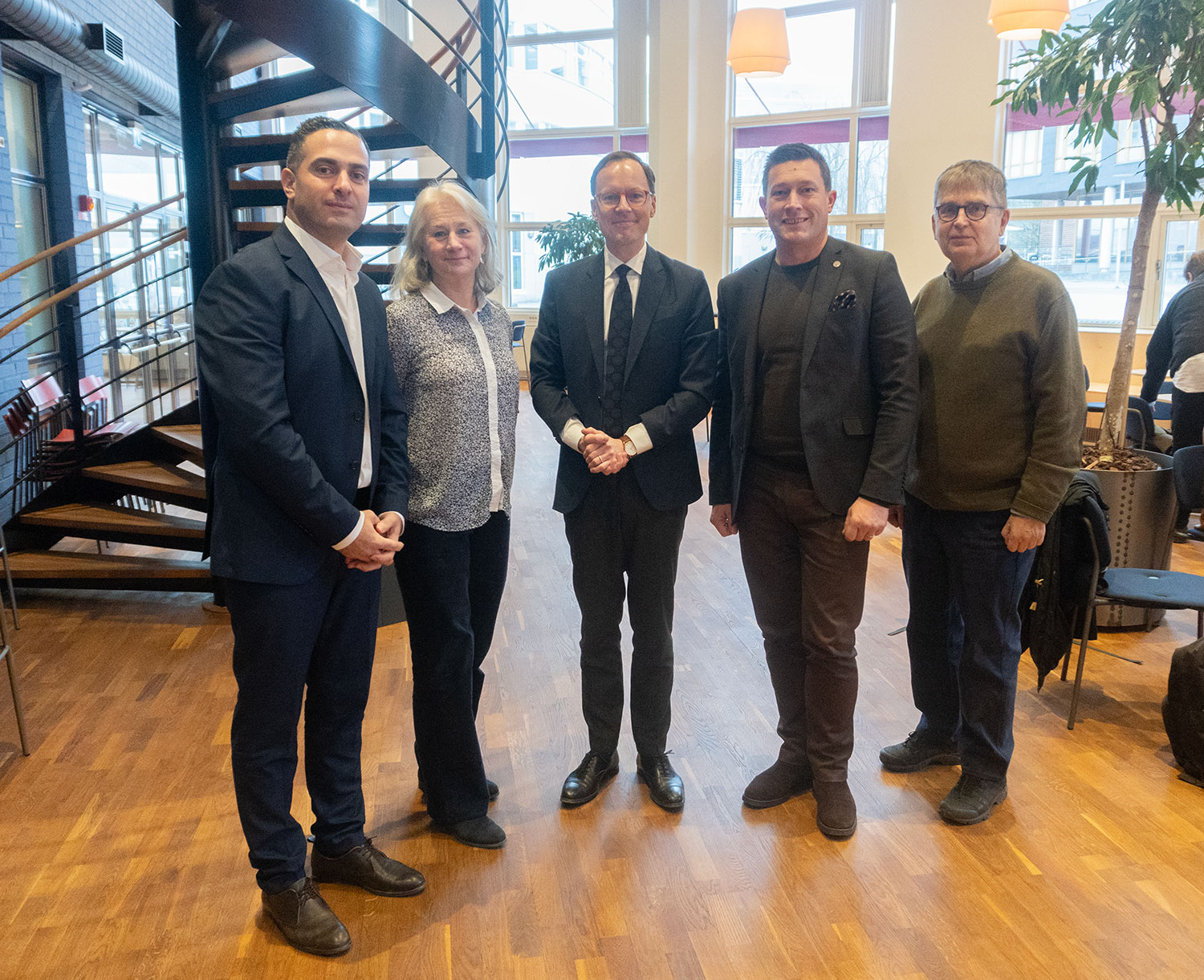 On Wednesday 15 November, JU welcomed Mats Persson, Minister for Education, Maria Noleryd, political expert, Lars Olof Mikaelsson, official at the Ministry of Education and Research, and Jimmy Ekström, Member of the Regional Executive Board at Region Jönköping County. The purpose of the visit was to showcase JU's activities and discuss education and research. During the visit, they met JU's management and heard about how JU makes a difference regionally, nationally, and internationally.

"It is very gratifying that Minister for Education Mats Persson has chosen to visit us at JU. We are happy and proud to show our activities and discuss our important social mission. We focused the morning on highlighting that JU is a high-profile higher education institution with great importance for the supply of skills, both regionally and nationally, and with research at a very high international level. We had fruitful discussions about our strengths and opportunities, and about the challenges facing the sector," said Agneta Marell, President at Jönköping University, after the visit.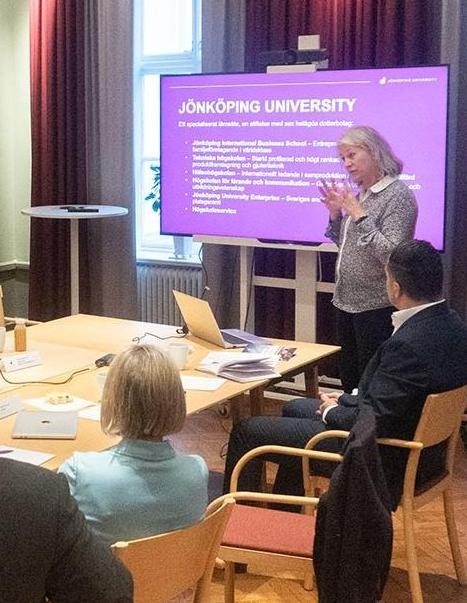 Great social relevance
The day began at Mariedal, where Agneta Marell presented JU, its strengths and position nationally and internationally. She argued that JU has great social relevance, international excellence, and strategic collaborations that strengthen Swedish competitiveness. She showed examples of how JU can make a difference and that money invested in JU's activites is well-invested.

Lucia Naldi, Vice President for Research, showed that JU is a higher education institution with excellent research in collaboration. She talked about how JU's scientific excellence is based on internationalization and collaboration.

The ministerial visit continued at the orthopaedic technology lab at the School of Health and Welfare (HHJ), where Eleonor Fransson, Dean of Research and Deputy managing director at HHJ, and Louise Bæk Larsen, Deputy Head of Department, presented the activities and examples of modern prosthetic technology. In addition to education in orthopaedic technology, the focus on decentralized education was also highlighted. The importance of good quality in clinical training and internships, as well as collaboration with the region and municipalities were also discussed.
Discussions about both opportunities and challenges
After the visit to the School of Health and Welfare, the journey was directed towards the University Library. Ulli Samuelsson, Associate Dean of Education at the School of Education and Communication, talked about work placements and how we collaborate with regional actors, and Maria Sederholm Granelund, Head of Department at the International Office, talked about JU's international student recruitment and the opportunities and challenges that exist, not least the difficulty for international students to obtain a residence permit in time for their studies. The Minister thought these were important issues and understands the problems that arise when international students have difficulty obtaining a residence permit to study in Sweden.

"We live in a global world, where education is a global market, so it is important to be an international higher education institution. People choose to come to Sweden and Jönköping because of the excellent teaching here and that is a great opportunity for Sweden," Mats Persson said during the visit.

Ingrid Olsson, Vice President of the Student Union, gave an insight into how the organization works, with a particular focus on international students. She also highlighted the increased income requirement and how the union's activities are affected by it.

After a morning with interesting discussions and questions, Executive Vice President Salem Seifeddine summarized the theme of the day: JU is a university that makes a difference. Even a small university can be big. JU is a profiled university that creates value and with our high quality of education and research, we attract and collaborate both regionally, nationally, and internationally.
"Really good at what you do"
The Minister for Education showed great commitment to the organization and contributed to many rewarding conversations.

"The visit to JU has been very pleasant and rewarding! I see a profiled higher education institution with very good education and research with national and international collaboration and which is an important provider of expertise in the region. JU is a university that focuses on what it is good at - and is also really good at what it does," said Mats Persson.

"It has been a good morning with several good and future-oriented discussions, not least the question of the advantages of JU being granted "universitet" status in Sweden was raised. That would, for exemple, give JU a stronger research grant," said Agneta Marell, who was very pleased with the visit.