Students give inspiration for Husqvarna's future battery products
A grass trimmer that does not throw around gravel and debris. An accessory that transforms your trimmer into a blower. This is some of the things that the students in the course Product Development have created in close cooperation with Husqvarna Group. Today they have presented their ideas in an exhibition.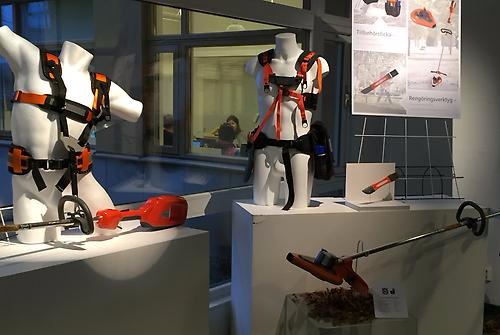 During the whole autumn semester, the engineering students have worked with the different phases of the project – from idea to prototype. The assignment from Husqvarna Group was to develop one harness and one accessory to one of the company's battery trimmers.
From the company a number of persons have been involved in the project. One of them is Pär Martinsson, R&D manager for battery products under the brand Husqvarna. He can see several benefits with the collaboration, both for the company and the students:
"For us as a company it is valuable to get access to the new knowledge within the field of technology, which is taught by the university. It is also an opportunity for us to present Husqvarna Group as an attractive future workplace. From a student perspective, we think that it is important with this kind of real-life tasks, and we are happy that we can take part in the shaping of skilled engineers for the future."
The students have been working in groups with six persons in each, and have been free to choose what accessory product to develop. Karin Videfors, who is part of one of the groups, is satisfied with the course and the collaboration with Husqvarna Group:
"It has been very fruitful to work in a real project like this, instead of working with a hypothetical problem. I think it's a good way of preparing for our coming work life."
Since it has been a real assignment from an existing company, real-life challenges have turned up along the way. Through regular feedback from Husqvarna Group during the whole project the students have learnt a lot about the problems that you may face in practice.
"It may concern manufacturing costs or safety aspects, which we were not aware of earlier. For example, we had to make a minor construction change of our harness for it to comply with certain safety requirements," says Abdulla Al-Shekli, who has worked intensively the whole semester together with Karin Videfors and the other group members.
Earlier today, the engineers-to-be have presented their work in an exhibition. It was opened with a speech by Joakim Brobäck, Deputy Managing Director at the School of Engineering. Representatives from Husqvarna Group were there as well.
The exhibition will be open all day. Welcome!