Guldbagge award to alumni from Digital Visualization programme
At the Guldbagge Awards Ceremony this Monday, four earlier students from Campus i12 scooped the award for best visual effects. Their team at the company Chimney has created all visual effects in the movie Hundraettåringen som smet från notan och försvann.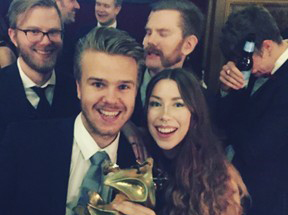 The Guldbagge Award for best visual effects 2017 went to Fredrik Nord at Chimney and his VFX team (VFX = visual effects). Jonas Lindfors, Evelina Åström, Simon Backlund och Ragnar Grudd are part of the team, and they all have an exam from the Digital Visualization programme at i12 in Eksjö.
"The award is a gratifying acknowledgement of the visual handicraft and shows that hard work pays off! We are a tight team who enjoy working together, and that makes us produce good stuff," says Evelina Åström.
The team from Chimney consists of eight persons, four of them being alumni from the programme in Eksjö. That says a whole lot about the programme, Evelina Åström implies:
"In the Swedish VFX industry, Campus i12 is a famous school, which delivers competent VFX artists. People come from the whole of Sweden to study there."
The Guldbagge Award is Sweden's most prominent film award and is granted for outstanding achievements within Swedish film during the past year. The ceremony is arranged by the Swedish Film Institute in collaboration with SVT.