Award ceremony for the Young Researcher Award 2017
On Monday, 15 May, the Swedish Entrepreneurship Forum will have an award ceremony for the Young Researcher Award 2017. This year's laureate is Mikaela Backman at Jönköping International Business School.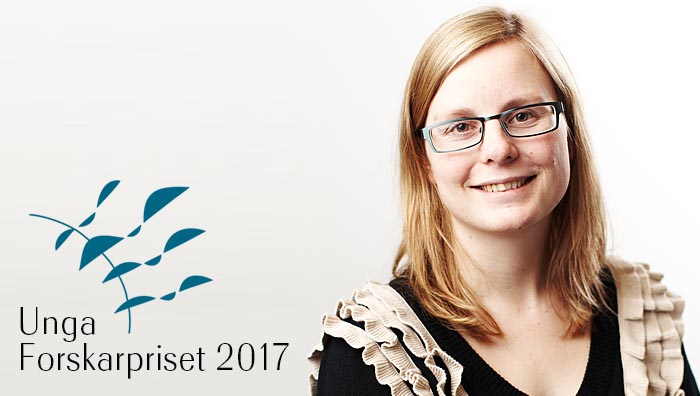 The award committee noted that Mikaela Backman has produced an excellent dissertation and subsequently demonstrated good quality and productivity in her research career. Mikaela Backman wrote her PhD thesis in 2013 at Jönköping International Business School, titled Regions, Human Capital and New Firm Formation. She has studied the relationship between human capital and education, its effects on the individual as well as for business productivity.
"Higher levels of education have a positive impact on regional business creation, given the surrounding factors such as infrastructure and capital assets", she says.
Since 2003 the Swedish Entrepreneurship Forum have awarded young promising researchers the Young Researcher Award. The Prize, sponsored by private equity investment firm Triton Advisers (Sweden) AB, is awarded annually and consists of 150 000 SEK. The award ceremony is in Stockholm Concert Hall on 15 May.
"Mikaela Backman's research shows high quality and deals with central strategic and policy-oriented issues for Sweden", says Charlie Karlsson, Professor Emeritus and award committee chair.
Today Mikaela Backman is an assistant professor at JIBS and continues her research career on the role of human capital, business survival and growth, family businesses, and regional patterns.
One of her ongoing papers is about procurement in Chile - which are the companies that get the bids and what happens to these companies after they have been bidding?
"I'm writing this paper together with Dr. Esteban Lopez who works here at Universidad Adolfo Ibañez in Viña del Mar. Me, Esteban Lopez and Francisco Rowe of the University of Liverpool are also writing a paper on how career paths look for different refugees in Sweden, where we follow a large number of refugees over time in Sweden", says Mikaela Backman.
In addition to providing answers to the research questions, the journey to Chile is also educative in seeing how other institutions work with their research, what types of questions they have and what methods they use.