Making road freight transport industry more sustainable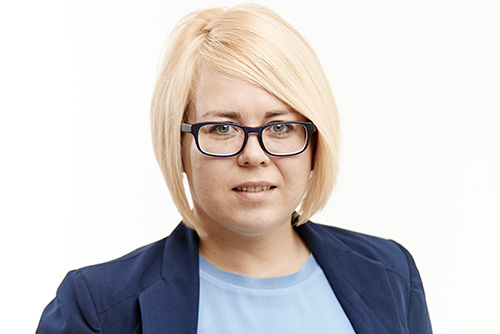 The importance of the road freight transport industry for economic growth and sustainability is undeniable. As awareness of sustainability is growing, a new doctoral thesis from Jönköping International Business School at Jönköping University addresses the issues of a sustainable supply chain business model for the industry.
"My purpose was to explore how road freight transport supply chains can move towards being more sustainable from the perspective of a heavy vehicle manufacturer", explains the author of the thesis, Veronika Pereseina.
Her research has been a part of a larger project for increased sustainability in the sector, and she has worked in close collaboration with industry for several years, and has used one particular heavy vehicle manufacturer as a main case study. Her results show how a sustainable business model can be managed through life-cycle thinking.
Life cycle thinking is an approach to consider events and products in a holistic view. In Veronika Pereseina's thesis, the life cycle thinking focuses on extending the usage time of a product, and the costs calculated throughout the product's usage life cycle.
Other important factors for a sustainable business model that Veronika Pereseina has identified are value co-creation and long-term relationships based on trust.
The value co-creation process, in a business-to-business model, is created between the manufacturer, the sales department and the transport companies, and can involve product service systems, services such as driver training and coaching, and maintenance of vehicles which can help in reduction of environmental burdens, such as emissions, and increase safety.
"A sustainable focus brings in more stakeholders, such as society at large, because of the importance of roads for everyone", says Veronika Pereseina.
Relationships and trust are very important in supply chain management to achieve increased efficiency, enhanced collaboration, and integration. They are even more important in the growing field of sustainable supply chain management because sustainable businesses must adhere to the longevity principle through the co-creation of long-term value.
"It was very rewarding to see how academia and industry can collaborate to disseminate knowledge", says Veronika Pereseina. "In the end of the project, the company that I have been working with officially launched a focus on sustainable transport solutions."
In her future research Veronika Pereseina can see herself either continuing with sustainable business models in other industries, or other ways for the transport industry to be more sustainable.
Veronika Pereseina successfully defended her doctoral thesis Managing the Sustainable Business Model of a Heavy Vehicle Manufacturer through Life Cycle Thinking on Friday, 16 June.
For more information, please contact Veronika Pereseina: veronika.pereseina@ju.se

Link to thesis

External link, opens in new window.
Link to blog entry

External link, opens in new window.