Three projects awarded with a grant from Aktiestinsen
On Wednesday 24th January, a total of 360,000 SEK in project grants was awarded by the Aktiestinsen Foundation in a ceremony at Jönköping University in the School of Health and Welfare.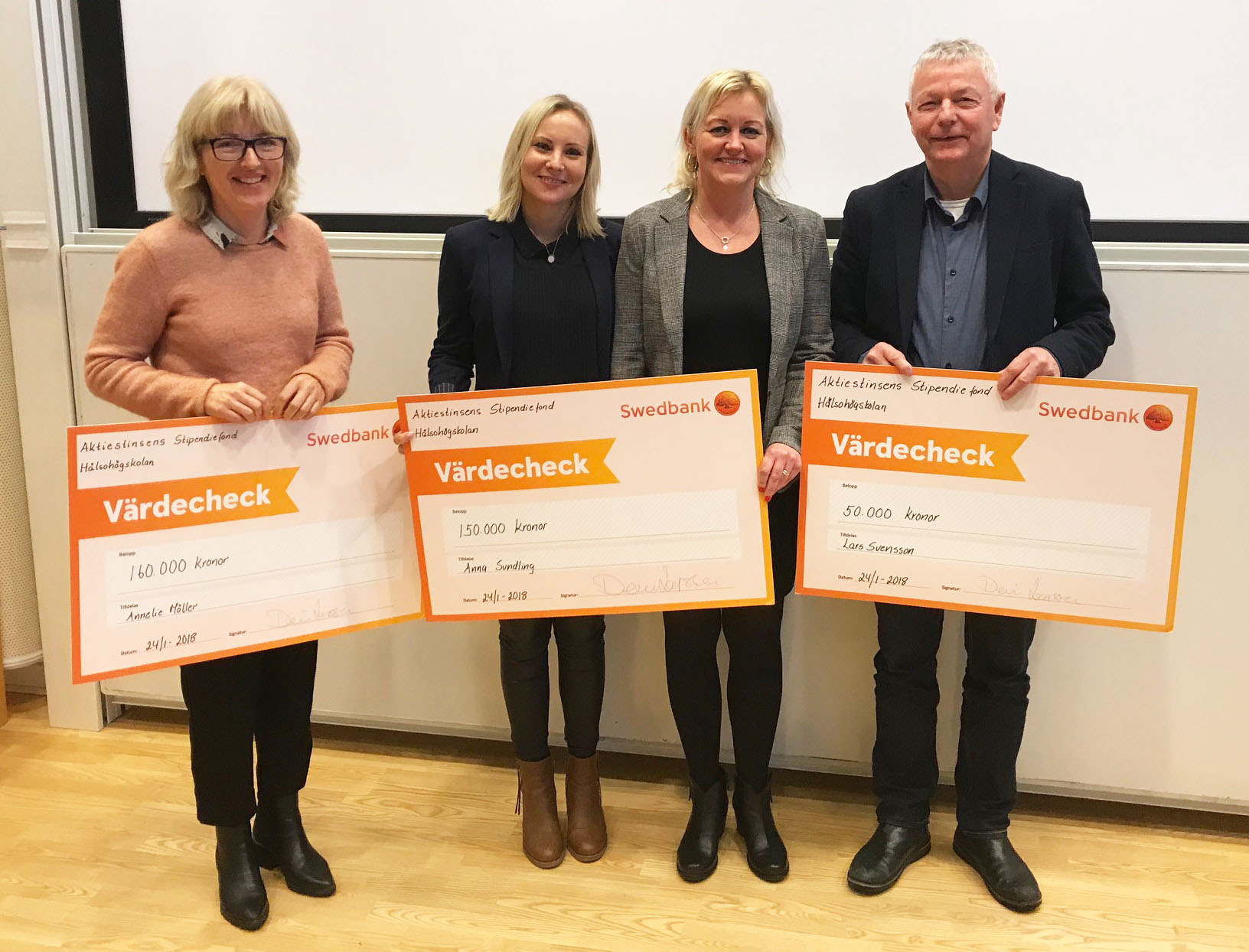 The Aktiestinsen Foundation for the Promotion of Health and Welfare for the Elderly awarded grants to three different projects.
Winning projects
Annelie Möller and Jenny Svärd were awarded a grant of 160,000 SEK for their project iPads for retirement homes– a way to increase activity, community spirit and interaction.
The purpose of the project is to support and train care professionals in the use of iPads to create a wider range of meaningful activities for elderly residents.
"The important thing is to choose an activity from an elderly person's perspective. Sometimes the TV is turned on in a retirement home, but the programme it isn't interesting for an old person, or it's in a language they don't understand. By using an iPad, we can stream something they actually want to watch, for example their favourite old film." said Annelie Möller.
The second recipients, Anna Sundling and Anneli Tellmo were awarded 150,000 SEK for the project Old age and technology = love or hate?
The project aims to give residents of retirement homes in Nässjö the opportunity to keep up with the technological developments that are taking place in our society.
As Anna Sundling explained, "It's important that elderly people dare to give new technologies a go and that the care professionals are trained to help them with this."
The final recipients of the day were Lars Svensson and Sofi Fristedt who received 50,000 SEK for a project entitled The best exercise is the one that gets done – opportunities for physical activity through group training.
The project is aimed to encourage physical exercise for those living in their own (non-assisted) residence in the Nässjo municipality.
"Group activities should bring joy," says Lars Svensson, "and by involving specially trained sports instructors, we can inspire the elderly to take more exercise."
Aktiestinsen Foundation facts
Lennart Israelsson was a SJ employed station master in Småland who made a fortune through stock trading, earning him the nickname 'Aktiestinsen'. Over the years, Israelsson donated millions of kroner in the form of foundations. There are currently five that bear his name, one of which is the Aktiestinsen Lennart Israelsson Foundation for the Promotion of Health and Welfare for the Elderly.
The foundation awards a maximum of 8 scholarships for a total value of 500,000 SEK to students, professional entrepreneurs and researchers. The foundation aims to support those who work with entrepreneurial development work and/or health in the field of occupational therapy and health promotion for older people's activities.