Support for companies during corona crisis – "We've been able to help"
Jerker Moodysson, Dean of Jönköping International Business School (JIBS) is part of 'Framtidskompassen' an initiative started by The Harbor to give free advice to local companies who are struggling through the coronavirus crisis.
"We've had two sessions so far and have already been able to help some companies," says Jerker Moodysson.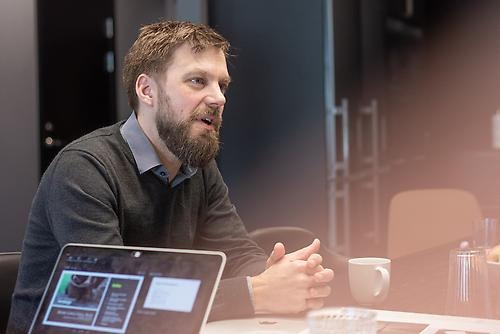 Companies in Jönköping have been turning to The Harbor

External link, opens in new window., a local centre for innovation, in order to receive expert advice on how to manage their business through and after the coronavirus pandemic.
A panel of business leaders and experts who are experienced in both crisis management and innovation strategy, gather every Friday morning to welcome local business owners who need support through this difficult period. The advice is free of charge and unlimited.
Jerker Moodysson, Dean of JIBS, is one of the advisors on the panel and has seen companies in the service industry walk through the door for advice.
"We've been meeting restaurant and hotel owners and a couple of other small-scale service providers. They are dependent on cash flow and right now that has suddenly dried up. Firms in the hospitality industry especially are dependent on tourists and business travellers, and as we know, people aren't travelling right now. So we've been talking with them about creating new business models and new ways to reach a local market in order to generate some income for the short term, but also, for the long term, to help them spread their risks and compliment their business stream," he says.
One local business owner that came to a Framtidskompassen friday session says,
"This is a great initiative, the right kind of people in one place, who listened and gave advice and who actually understand the problems I am wrestling with now. They've given me the means to work on these problems, tips on how to use my time, the phone calls I should be making, and so on. I left with a positive feeling and plan to come back next Friday."
Framtidskompassen encourages companies to return for follow-up sessions after their initial meetings.
"Some companies have been assigned some 'homework' based on our advice, then they will return for follow-up sessions," explains Jerker Moodysson. "This isn't just a one-off opportunity; you can come back and use us as much as you like."
Framtidskompassen sessions take place every Friday between 08:30 to 12.00 at The Harbor premises, Herenco Innovation Centre, Skolgatan 24, or via Teams. Contact info@the-harbor.com or tel: 0707467432
See also, JIBS researchers Jerker Moodysson and Henry Lopez Vega share innovation tips at Fredagar på The Harbor. (Article in Swedish)