Ingrid Wadskog reappointed as Dean for JTH
In 2017, Ingrid Wadskog was appointed as Dean and Managing Director at the School of Engineering (JTH) at Jönköping University. It has now been decided that her appointment is extended for another four years.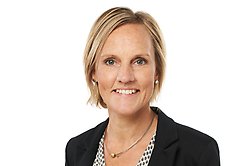 "Ingrid is a highly regarded leader and an important force to ensure a continued positive development for JTH. Ingrid has great reputation in the organisation and among Jönköping University's external partners. With her experience of both strategic and operational leadership, and with her great commitment, Ingrid will continue to make a major contribution to the development of both JU and JTH," says Agneta Marell, President of Jönköping University.
"I have had three fantastic years as Dean, and I look forward to the years to come. Creating attractive education and relevant research will remain my main focus, and at the same time, I want to deepen our partnerships with enterprises and other stakeholders. There is so much that is great and worth preserving, combined with a strong drive forward and the desire to keep developing," says Ingrid Wadskog, Dean and Managing Director of JTH.
Ingrid Wadskog has previously held several senior positions at the School of Engineering, including being head of department of Industrial Engineering and Management and supervisor of the doctoral programmes. She also has a research background and a PhD in microbiology from the University of Gothenburg.
Contact
Ingrid Wadskog, ingrid.wadskog@ju.se, +46 36-10 16 50
Agneta Marell, agneta.marell@ju.se, +46 36-10 10 01